Flounder
The distinctive features of the starry flounder include the combination of black and white-to-orange bar on the dorsal and anal fins, as well as the skin covered with scales modified into tiny star-shaped plates or tubercles , resulting in a rough feel.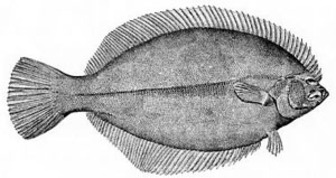 The Flounder lives in the demersal, catadromous, freshwater, brackish, marine, depth range 0 - 375 m environment.
Starry Flounder - Master of disquise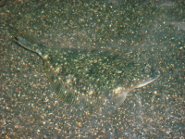 The flounder (Platichthys stellatus), also known as the starry flounder, can be found around the edges of the North Pacific Ocean. Nicknamed the 'righteye flounder', the fish can actually have its eyes set on either side of its head, the right being more common. Very difficult to spot as they blend in with the ocean floor, once you do spot them, they're easy to recognize; the flounder is the only fish that both lays and swims horizontally!

Young flounders are born like other fish, swimming 'normally' or vertically; the dorsal side up and the ventral side down. As they mature, they begin to tip to one side and spend the rest of their lives horizontally. The eye that was on the side of the body that began to tip down migrates to the 'top' side of the fish. Interestingly, the side of the body that faces the ground also loses its dark color.

Starry flounders are black to dark brown in color with a distinctive whitish orange stripe on the anal and dorsal fins. Their scales are star shaped tupercles which gives the flounder its rough, scratchy feel. The fish has a white belly which makes them difficult for predators to see when they are underneath the fish looking up. The longest starry flounder was recorded at 91 cm (35.8 in) and the heaviest weighed in at 9 kg (19.8 lb).

The starry flounder lives in the Pacific, as far as Japan and Korea, along the coasts of Alaska and Canada and along the west coast of the United States. The fish prefers shallow waters and can often be found in estuaries and into the freshwater zone. Some starry flounder forego the shallow inshore waters for the deep waters of the ocean, having been found as deep as 375 m (1230.14 ft).

The flounder feeds on crabs, worms, clams and other small fish. In turn, humans capture the flounder, as they do other common flatfish, in large numbers for food and ornamental purposes. Because the flounder can tolerate varying levels of salinity they can live in a wide range of habitat. This protects the fish from becoming endangered as humans fish for them in large numbers.
Common names
Emerywheel in English
Flet Ètoilé in French (français)
Flounder in English
Ggagtuliq in Alutiiq
Grindstone in English
Gwódzica in Polish (polski)
Ikkahnalook in Inuktitut (ᐃᓄᒃᑎᑐᑦ)
Ipkelnokto in Inuktitut (ᐃᓄᒃᑎᑐᑦ)
Ipkuknaluk in Inuktitut (ᐃᓄᒃᑎᑐᑦ)
Kbidaxs in Tsimshian
Long-jaw flounder in English
Nadalna in Inuktitut (ᐃᓄᒃᑎᑐᑦ)
Nataaznak in Inuktitut (ᐃᓄᒃᑎᑐᑦ)
Nataktook in Inuktitut (ᐃᓄᒃᑎᑐᑦ)
Natanak in Inuktitut (ᐃᓄᒃᑎᑐᑦ)
Natangnok in Inuktitut (ᐃᓄᒃᑎᑐᑦ)
Natarnak in Inuktitut (ᐃᓄᒃᑎᑐᑦ)
Natarnaq in Inuktitut (ᐃᓄᒃᑎᑐᑦ)
Numagarei in Japanese (日本語)
P'ewi in Salish
Plie du Pacifique in French (français)
Solha-estrelada-do-Pacífico in Portuguese (Português)
starry flounder in English
Sternflunder in German (Deutsch)
Stjerneflynder in Danish (dansk)
Tikhookeanskaya rechnaya kambala in Russian (русский язык)
Ur'auk in Alutiiq
Xaadlin in Haida
Xbidaxs in Tsimshian
Zvezchataya kambala in Russian (русский язык)
Zvezdchataya kambala in Russian (русский язык)
камбала звездчатая in Russian (русский язык)
ヌマガレイ in Japanese (日本語)
星斑川鰈 in Mandarin Chinese
星斑川鲽 in Mandarin Chinese
강도다리 in Korean (한국어)

Custom Search