European seabass
The European seabass is a member of the Moronidae family.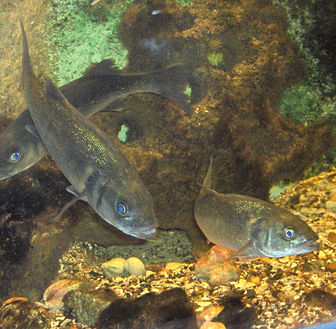 Picture of the European seabass has been licensed under a
GFDL
Permission
: GNU Free Documentation License
The European seabass lives in the demersal, oceanodromous, freshwater, brackish, marine, depth range 10 - 100 m environment.
The European SeaBass - One of Europe's Most Important Fish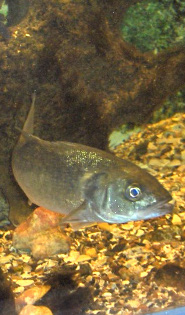 The European SeaBass (Dicentrarchus labrax) or Morone labrax or sea dace, is a popular eating fish throughout Europe. The European seabass lives primarily in the ocean however, it does occasionally make its way into fresh or brackish waters. Its popularity as a food fish has ensured that it has many ways throughout the different countries where it is consumed. In Spain, it is referred to as lubino or robalo. In Northern Italy it is called branzino, while other regions of Italy refer to it as spigola or ragno. Those who enjoy European seabass in Greece call it by a different name - lavraki. In English speaking areas, it is often referred to as Mediterranean seabass. No matter what it is called, this fish is a very popular eating fish that is consumed throughout Europe.

Adult European seabass have two dorsal fins, silver sides, and a white belly. Juvenile fish have black spots on the back and sides, which sometimes leads to confusion between this species and other related seabass. The operculum, or bony covering protecting the gills, is serrated and spined for protection. These fish reach an adult size of approximately 1 meter (3.3 feet) long and 15 kilograms (33.3 pounds) in weight. Mostly a night hunter, this fish feeds largely on cephalopods and crustaceans.

As noted above, European seabass is typically found in ocean waters, including the eastern Atlantic Ocean, the Mediterranean Sea, and the Black Sea. It is frequently found in lagoons, estuaries, coastal waters, and rivers throughout Europe.

Currently, the primary predator of European seabass is commercial fisherman. Due to its popularity among anglers, many countries have had to limit the amount of this fish caught and consumed. In the United Kingdom, major conservation efforts limit the size of fish, the number that can be caught in a day, and the season in which fishing is allowed. Italians interested in protecting this species have undergone an intensive breeding program to increase numbers. Some recreational fishermen have created groups to help protect this species, as well.

In an attempt to increase production of this species without leading to its extinction, many countries in Europe have started farming fish. Farming seabass is popular throughout Spain, Croatia, Greece, and other European countries. The annual farming production of European seabass is 60,000 tons, which reflects how popular it is among consumers.

Picture of the european seabass licensed under GFDL
Common names
Agac in Croatian (Hrvatski)
Almindelig Bars in Danish (dansk)
An bhas in Gaelic, Irish
An bhas in Irish (Gaeilge)
Baicolo in Italian (Italiano)
Baieta in Spanish (español)
Baila in Spanish (español)
Bar in French (français)
Bar commun in French (français)
Bar européen in French (français)
Bar franc in French (français)
bars in Danish (dansk)
bars in French (français)
Bass in English
Bass in Ukrainian (українська мова)
Birrâq in Arabic (‫العربية)
Bog in French (français)
Brancin in Croatian (Hrvatski)
Brancin in Italian (Italiano)
Brancin in Slovene
Brancin in Slovenian (slovenščina)
Branzin in Italian (Italiano)
Branzino in Italian (Italiano)
Branzinu in Italian (Italiano)
braog in Breton (brezhoneg)
Brigue in French (français)
Capemouth in English
Cherne in Spanish (español)
Çizgili mercan in Turkish (Türkçe)
Common bass in English
Dicentrarchus labrax in Italian (Italiano)
Doingean in Gaelic, Irish
Doingean in Irish (Gaeilge)
draeneg in Breton (brezhoneg)
Drelique in French (français)
Europäischer Wolfsbarsch in German (Deutsch)
European bass in English
European sea bass in Unknown
European sea bass (German: Wolfsbarsch) in English
European seabass in English
Europese zeebaars in Dutch (Nederlands)
Garous in Arabic (‫العربية)
gemeiner Seebarsch in German (Deutsch)
gemeiner Wolfsbarsch in German (Deutsch)
Ghimbâr in Arabic (‫العربية)
Gutgareo in French (français)
Hata in Japanese (日本語)
hav-åbor in Norwegian (Norsk)
Havabbor in Norwegian (Norsk)
Havâbor in Norwegian (Norsk)
Havaborre in Danish (dansk)
Havaborre in Norwegian (Norsk)
Havbars in Danish (dansk)
Havsabborre in Swedish (Svenska)
Kanjci in Serbian (српски језик)
King of the mullets in English
Kirnje in Serbian (српски језик)
Labrak in Bulgarian (български език)
Labraks in Polish (polski)
Lavrac in Romanian (română)
Lavrac in Rumanian
Lavrak in Azerbaijani (azərbaycan dili)
Lavrak in Bulgarian (български език)
Lavrak in Russian (русский язык)
lavraki in Greek (Ελληνικά)
lavraki in Greek, Modern (1453)
lavraki in Russian (русский язык)
Lavraq in Hebrew (‫עברית)
Lavraz in Hebrew (‫עברית)
Levrek in Croatian (Hrvatski)
Levrek in Turkish (Türkçe)
Levrek baligi in Turkish (Türkçe)
Levrek balığı in Turkish (Türkçe)
Levreku in Albanian (Shqip)
Llobaro in Catalan (Català)
llobarro in Catalan (Català)
llobarro in Spanish (español)
Llobina in Catalan (Català)
llop in Catalan (Català)
llop in Spanish (español)
llubina in Spanish (español)
Loasso in Italian (Italiano)
Loubas negre in French (français)
Loubine in French (français)
loup in French (français)
Loup de mer in French (français)
Loupassou in French (français)
Luasi in Italian (Italiano)
Luassu in Italian (Italiano)
Lubaro in Spanish (español)
Luben in Slovene
Luben in Slovenian (slovenščina)
Lubin in Croatian (Hrvatski)
Lubin in French (français)
Lubin in Serbian (српски језик)
Lubin (riba) in Serbo-Croatian (Српскохрватски)
Lubina in Spanish (español)
Lup de mare in Rumanian
Lup-de-mare in Rumanian
Lupi in Basque (euskara)
Lupu in Italian (Italiano)
Lupu in Maltese (Malti)
Luvassu in French (français)
Meerbarsch in German (Deutsch)
Meribassi in Finnish (suomen kieli)
Mero in Spanish (español)
Perchia in Italian (Italiano)
Persicospigola in Italian (Italiano)
Pesce lupo in Italian (Italiano)
Pigne in French (français)
Pintat in Spanish (español)
Ragnetta in Italian (Italiano)
Ragno in Italian (Italiano)
Ragnoi in Italian (Italiano)
Robaliza in Galician (Galego)
Robaliza in Spanish (español)
Robalo in Portuguese (Português)
Robalo in Spanish (español)
Robalo-legítimo in Portuguese (Português)
Salmbarsch in German (Deutsch)
Sea bass in English
Sea dace in English
sea perch in English
Seabass in English
Seawolf in German (Deutsch)
Seebarsch in German (Deutsch)
Seewolf in German (Deutsch)
Serra in Italian (Italiano)
Smudut in Croatian (Hrvatski)
Smudut in Serbian (српски језик)
Smuđut in Croatian (Hrvatski)
Spain in Italian (Italiano)
Spaine in Italian (Italiano)
Sperittu in Italian (Italiano)
Spigola in Italian (Italiano)
Spigola in Maltese (Malti)
Spina in Italian (Italiano)
Spina in Maltese (Malti)
Spinola in Italian (Italiano)
Spinole in Italian (Italiano)
Spinotta in Italian (Italiano)
Spinula in Italian (Italiano)
Spnotta in Maltese (Malti)
Variolo in Italian (Italiano)
Vartari in Icelandic (Íslenska)
Vocca janca in Italian (Italiano)
White mullet in English
White salmon in English
Wolfbarsch in German (Deutsch)
Wolfsbarsch in German (Deutsch)
Zeebaars in Dutch (Nederlands)
Λαυράκι in Greek (Ελληνικά)
Λαυράκι in Greek, Modern (1453)
Λαυρακόπουλο in Greek (Ελληνικά)
Лаврак in Russian (русский язык)
окунь морской in Russian (русский язык)
ﺹﻭﺭﺎﻗ in Arabic (‫العربية)
狼鱸 in Mandarin Chinese
狼鲈 in Mandarin Chinese
舌齒鱸 in Mandarin Chinese
舌齿鲈 in Mandarin Chinese

Custom Search