False clown anemonefish
This clown anemonefish can be recognised by its orange colour with three white bars and black markings on the fins.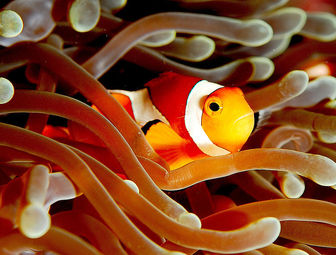 Picture of the False clown anemonefish has been licensed under a Creative Commons
Attribution
.
Original source
: nemo
Author
: Jenny from Taipei
The False clown anemonefish lives in the reef-associated, non-migratory, marine, depth range 1 - 15 m , usually 3 - 15 m environment.
Clownfish from "Finding Nemo"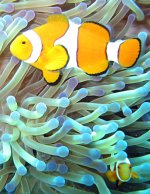 The Ocellaris Clownfish (Amphiprion ocellaris) is a populair aquarium fish and it also was the main character in the movie "Finding nemo". It lives in coral reefs around the world, seeking the protection of a sea anemone Heteractis magnifica. Predators of the Clownfish include brittle stars, wrasses, and other damselfish. The clownfish seeks protection from these predators by sticking close to the sea anemone, which in return gets its food with its poisenous tentacles from the clownfish drawing its predators. The sea anemone does not attack the clownfish, because of the mucus secreted by the clownfish...
Common names
Almindelig klovnfisk in Danish (dansk)
Amfiprion okoniowy in Polish (polski)
Amphiprion ocellaris in Spanish (español)
Bombin in Malay (bahasa Melayu)
clown anemonefish in English
Clownfish in English
common clownfish in English
false clown anemonefish in English
Gombing in Malay (bahasa Melayu)
Ikan badut Ocellaris in Indonesian (Bahasa Indonesia)
Ikan giru Ocellaris in Indonesian (Bahasa Indonesia)
Inggu in Malay (bahasa Melayu)
Kakure-kumanomi in Japanese (日本語)
Klaun očkatý in Czech (česky)
Nemo in English
Netikrasis jūrų klounas in Lithuanian (lietuvių kalba)
Obyknovennaya rybka-kloun in Russian (русский язык)
Tau ng lanagan in Tagbanwa Calamian
Vuokkokala in Finnish (suomen kieli)
Western clown anemonefish in English
Western clownfish in English
カクレクマノミ in Japanese (日本語)
眼斑双锯鱼 in Mandarin Chinese
眼斑海葵魚 in Mandarin Chinese
眼斑海葵鱼 in Mandarin Chinese
眼斑雙鋸魚 in Mandarin Chinese

Custom Search