Giant trevally
The giant trevally is a powerful apex predator in most of its habitats, and is known to hunt individually and in schools.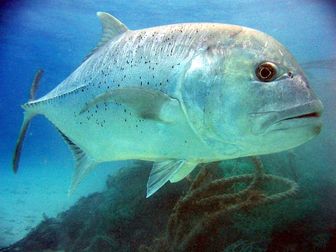 The Giant trevally lives in the pelagic-neritic, marine environment.
The Giant Trevally - The Muscle Car of the Ocean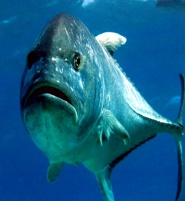 The Giant Trevally (Caranx ignobilis) is a powerful oceanic predator fish also known as the GT for short. It's also called the Giant Kingfish, the Lowly Trevally, or the Barrier Trevally. Like the Mustang GT muscle car, this GT has its own muscle power: strong and thick midsection, and is distinguished by its steep and blunt head shape, and 26 to 38 scutes (sharp, bony plates) along its lateral line. Its color ranges from silver to black, and on those with darker color, it can have remarkable silvery-white patterns on its upper body.

The GT reaches its full size at 3-4 years. Typical size 60 cm long (1.969 feet, or .6 meters) but have been recorded with a length of 170 cm long (5.577 feet, or 1.7 meters) and a weight of 80 kg (176.4 pounds).

The distribution of the Giant Trevally occurs in the tropical or coastal areas of the Indian and Pacific Oceans. The range extends from the eastern coast of Africa, along the coasts of India and Pakistan, across the coast of northern Australia, to as far east as Hawaii. Its habitat is in the shallow coral reefs and lagoons and channels in these tropical areas.

With its canines in its upper jaw, and conical teeth in its lower jaw, the GT has been known to consume small turtles and dolphins. However, its main diet consists of most baitfish found in tropical waters, and it supplements its diet with lobsters, squid, and octopus. The Trevally's method of operation is to use its muscled body to body slam its prey into stunned submission and then quickly eat before another competitor can take away the spoils. The GT also follows Monk Seals and reef sharks to their feeding grounds, and waits for when the shark or seal's attention is diverted, and then grabs what it can of the other predator's dinner.

The GT is prey to only two other predators: sharks, and man. Its biggest threat is population decline, which is largely suspected as due to erosion of coral reefs, which are the GT's main habitat. While it remains a popular game fish in the Indo-Pacific region, its numbers have been decreasing around Hawaii. So far, fishing for the Giant Trevally has not been banned but anglers are being encouraged to follow a catch and release method instead. Recommendations are to have the fish out of water for no more than 30 seconds, to use a hose to pump saltwater through the gills, to use barbless hooks, to not hold the fish by just the mouth, gills, or tail, to hold it securely and not allow it to drop or hit against anything, and to gently swim it a bit before releasing it.
Common names
Akao in Malagasy (Malagasy fiteny)
Among-among in Malay (bahasa Melayu)
Baal-guguud in Somali (Soomaaliga)
Barrier trevally in English
Batola in Malagasy (Malagasy fiteny)
Bayad in Arabic (‫العربية)
Bayad in English
Big-headed jack in English
black ulua in English
Bontok in Waray-waray
Bulatot in Surigaonon
Bwaom in Kumak
Cá Kh? vây vàng in Vietnamese (Tiếng Việt)
Cá Khế vây vàng in Vietnamese (Tiếng Việt)
Carangue à grosse tête in French (français)
Carangue grande face in Creole, French
Carangue grande face in Creoles and Pidgins, French
Carangue gros tête in Creole, French
Carangue gros tête in Creoles and Pidgins, French
Carangue gros tête in French (français)
Carangue grosse race in Creole, French
Carangue grosse race in Creoles and Pidgins, French
Carangue grosse tête in French (français)
Carangue pièce noire in Creole, French
Carangue pièce noire in Creoles and Pidgins, French
Carangue têtue in French (français)
Carangue tÍtue in French (français)
Caranx ignobilis in Catalan (Català)
Caranx ignobilis in French (français)
Chederobk in Palauan
Cherobk in Palauan
Dawa in Fwâi
Dibsy in Arabic (‫العربية)
Doo in Numee
Drotrii in Numee
Eropk in Palauan
Forsskål's Indo-Pacific jack fish in English
Gerepoh in Malay (bahasa Melayu)
Giant kingfish in English
Giant trevally in English
Giant ulua in English
Girim in Arabic (‫العربية)
Gish-e-bozorg in Farsi
Gish-e-bozorg in Persian (‫فارسی)
Gourou in Komoro
Goyan fish in English
Grosse carangue in French (français)
Ikan Belitong in Malay (bahasa Melayu)
Ikan puteh in Malay (bahasa Melayu)
Ikbwij in Marshall
Ikbwij in Marshallese (Kajin M̧ajeļ)
Ikubuj in Marshall
Ikubuj in Marshallese (Kajin M̧ajeļ)
Jack in English
Jarradandree-parah in Telugu (తెలుగు)
Jash yep in Arabic (‫العربية)
Jesh in Arabic (‫العربية)
Jurel gigante in Spanish (español)
Kara uluga in Gela
Karambazi in Swahili (Kiswahili)
Karang ledan in Creole, French
Karang ledan in Creoles and Pidgins, French
Karanks zóltopletwy in Polish (polski)
Kæmpetrevalle in Danish (dansk)
Kikao in Malagasy (Malagasy fiteny)
Kolekole in Swahili (Kiswahili)
Komuri in Tuamotuan
Kubkub in Marshall
Kubkub in Marshallese (Kajin M̧ajeļ)
Kuluvel in Malayalam (മലയാളം)
Langog in Surigaonon
Lanora in Malagasy (Malagasy fiteny)
Lanoramalekoko in Malagasy (Malagasy fiteny)
Lison in Tagalog
Lison in Visayan
lowly trevally in English
Malipito in Tagalog
Maliputo in Tagalog
Maliputong laot in Tagalog
Mamsa in Bikol
Mamsa in Cebuano
Mamsa in Davawenyo
Mamsa in Hiligaynon
Mamsa in Surigaonon
Mamsa in Tagalog
Mamsa in Waray-waray
Mamulan in Austronesian (Other)
Mamulan in Carolinian
Mangsa in Maranao/Samal/Tao Sug
Mangsah in Chavacano
Mansa in Hiligaynon
Mata ura in Other
Momsa in Davawenyo
Nelom in Misima-Paneati
Nokôdoo in Numee
Omuri in Rapanui
Omuri in Tahitian (Reo Mā`ohi)
Pa'aihere upoo rahi in Tahitian (Reo Mā`ohi)
Paanget in Kumak
Pauu'u in Hawaiian
Pipikat in Tagalog
Reuse koningvis in Afrikaans
Rônin-aji in Japanese (日本語)
Samin-samin in Bikol
Samin-samin in Cebuano
Samin-samin in Surigaonon
Sapo'anae in Samoan (gagana fa'a Samoa)
Saqa in Fijian (vosa Vakaviti)
saqa leka in Fijian (vosa Vakaviti)
Saqaleka in Fijian (vosa Vakaviti)
Sikunphueak in Thai (ไทย)
Talakitok in Agutaynen
Talakitok in Cebuano
Talakitok in Davawenyo
Talakitok in Kuyunon
Talakitok in Maranao/Samal/Tao Sug
Talakitok in Tagalog
Taligu mane in Gela
Tarakito in Marshall
Tarakito in Marshallese (Kajin M̧ajeļ)
Trakito in Cebuano
Trakito in Davawenyo
Treotreoka in Malagasy (Malagasy fiteny)
trevally in English
Ulua in Hawaiian
Ulua in Niuean
Ulua aukea in Hawaiian
Urua in Other
Urua in Tahitian (Reo Mā`ohi)
Uruati in Tahitian (Reo Mā`ohi)
Urupiti in Rapa
Urupiti in Rapanui
Wadhan in Tokelauan
wai ni kodrokodro in Fijian (vosa Vakaviti)
white ulua in English
Xaréu gigante in Portuguese (Português)
Yellow-fin trevally in English
Yellowfin jack in English
Yetam-gaigumaw in Austronesian (Other)
Yetam-gaigumaw in Carolinian
Yoruniwor in Austronesian (Other)
Yoruniwor in Carolinian
கீளீசை  in Tamil (தமிழ்)
கொமாரா பாறை  in Tamil (தமிழ்)
செமபாறை   in Tamil (தமிழ்)
தேங்கா பாறை   in Tamil (தமிழ்)
பாற  in Tamil (தமிழ்)
பாறை  in Tamil (தமிழ்)
புலீ பாறை   in Tamil (தமிழ்)
வெண்ணை பாறை  in Tamil (தமிழ்)
జర్రడెండ్రీ పారా  in Telugu (తెలుగు)
పారా  in Telugu (తెలుగు)
పుల్లి పారై   in Telugu (తెలుగు)
మంజల్ పారై    in Telugu (తెలుగు)
ಗೊಂಡ್ಲು in Kannada (ಕನ್ನಡ)
കുലുവെല് in Malayalam (മലയാളം)
കുളുവേല് in Malayalam (മലയാളം)
പാറ  in Malayalam (മലയാളം)
สีกุนเผือก in Thai (ไทย)
散鰺 in Mandarin Chinese
散鲹 in Mandarin Chinese
浪人鰺 in Mandarin Chinese
浪人鲹 in Mandarin Chinese
牛公鰺 in Mandarin Chinese
牛公鲹 in Mandarin Chinese
牛港瓜仔 in Mandarin Chinese
牛港鰺 in Mandarin Chinese
牛港鲹 in Mandarin Chinese
狗魚 in Mandarin Chinese
狗鱼 in Mandarin Chinese
珍鰺 in Mandarin Chinese
珍鲹 in Mandarin Chinese
賴氏鰺 in Mandarin Chinese
赖氏鲹 in Mandarin Chinese

Custom Search