Jarbua terapon
Terapon jarbua is a Grunter from the Indo-Pacific.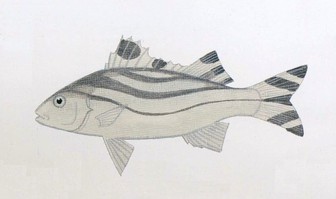 Picture of the Jarbua terapon has been licensed under a Creative Commons
Attribution-Share Alike
.
Original source
: Own work Author Xavier Romero-Frias
Author
: Xavier Romero-Frias
The Jarbua terapon lives in the demersal, catadromous, freshwater, brackish, marine, depth range 20 - 350 m environment.
* Jarbua terapon, Terapon jarbua (Forsskål, 1775). * Small-scaled terapon, Terapon puta (Cuvier, 1829). * Largescaled therapon, Terapon theraps (Cuvier, 1829). More
Share Definition of jarbua terapon on Facebook Digg:Definition of jarbua terapon! stumble Definition of jarbua terapon Bookmark Definition of jarbua terapon on Delicious submit Definition of jarbua terapon to reddit Bookmark Definition of jarbua terapon noun More
Common names
Ava'ava in Palauan
Ava'ava in Samoan (gagana fa'a Samoa)
Baam in Arabic (‫العربية)
Bagaong in Banton
Bagaong in Bikol
Bagaong in Hiligaynon
Bagaong in Ilokano
Bagaong in Kuyunon
Bagaong in Tagalog
Bagaong in Visayan
Bagaong in Waray-waray
Bagaong kambang in Kagayanen
Bagaw in Kuyunon
Baikeeli in Telugu (తెలుగు)
Balauling in Pangasinan
Banlaongan in Ilokano
Baraonga jarbúa in Spanish (español)
Baraongan in Ilokano
Baraungan in Ilokano
Bigaong in Maranao/Samal/Tao Sug
Bogaong in Cebuano
Bongaong in Magindanaon
Boorgooni in Bengali (বাংলা)
Borguni in Bengali (বাংলা)
Buga-ong in Cebuano
Buga-ong in Davawenyo
Buga-ong in Hiligaynon
Bugaong in Agutaynen
Bugaong in Bikol
Bugaong in Cebuano
Bugaong in Davawenyo
Bugaong in Visayan
Bugaung in Chavacano
Bungao in Tagalog
Bungkaong in Magindanaon
Cá Cang cát in Vietnamese (Tiếng Việt)
Cá ham in Vietnamese (Tiếng Việt)
Cá Ong in Vietnamese (Tiếng Việt)
Chavathinnikeeli in Tamil (தமிழ்)
Convex-lined grunt in English
Convex-lined therapon in English
Crescent grunter in English
Crescent perch in English
Crescent-banded grunter in English
Crescent-banded tiger-fish in English
Cresent grunter in English
Cresent perch in English
Dhiba in Arabic (‫العربية)
Dogigi in Misima-Paneati
Doringvis in Afrikaans
Gagaong in Tagalog
Gahnu in Oriya (ଓଡ଼ିଆ)
Galikooru in Mahl
Ganam in Telugu (తెలుగు)
Garangeta in Gujarati (ગુજરાતી)
Gawaany in Nemi
Geedow in Somali (Soomaaliga)
Gelama in Malay (bahasa Melayu)
Gendarme in French (français)
Gonga in Sinhalese (සිංහල)
Gore in Kannada (ಕನ್ನಡ)
Gunggong in Cebuano
Gunggong in Tagalog
Hyoaak in Fwâi
Iri bateya in Sinhalese (සිංහල)
Jambrung in Javanese (basa Jawa)
Jangjan in Javanese (basa Jawa)
Janjan in Javanese (basa Jawa)
Janjan, Jangjan in Javanese (basa Jawa)
Jarbua in Danish (dansk)
Jarbua in English
Jarbua in Swedish (Svenska)
Jarbua terapon in English
Jeerpye in Bengali (বাংলা)
Jimjam in Arabic (‫العربية)
Kaboa in Gela
Kallakeedam in Malayalam (മലയാളം)
Kanigit in Tagalog
Katau-kh˚t in Pije
Katau-khût in Pije
Keechan in Tamil (தமிழ்)
Keeli in Tamil (தமிழ்)
Keeri in Malayalam (മലയാളം)
Kelong-kelong in Malay (bahasa Melayu)
Kerong-kerong in Malay (bahasa Melayu)
Kerong-kerong tambi in Malay (bahasa Melayu)
Kerung-kerung in Makassarese
Khangtaphaolaikhong in Thai (ไทย)
Kili in Sinhalese (සිංහල)
Kilipothu in Telugu (తెలుగు)
Kirong-kirong in Malay (bahasa Melayu)
Kotha in Malayalam (മലയാളം)
Kotohiki in Japanese (日本語)
Kovakeechan in Tamil (தமிழ்)
kui in Swahili (Kiswahili)
Langaat in Maranao/Samal/Tao Sug
Langaat in Tagalog
Mangahua in Makassarese
Marakkeri in Malayalam (മലയാളം)
Mattakkeechan in Tamil (தமிழ்)
Mayavayawong in Other
Mwââgié in Numee
Mwârâgiya in Numee
Naida in Gujarati (ગુજરાતી)
Naveri in Marathi (मराठी)
Naveri hajam in Marathi (मराठी)
Ngagu in Swahili (Kiswahili)
Palin-keetchan in Tamil (தமிழ்)
Palinkeechan in Tamil (தமிழ்)
Peau d'âne in French (français)
Peixe-zebra violão in Portuguese (Português)
Pol bateya in Sinhalese (සිංහල)
Pootankeeli in Tamil (தமிழ்)
Qitawa in Fijian (vosa Vakaviti)
Relégué in French (français)
Sal-ben-ja-ri in Korean (한국어)
Samudrakili in Telugu (తెలుగు)
San gaa in Malay (bahasa Melayu)
Spiky trumpeter in English
Squeaking perch in English
Theeb in Arabic (‫العربية)
Thonfish in English
Thornfish in English
Three-striped tiger fish in English
Threestripe tigerfish in English
Tiger-perch in English
tigerfish in English
Tutot in Tagalog
Violon in French (français)
Violon jarbua in French (français)
Xì lín là in Mandarin Chinese
Yagata-isaki in Japanese (日本語)
Yakata-Isaki in Japanese (日本語)
Yalli in Arabic (‫العربية)
Yalli-e-khatkamani in Farsi
Yalli-e-khatkamani in Persian (‫فارسی)
Yamyam in Arabic (‫العربية)
Yanam in Arabic (‫العربية)
Yoxany in Kumak
नवीरि in Marathi (मराठी)
नवीरि हाजाम in Marathi (मराठी)
বরগুনি in Bengali (বাংলা)
ગરંગેતા  in Gujarati (ગુજરાતી)
નાઈદા  in Gujarati (ગુજરાતી)
கீசன்   in Tamil (தமிழ்)
கீச்சான் in Tamil (தமிழ்)
கீளி in Tamil (தமிழ்)
கீளீ  in Tamil (தமிழ்)
கோவகீச்சன்  in Tamil (தமிழ்)
கோவக் கீச்சான் in Tamil (தமிழ்)
சவத்திண்ணிகீளி in Tamil (தமிழ்)
சாவாதீன்னீகீளீ in Tamil (தமிழ்)
பலங்கீச்சான் in Tamil (தமிழ்)
பாலீன் கீசசான்  in Tamil (தமிழ்)
பூட்டன்கீளீ  in Tamil (தமிழ்)
பூட்டாங் கீளி in Tamil (தமிழ்)
மட்டகீச்சான் in Tamil (தமிழ்)
కిలిపోతు in Telugu (తెలుగు)
గనమ్  in Telugu (తెలుగు)
బైకీలి  in Telugu (తెలుగు)
సముద్రకిలి in Telugu (తెలుగు)
ಗೊರೆ  in Kannada (ಕನ್ನಡ)
കല്ലകേടം  in Malayalam (മലയാളം)
കള്ളകീടം in Malayalam (മലയാളം)
കീരി in Malayalam (മലയാളം)
കീരിമീന് in Malayalam (മലയാളം)
കോത in Malayalam (മലയാളം)
കോതാ  in Malayalam (മലയാളം)
മരക്കേറി in Malayalam (മലയാളം)
മരെക്കരി  in Malayalam (മലയാളം)
ข้างตะเภาลายโค้ง in Thai (ไทย)
コトヒキ(ヤガタイサキ) in Japanese (日本語)
斑吾 in Mandarin Chinese
細鱗鯻 in Mandarin Chinese
细鳞鯻 in Mandarin Chinese
花身仔 in Mandarin Chinese
花身鯻 in Mandarin Chinese
雞仔魚 in Mandarin Chinese
鸡仔鱼 in Mandarin Chinese
살벤자리 in Korean (한국어)

Custom Search