Bloomfield river cod
The species name wujalwujalensis comes from the Wujal Wujal Aboriginal community on the Bloomfield River, and the genus name Guyu comes from the tribe's name for this fish.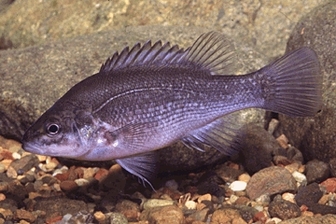 Picture of the Bloomfield river cod has been licensed under a
GFDL
Original source
: Transferred from en.wikipedia; transfer was stated to be made by User:pvmoutside. Autho
Author
: Original uploader was Codman at en.wikipedia Permission (
Permission
: GNU Free Documentation License
The Bloomfield river cod lives in the pelagic, freshwater, pH range: 5.0 - 6.0, depth range 0 - 4 m environment.
The Bloomfield River cod (Guyu wujalwujalensis) is a very small fish in the Guyu genus and the Percichthyidae family that is only found in an 11 kilometre stretch of the Bloomfield River (between two large waterfalls) in North Queensland, Australia. More
noted for its Bloomfield River cod fish species, found only in the river. It was originally named "Blomfield's Rivulet" on 26 June, 1818 by Phillip Parker King By some accounts the Cape York Peninsula begins north of the Bloomfield River. More
Bloomfield River Cod (Guyu wujalwujalensis) is very ancient and very rare and its survival may be due to the fact that a similarly sized species with a similar diet, the Sooty Grunter, does not exist in the Bloomfield River. More
Common names
Bloomfield river cod in English
Tropical nightfish in English

Custom Search