Deepwater stingray
The deepwater stingray or giant stingaree, Plesiobatis daviesi, is a species of ray and the only species in the family Plesiobatidae.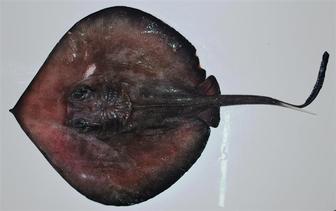 Picture of the Deepwater stingray has been licensed under a Creative Commons
Attribution
.
Original source
: http://www.fishbase.org/photos/thumbnailssummary.php?ID=7376# Author Bineesh. K. K
Author
: Bineesh. K. K Licensing This file is licensed under the
The Deepwater stingray lives in the bathydemersal, marine, depth range 44 - 780 m , usually 275 - 680 m environment.
Deepwater stingray, species of ray Longtail stingray, stingray of the family Dasyatidae found on sandy-bottomed rocky and coral reefs in the eastern Pacific River stingray, neotropical freshwater fish of the Potamotrygonidae family Short-tail stingray, the largest stingray in the More
The deepwater stingray or giant stingaree, Plesiobatis daviesi, is a species of ray and the only species in the family Plesiobatidae. The largest and most widespread of the stingarees, it is found on continental slopes from South Africa to Japan and Australia. More
Deepwater Stingray is a species of ray fish that have a significant population on continental slopes from South Africa to Japan and Australia. Minor population of deepwater stingray or giant stingaree across Indo-West and Central Pacific. More
Common names
Davie's stingray in English
Davies' sting ray in English
Deep water stingray in English
Deep-water stingray in English
Deepwater stingray in English
Diepwater-pylstert in Afrikaans
Dybvandspigrokke in Danish (dansk)
Giant stingaree in English
Giant stingree in English
Pari in Bahasa Indonesia
Pari merah in Malay (bahasa Melayu)
Plesiobatis daviesi in Hungarian (Magyar)
Ratão de profundidade in Portuguese (Português)
Reuzendoornrog in Dutch (Nederlands)
Tiefwasser-Stachelrochen in German (Deutsch)
Trnucha obrovská in Czech (česky)
Usu-ei in Japanese (日本語)
达氏巨尾魟 in Mandarin Chinese
达氏深水尾魟 in Mandarin Chinese
達氏巨尾魟 in Mandarin Chinese
達氏深水尾魟 in Mandarin Chinese

Custom Search