Giant devil ray
It is larger than the lesser devil ray, and it possesses a spiny tail.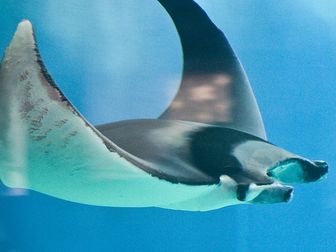 Picture of the Giant devil ray has been licensed under a Creative Commons
Attribution-Share Alike
.
Original source
: Majestic ray
Author
: Patrik Neckman from Stockholm, Sweden
The Giant devil ray lives in the pelagic-neritic, oceanodromous, marine environment.
The Giant devil ray is classified as Endangered (EN), considered to be facing a very high risk of extinction in the wild.

The devil fish (Mobula mobular), also known as the giant devil ray, is an Eagle ray in the family Myliobatidae. They are most common in the Mediterranean Sea and can be found elsewhere in the Eastern Atlantic Ocean, off the southwest coast of Ireland and south of Portugal. More
Gibraltar Giant Devil Ray Set of 4 official Maxicards Gibraltar Giant Devil Ray Set of 4 official Maxicards 200x299 (15kb) More
Gibraltar: WWF Giant Devil Ray Fish Sheetlet of 4 sets Title $31. More
Common names
Baqra in Maltese (Malti)
Daddarita in Italian (Italiano)
Devil fish in English
Devil ray in English
devilfish in English
Diable de mer méditerranéen in French (français)
Diabo-do-mar in Portuguese (Português)
Diavol de mare in Rumanian
Diavolo di mare in Italian (Italiano)
Diavolopsaro in Greek (Ελληνικά)
Diavolopsaro in Greek, Modern (1453)
Duivelsrog in Dutch (Nederlands)
Giant devil ray in English
Giant devilray in English
Golub uhan in Croatian (Hrvatski)
Horny ray in English
Jamanta in Portuguese (Português)
Jimanta in Portuguese (Português)
Kleine duivelsrog in Dutch (Nederlands)
Kleine dulvelsrog in Dutch (Nederlands)
Kleiner Teufelsrochen in German (Deutsch)
Kulaklifulya baligi in Turkish (Türkçe)
Kulaklıfulya balığı in Turkish (Türkçe)
Lille djævlerokke in Danish (dansk)
Lope deti in Albanian (Shqip)
Manta in Catalan (Català)
Manta in English
Manta in Maltese (Malti)
Manta in Portuguese (Português)
Manta in Spanish (español)
Manta in Swedish (Svenska)
Manta (peix) in Catalan (Català)
Manta atlantská in Czech (česky)
Manta mobula in Spanish (español)
Mante in French (français)
Maroma in Portuguese (Português)
Maroma in Spanish (español)
Meeresteufel in German (Deutsch)
Mindre djävulsrocka in Swedish (Svenska)
Mittelmeer-Manta in German (Deutsch)
Mobula in Italian (Italiano)
Mobula in Polish (polski)
Muchio vacca in Italian (Italiano)
Patesse addo capre in Italian (Italiano)
Pesce vesque in Italian (Italiano)
Pescio vacca in Italian (Italiano)
Pisci daddarita in Italian (Italiano)
Pisci sceccu in Italian (Italiano)
Raja tal-qrun in Maltese (Malti)
Sarvirausku in Finnish (suomen kieli)
Seláhi kephalóptero in Greek (Ελληνικά)
Seláhi kephalóptero in Greek, Modern (1453)
Seytan baligi in Turkish (Türkçe)
Şeytan balığı in Turkish (Türkçe)
Shing pakat in Marathi (मराठी)
Teufelsrochen in German (Deutsch)
Ugemanta in Portuguese (Português)
Uja in Portuguese (Português)
Uje in Portuguese (Português)
Urjamanta in Portuguese (Português)
Vacca 'emare in Italian (Italiano)
Vescovo in Italian (Italiano)
Διάβολος in Greek (Ελληνικά)
Διαβολόψαρο in Greek (Ελληνικά)
Διαβολόψαρο in Greek, Modern (1453)
Κερατάς in Greek (Ελληνικά)
शिंग पाकात in Marathi (मराठी)
蝠鱝 in Mandarin Chinese
蝠鲼 in Mandarin Chinese

Custom Search