Pacific lamprey
The Pacific lamprey lives along the Pacific Coast of North America and Asia.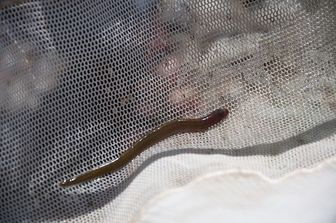 Picture of the Pacific lamprey has been licensed under a Creative Commons
Attribution
.
Original source
: Pacific lamprey Author Sam Beebe Camera location
Author
: Sam Beebe Camera location
The Pacific lamprey lives in the demersal, anadromous, freshwater, brackish, marine, depth range 0 - 1100 m environment.
Pacific lampreys begin their life cycle as an ammocoete or larvae, usually within a freshwater stream. Ammocoetes burrow tail first into mud or soft substrate where they filter feed on algae and organic matter. More
System for Pacific Lamprey Habitat in Rock Creek (Siletz), Oregon = Bridging Traditional Ecological Knowledge and Ecosystem Science More
The Pacific lamprey is a fish. Its scientific name is Lampetra tridentata, and it is also known as three tooth lamprey and tridentate lamprey. More
effects of Pacific lamprey attacks on commercial species needs further studies (Ref. 6885). IUCN Red List Status (Ref. More
The Pacific lamprey may be cultured for research purposes rather than for food since there is only a small commercial base to support culturing it (Swihart 2001). There are also Native American cultural uses of this species. More
Pacific lamprey to a level that will provide robust species abundance, significant ecologic contributions and meaningful harvest within the Yakama Nations Ceded Lands and in the Usual and Accustomed areas. Lamprey Project Biologist P.O. More
Pacific Lamprey redds are seen in conjunction with which species of anadromous fish during spawning surveys? Winter Steelhead. Pacific Lamprey are also an anadromous species. More
Pacific lamprey, captured in rotary screw trap on Sacramento River at Knight Pacific lamprey, captured in rotary screw trap on Sacramento River at Knight's Landing. Photo by Dan Worth, California Department of Fish and Game. More
Pacific lampreys (Lampetra tridentata) in the Columbia River Basin have declined to only a remnant of their pre-1940's populations. More
Pacific lampreys (Lampetra tridentata) in the Columbia River Basin have declined to only a remnant of their pre-1940s populations. One factor that could be detrimental to lamprey production is the amount of energy they expend negotiating upstream fish passage facilities at dams. More
Pacific lamprey were declining to perilously low numbers. Similar to Pacific salmon declines, Pacific lamprey show a dramatic declining trend throughout their range from California to the Columbia River portions of their range. More
Alarmed by severe declines of Pacific lamprey in many West Coast rivers, the Center joined a coalition of conservation organizations in petitioning for Endangered Species Act protection for the Pacific lamprey. We filed suit against the U.S. More
Pacific lamprey populations in the Columbia and Snake river systems have declined, and conservation initiatives have been hampered by a lack of adequate information on the historic distribution, life history, and habitat requirements of the species. More
The Columbia River Basin Pacific Lamprey Summit was held on Friday October 22, 2004 at the Native American Student Community center at Portland State University. Presentations addressed basic lamprey ecology and the status of lamprey and lamprey research in the Columbia River Basin. More
The Pacific lamprey, Lampetra tridentate, is an ancient jawless fish that resembles an eel. The adults are parasitic attaching themselves to the side or undersurface of its prey where they use their rasping tooth plates to feed on blood and body fluids. More
Pacific lamprey can reach two to three feet in length. Born in fresh water, the Pacific lamprey and the river lamprey migrate to sea to feed parasitically during their adult life and return to freshwater to spawn. More
* Technical Report: Assessing Pacific Lamprey in the Columbia River Basin * Technical Report: Identification of Larval Pacific, River More
A picture of spawning Pacific lampreyThe Pacific lamprey is a very primitive, eel-like fish. The Pacific lamprey lives in the ocean as adults where they feed on the blood and bodily fluids of marine mammals and fish. More
Pacific Lamprey Conservation Initiative and Rangewide Conservation Plan (PLCI) Director's support letter and draft initiative and Pacific Lamprey Conservation Initiative October 2008 Work Session The U.S. More
Pacific Lamprey Conservation Meeting for the Mid-Columbia River Basin Walla Walla and Umatilla Region = Subscribe to our Wildlife Environment News RSS Feed Category: Wildlife Type: News Source: U.S. More
Description: The Pacific Lamprey is long and round. It has no scales and feels slimy. It has a mouth that is turned down and designed for sucking Habitat: Young Lampreys live in muddy river bottoms. More
Pacific lamprey is a parasitic eel-like species that has no true jaw, bones or fins. They are anadromous, meaning they are born in fresh water streams then migrate to the sea or ocean and return to freshwater streams to spawn. More
the plight of the Pacific lamprey has garnered some attention, but little effective action. It calls for immediate operational and structural modifications to improve dam passage. More
DID YOU KNOW: The Pacific Lamprey has no true fins, jaws, or bones. SCIENTIFIC NAME: Lampetra tridentata, from the Latin lambere, to suck, petra meaning stone, and tridentata meaning three-toothed. COMMON NAMES: Pacific sea-lamprey, three toothed lamprey, tridentate lamprey, and sea lamprey. More
The Pacific Lamprey Research and Restoration project, initiated in 1994, is sponsored by the Confederated Tribes of the Umatilla Indian Reservation, and has been recommended by the Council for funding by the Bonneville Power Administration to provide critical information about Pacific lampreys in the More
Common names
Lamprea del Pacifico in Spanish (español)
Lamproie du Pacifique in French (français)
Minóg trójzebny in Polish (polski)
Mitsuba-yatsume in Japanese (日本語)
modoc brook lamprey in English
Pacific lamprey in English
Pacific three-toothed lamprey in English
Pazifisches Neunauge in German (Deutsch)
Sea lamprey in English
Stillahavsnejonöga in Swedish (Svenska)
Stillehavslampret in Danish (dansk)
Three-toothed lamprey in English
Tridentate lamprey in English
三峰七鰓鰻 in Mandarin Chinese
三峰七鳃鳗 in Mandarin Chinese
叉牙楔齒七鰓鰻 in Mandarin Chinese
叉牙楔齿七鳃鳗 in Mandarin Chinese

Custom Search