Gilt head bream
The gilt-head bream is generally considered the best-tasting of the breams and has given the whole family of Sparidae its name.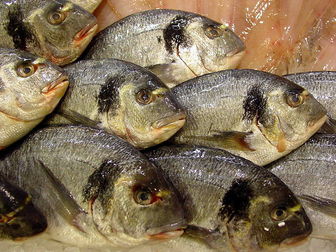 Picture of the Gilt head bream has been licensed under a Creative Commons
Attribution-Share Alike
.
Original source
: http://commons.wikimedia.org/wiki/Main_Page
Author
: Luis Miguel Bugallo Sánchez (Lmbuga Commons)(Lmbuga Galipedia)
The Gilt head bream lives in the demersal, brackish, marine, depth range 1 - 150 m , usually 1 - 30 m environment.
The competition between Turkish and Greek fishermen for gilt head bream near the Kardak Islands has led to awkward situations. The competition between Turkish and Greek fishermen for gilt head bream near the Kardak Islands has led to awkward situations. More
Common names
Aj'j in Arabic (‫العربية)
Ajâj in Arabic (‫العربية)
Alyanak baligi in Turkish (Türkçe)
Alyanak balığı in Turkish (Türkçe)
Arata in Italian (Italiano)
Auksaspalvis sparas in Lithuanian (lietuvių kalba)
Aurat in Italian (Italiano)
Aurata in Arabic (‫العربية)
Aurata in Italian (Italiano)
Aurate in Italian (Italiano)
Awrata in Maltese (Malti)
Bannicella in Italian (Italiano)
bream in English
Bulehavrude in Danish (dansk)
Canina in Italian (Italiano)
Carina in Italian (Italiano)
Chaparreta in Spanish (español)
Cipura in Turkish (Türkçe)
Çipura baligi in Turkish (Türkçe)
Çipura balığı in Turkish (Türkçe)
Cockney in English
Cockney bream in English
Cockney snapper in English
Daivula ni horara in Gela
Daurade in French (français)
Daurade royale in French (français)
Denci awrata in Maltese (Malti)
Dinigla in Croatian (Hrvatski)
Doirado in Portuguese (Português)
Dorada in Polish (polski)
Doradă in Rumanian
Dorada in Spanish (español)
Dorada del Pacífico in Spanish (español)
Dorade in French (français)
Dorade in German (Deutsch)
Dorade Royal in German (Deutsch)
Dorade royale in French (français)
Dorata in Maltese (Malti)
Dourada in Portuguese (Português)
Dourada in Spanish (español)
Dourada-australiana in Portuguese (Português)
Douradinha in Portuguese (Português)
Eastern snapper in English
Gemeine Goldbrasse in German (Deutsch)
Gilt head bream in English
gilt-head bream in English
Gilt-head seabream in English
Gilthead in English
Gilthead bream in English
Gilthead seabream in English
gilthead seabream (German: Goldbrasse) in English
Glazenn fri aour in Breton (brezhoneg)
Goldbrasse in German (Deutsch)
Goldbrassen in German (Deutsch)
Golden snapper in English
Goldkopf in German (Deutsch)
Goud brasem in Dutch (Nederlands)
Goudbrasem in Dutch (Nederlands)
Guldbrasen in Danish (dansk)
Guldbraxen in Swedish (Svenska)
Guldhovede in Danish (dansk)
Guldsparid in Swedish (Svenska)
Kanuping in Tagalog
Koce in Albanian (Shqip)
Komarča in Croatian (Hrvatski)
Komarca in Serbian (српски језик)
Komarča in Serbo-Croatian (Српскохрватски)
Kultaotsa-ahven in Finnish (suomen kieli)
Laurate in Italian (Italiano)
Lovrata in Croatian (Hrvatski)
Meerbrasse in German (Deutsch)
N'tad in Arabic (‫العربية)
N'tad in Arabic, Hassaniya
Nobblers in English
Oà in Italian (Italiano)
Old Man in English
Old man red snapper in English
Old man snapper in English
Orada in Catalan (Català)
Orada in Croatian (Hrvatski)
Orada in Italian (Italiano)
Orada in Slovenian (slovenščina)
Orae de la corona in Italian (Italiano)
Oraela in Italian (Italiano)
Orata in Italian (Italiano)
Orata in Maltese (Malti)
Orate in Italian (Italiano)
Ovrata in Croatian (Hrvatski)
Ovrata in Serbian (српски језик)
Pagrus auratus in French (français)
Pink snapper in English
Pinkie in English
Podlanica in Croatian (Hrvatski)
Porgy in English
Queen red bream in English
Red bream in English
Red pargo in English
Red seabream in Unknown
Red tail in Unknown
Reddie in English
Ruggers in English
Safata in Portuguese (Português)
Schnapper in English
Schnapper in German (Deutsch)
Sea bream in English
Silver seabream in English
Snapper in English
Sparus aurata in Spanish (español)
Squire in English
Squirefish in English
Tai snapper in English
Tamure in English
Tamure in Maori (te reo Māori)
Tamure in Rapanui
Tsipoúra in Greek (Ελληνικά)
Tsipoúra in Greek, Modern (1453)
Uà in Italian (Italiano)
Urara in Italian (Italiano)
Væbnerfisk in Danish (dansk)
Western snapper in English
White snapper in English
Zapata morisca in Spanish (español)
Καμπανάρα in Greek (Ελληνικά)
Κότσα in Greek (Ελληνικά)
Κοτσί in Greek (Ελληνικά)
Λίγδα in Greek (Ελληνικά)
Μαρίδα in Greek (Ελληνικά)
Τσιπούρα in Greek (Ελληνικά)
Τσιπούρα in Greek, Modern (1453)
Χρυσόφα in Greek (Ελληνικά)
דניס in Hebrew (‫עברית)
ﺎﺗﺍﺭﻭﺃ in Arabic (‫العربية)
金头鲷 in Mandarin Chinese
金赤鯛 in Mandarin Chinese
金赤鲷 in Mandarin Chinese
金頭鯛 in Mandarin Chinese
金鯛 in Mandarin Chinese
金鲷 in Mandarin Chinese
隆背金鯛 in Mandarin Chinese
隆背金鲷 in Mandarin Chinese

Custom Search