Bicolour parrotfish
Cetoscarus bicolor, the bicolour parrotfish, is a species of fish from reefs in the Indo-Pacific.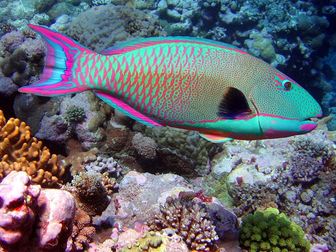 Picture of the Bicolour parrotfish has been licensed under a Creative Commons
Attribution-Share Alike
.
Original source
: Bicolor_parrotfish.JPG
Author
: User:Rling
The Bicolour parrotfish lives in the reef-associated, marine, depth range 1 - 30 m , usually 1 - 30 m environment.
Bicolour Parrotfish, Irobudai, Loro de manchas rojas, Two-colour parrotfish General Description From a marine aquarium industry perspective, parrotfishes are not great aquarium fishes. More
Photo of a bicolour parrotfish in bright form Adult fish bright form (Photo: JE Randall) Photo of a juvenile bicolour parrotfish Juvenile Bicolour parrotfish More
The Bicolour Parrotfish has a pointed snout with a sickle-shaped caudal fin. The male is spattered with colours of fuchsia, green and blue while the female is a little drabber in appearance. More
Common names
Aliyakyak in Visayan
Alulung in Tagbanwa Calamian
Angol in Bikol
Arawa in Other
Asul in Bikol
Batagon in Surigaonon
Bayan in Malay (bahasa Melayu)
Bicolor parrotfish in English
Bicolour parrotfish in English
Bon-ak in Bikol
Bumphead parrotfish in English
Bungalog in Visayan
Bunog na angol in Bikol
Busalog in Kuyunon
Buyos in Other
Cetoscarus bicolor in Catalan (Català)
Dangawan in Surigaonon
Fuga-sina in Samoan (gagana fa'a Samoa)
Galokilaha in Misima-Paneati
Gishigish in Austronesian (Other)
Gishigish in Carolinian
Irobudai in Japanese (日本語)
Isdang loro in Tagalog
Kakatua in Malay (bahasa Melayu)
Kalhu landaa in Maldivian
Laea-mamanu in Samoan (gagana fa'a Samoa)
Laea-usi in Samoan (gagana fa'a Samoa)
lawi in Fijian (vosa Vakaviti)
loro in Maranao/Samal/Tao Sug
loro in Tagalog
Loro de manchas rojas in Spanish (español)
Luro in Tagalog
Lutiin in Tagalog
Malunaw in Tagbanwa Calamian
Mamanu in Samoan (gagana fa'a Samoa)
Maming in Bikol
Mol-mol in Cebuano
Mol-mol in Waray-waray
Molmol in Agutaynen
Mudhikey landaa in Maldivian
Mui in Gela
Mul-mul in Davawenyo
Mul-mul in Ilokano
Mul-mul in Tagalog
Mulmol in Tagalog
Niyórokuning in Austronesian (Other)
Niyórokuning in Carolinian
Papagaio bicolor in Portuguese (Português)
Perroquet à points rouges in French (français)
Perroquet bicolore in French (français)
Poisson-perroquet baleine in French (français)
Pono in Swahili (Kiswahili)
Red-speckled parrotfish in English
redspotted parrotfish in English
soqo in Fijian (vosa Vakaviti)
Spotted parrot-fish in English
spotted parrotfish in English
Talinis in Cebuano
Taroa in Gela
Tofarvet papegøjefisk in Danish (dansk)
Two-colored parrotfish in English
Two-colour parrotfish in English
Ulavi in Fijian (vosa Vakaviti)
Uwapay in Cebuano
Wuufóór in Austronesian (Other)
Wuufóór in Carolinian
Yapot in Tagalog
Yaregulung in Austronesian (Other)
Yaregulung in Carolinian
双色大鹦嘴鱼 in Mandarin Chinese
紅點綠鸚嘴魚 in Mandarin Chinese
絢麗鸚嘴魚 in Mandarin Chinese
红点绿鹦嘴鱼 in Mandarin Chinese
绚丽鹦嘴鱼 in Mandarin Chinese
雙色大鸚嘴魚 in Mandarin Chinese
青鯨鸚嘴魚 in Mandarin Chinese
青鲸鹦嘴鱼 in Mandarin Chinese
青鸚哥魚 in Mandarin Chinese
青鹦哥鱼 in Mandarin Chinese
鸚哥 in Mandarin Chinese
鹦哥 in Mandarin Chinese

Custom Search