Elegant firefish
This species is found in the Indo-West Pacific, from Mauritius to Samoa, north to Ryukyu Islands, and south to New Caledonia, from 25–70 metres in depth.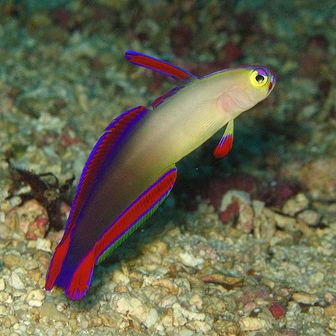 Picture of the Elegant firefish has been licensed under a Creative Commons
Attribution
.
Original source
: Elegant firefish / Decorated dartfish (アケボノハゼ) Author TANAK
Author
: TANAKA Juuyoh Other versions
The Elegant firefish lives in the reef-associated, marine, depth range 25 - 70 m , usually 25 - 70 m environment.
The elegant firefish or purple firefish, Nemateleotris decora, is a dartfish of the genus Nemateleotris. This species is found in the Indo-West Pacific, from Mauritius to Samoa, north to Ryukyu Islands, and south to New Caledonia, from 25–70 metres ( ft) in depth. More
Elegant Firefish, Nemateleotris decora Beginner level. In stock, small, non-agressive, reef-compatible, with striking colors and interesting behavior - swiftly flicking the long dorsal fin up and down when stimulated by an intruder or aggressor. More
The Elegant firefish Nemateleotris decora is a member of the Dartfishes Family Microdesmidae, and is similar in appearance to the more common Fire dartfish. They are normally seen in rubble zones, often in pairs darting around by moving their long dorsal fin. More
The Elegant firefish Nemateleotris decora is a member of the Dartfishes Family Microdesmidae, and is similar in appearance to the more common Fire dartfish. More
Elegant firefish A head on shot of the Elegant firefish Nemateleotris decora showing the bright purple colors on its head. More
Elegant Firefish (Nemateleotris decora) Image Source The ever lovely and beautiful Elegant Firefish or Purple Firefish is a dartfish of the Indo-West Pacific. More
The elegant firefish or purple firefish, Nemateleotris decora, is a dartfish of the genus Nemateleotris. More
Common names
Akebonohaze in Japanese (日本語)
Decorated dartfish in English
Decorated firefish in English
Dekor-Schwertgrundel in German (Deutsch)
Elegant firefish in English
Eleotris décoré in French (français)
Exocet in Malay (bahasa Melayu)
Iga daro geregere in Gela
Iga daro geregere in Unknown
Mano'o-sugale in Samoan (gagana fa'a Samoa)
Purple fire-goby in English
Purple firefish in English
Violet ildhalekutling in Danish (dansk)
华丽线塘鳢 in Mandarin Chinese
华丽线塘鳢 in Unknown
華麗線塘鱧 in Mandarin Chinese
華麗線塘鱧 in Unknown
퍼플고비 in Korean (한국어)

Custom Search