Yellowtail horse mackerel
The yellowtail horse mackerel is very similar to the greenback horse mackerel but has 68 to 73 lateral line scutes, compared with 76 to 82 for the greenback horse mackerel.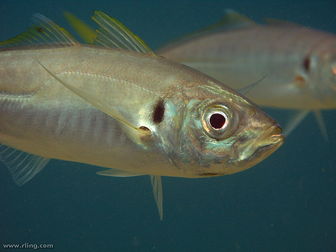 Picture of the Yellowtail horse mackerel has been licensed under a Creative Commons
Attribution-Share Alike
.
Original source
: Yellowtail Scad Author Richard Ling from NSW, Australia
Author
: Richard Ling from NSW, Australia
The Yellowtail horse mackerel lives in the pelagic-oceanic, brackish, marine, depth range 22 - 500 m , usually - 150 m environment.
The yellowtail horse mackerel, Trachurus novaezelandiae, is a jack in the family Carangidae found around Australia and New Zealand at depths of up to 500 m. Its length is up to 50 cm. More
Fish Animals pets Yellowtail horse Mackerel for sale/info • Home » Animals/Pets » Fish » Mackerel » Yellowtail HorseNon User Double Lined Scad | Mediterranean Horse * 5 Division and integration of the FIES items to the CPI items 98 More
Common names
Bung in English
Chow in English
Cowanyoung in English
Haature in Maori (te reo Māori)
horse mackerel in English
jack mackerel in English
Mcculloch's yellowtail in English
Newzealandsk hestemakrel in Danish (dansk)
Ostrobok nowozelandzki in Polish (polski)
Scad in English
Southern yellowtail scad in English
Yakka in English
Yellowtail in English
Yellowtail chow in English
Yellowtail horse mackerel in English
Yellowtail mackerel in English
Yellowtail scad in English
新西兰竹筴鱼 in Mandarin Chinese
新西蘭竹筴魚 in Mandarin Chinese
黃尾竹筴魚 in Mandarin Chinese
黄尾竹筴鱼 in Mandarin Chinese

Custom Search