Gaff-topsail
Palometa are most recognized by their elongated dorsal and anal fins with dark anterior lobes .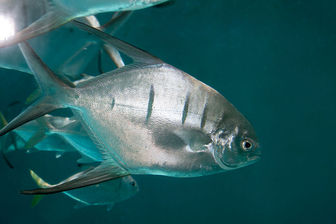 Picture of the Gaff-topsail has been licensed under a Creative Commons
Attribution
.
Original source
: Palometa,Trachinotus goodei Author Brian Gratwicke
Author
: Brian Gratwicke
The Gaff-topsail lives in the reef-associated, marine, depth range 0 - 12 m environment.
gaff-topsail definition gaff·-topsail (gaf′täp′sāl′; naut., -səl) noun a topsail the lower edge of which is attached to a gaff Webster's New World College Dictionary Copyright © 2009 by Wiley Publishing, Inc., Cleveland, Ohio. More
Common names
Aracanguito in Portuguese (Português)
Aratobaia in Portuguese (Português)
Aratubaia in Portuguese (Português)
Banner pompano in English
Camade fish in English
Canasha in Wayuu
Carangue quatre in French (français)
Cobbler in English
Cobbler in Papiamento
Gaff-topsail in English
gaff-topsail pompano in English
Gafftopsail in English
Galhuda in Portuguese (Português)
Galhudinho in Portuguese (Português)
Galhudo in Portuguese (Português)
Great pompano in English
Jiriquiti in Portuguese (Português)
Joefish in English
Kawãng lin in Creole, French
Kawãng lin in Creoles and Pidgins, French
Lin in Creole, French
Lin in Creoles and Pidgins, French
Longfin pompano in English
Old wife in English
palometa in Danish (dansk)
palometa in English
palometa in Spanish (español)
Palomilla in Spanish (español)
pampano in Papiamento
pampano in Spanish (español)
Pámpano listado in Spanish (español)
Pámpano pata de mula in Spanish (español)
Pamper in Papiamento
Pampino in Portuguese (Português)
Pampo in Portuguese (Português)
Pampo malhado in Portuguese (Português)
Pampo-aracanguira in Portuguese (Português)
Pampo-de-espinha-mole in Portuguese (Português)
Pampo-espinha-mole in Portuguese (Português)
Pampo-galhudo in Portuguese (Português)
Pampo-listado in Portuguese (Português)
Pampo-listrado in Portuguese (Português)
Pampo-mirim in Portuguese (Português)
Pampo-riscado in Portuguese (Português)
Pampu in Papiamento
Permit in English
Pompaneau guatie in French (français)
Pompano in English
Pompano pata de mula in Spanish (español)
Quatre in French (français)
Sand mackerel in English
Sargento in Portuguese (Português)
Sernambiquara in Portuguese (Português)
Sierpnik palometa in Polish (polski)
Streamers jack in English
Wireback in English
Zelwan in English
трахинот большой in Russian (русский язык)
灰鯧鰺 in Mandarin Chinese
灰鲳鲹 in Mandarin Chinese
谷氏鯧鰺 in Mandarin Chinese
谷氏鲳鲹 in Mandarin Chinese

Custom Search