Black ulua
The bluefin trevally is a strong predatory fish, with a diet dominated by fish and supplemented by cephalopods and crustaceans as an adult.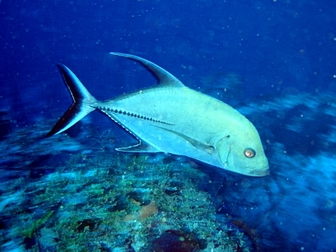 Picture of the Black ulua has been licensed under a Creative Commons
Attribution-Share Alike
.
Original source
: http://mediateca.educa.madrid.org/imagen/ver.php?id_imagen=evb3i6d7ks328nq5#aexifampliada Author Quintín Muñoz
Author
: Quintín Muñoz
The Black ulua lives in the reef-associated, brackish, marine, depth range 0 - 190 m environment.
black kingfish, coal fish and black ulua), is a species of large marine fish in the jack family Carangidae. The species has a circumtropical distribution, found in oceanic, offshore waters of the tropical zones of the Pacific, Atlantic and Indian Oceans. More
either white ulua or black ulua and have a different name for juveniles... More
Black ulua's aren't that common now on Oahu. More
were a huge black ulua and a pair of human-sized reef sharks. The dramatic population of fish with big mouths and sharp teeth is what immediately strikes anyone who enters the water in the Northwestern Hawaiian Islands. More
Fukada, display two black ulua they speared in the waters off the Big Island's Kohala coast using custom wooden spearguns they constructed on their own. More
5-lb black ulua on an opelu bait. More
black ulua, bluefin trevally Caranx melampygus.'omilu. black ulua, bluefin trevallyCaranx melampygus.'omilu. More
black ulua, bluefin trevally NPS photo - Bryan Harry Family Name List | Plate | Scientific Name Index | Common Name Index | Hawaiian Name Index More
viewsmadgyver Black Ulua Attacking Fish on KauaiAdded to Quicklist1:46Black Ulua Attacking Fish on Kauai10,780 viewsemale808 Loading... More
Black Ulua Attacking Fish on KauaiAdded to Quicklist1:46Black Ulua Attacking Fish on Kauai10,780 viewsemale808 Mark White Lures in JavaAdded to Quicklist4:43Mark White Lures in Java17,832 viewsmarkwhitelures 808 fishing- Catchin an EelAdded to Quicklist1:29808 fishing- Catchin an Eel9,884 viewsAlohaPanda More
Common names
Adlo in Visayan
Aloau in Creole, English
Aloau in Creoles and Pidgins, English
Aloau in English
Atugaloloa in Samoan (gagana fa'a Samoa)
Atulay in Bikol
Babadlong in Tagalog
Babakulan in Visayan
Badlon in Bikol
Bagudlong in Visayan
Baho-olo in Tagalog
Baho-olo in Visayan
Baho-olo in Waray-waray
Bahul-o' in Bikol
Bahulo in Bikol
Banlog in Tagalog
Banlug in Bikol
Barilason in Visayan
Batik in Tagbanwa Calamian
Baulo in Hiligaynon
Baulo in Visayan
Bayad in Arabic (‫العربية)
Bayad in English
Belo-belo in Maranao/Samal/Tao Sug
black ulua in English
Black-tipped trevally in English
Blåfinnet trevalle in Danish (dansk)
Blouvin-koningvis in Afrikaans
Blue jack in English
Blue jack fish in English
Blue trevally in English
Blue ulua in English
Blue-fin trevally in English
Blue-finned trevally in English
Bluefin jack in English
bluefin kingfish in English
bluefin trevally in English
Bluefinned crevalle in English
Bulubukto in Tagalog
Cá Kh? vây den in Vietnamese (Tiếng Việt)
Cá Khế vây đen in Vietnamese (Tiếng Việt)
Caballa in Spanish (español)
Carangue aîle bleue in French (français)
Carangue aÓle bleue in French (français)
Carangue bleue in French (français)
Carangue chasseur in Creole, French
Carangue chasseur in Creoles and Pidgins, French
Carangue chasseur in French (français)
Carangue étoilée in French (français)
Carangue sardine in French (français)
Carangue verte in French (français)
Caranx melampygus in Catalan (Català)
Cojinua in Spanish (español)
crevalle-jack in English
Dahudahu in Creole, English
Dahudahu in Creoles and Pidgins, English
Dahudahu in English
Deltokrok in Marshall
Deltokrok in Marshallese (Kajin M̧ajeļ)
Dibsy in Arabic (‫العربية)
Dootri in Numee
Dulasan in Tagalog
Etam in Austronesian (Other)
Etam in Carolinian
Fani handhi in Maldivian
Fanihandi in Mahl
Gekola in Creole, English
Gekola in Creoles and Pidgins, English
Gekola in English
Girim in Arabic (‫العربية)
Hoshi ulua in Hawaiian
Ikan puteh biru in Malay (bahasa Melayu)
Inggatan in Cebuano
Istah putih biloh-biloh in Chavacano
Jack in English
Jesh in Arabic (‫العربية)
Jurel in sp
jurel aleta azul in Spanish (español)
Jurel azul in Spanish (español)
Jurel de aleta azul in Spanish (español)
Kalapato in Tagalog
Kambisi in Swahili (Kiswahili)
Kara gabutogo in Gela
Kara mera in Gela
Karambazi in Swahili (Kiswahili)
Karis-karis in Tagalog
Kasumi-aji in Japanese (日本語)
Kolekole in Swahili (Kiswahili)
Kuluvel in Malayalam (മലയാളം)
Kuroogoo-parah in Telugu (తెలుగు)
Lambiyan in Visayan
Lane in Marshall
Lane in Marshallese (Kajin M̧ajeļ)
Langiuw-chep in Austronesian (Other)
Langiuw-chep in Carolinian
Lison in Hiligaynon
Lupo in Tongan
Maduthala in Malayalam (മലയാളം)
Malapondo in Bikol
Malau tea in Niuean
Malauli-apamoana in Samoan (gagana fa'a Samoa)
Malilmango in Tagalog
Maliputo in Tagalog
Mamsa in Bikol
Mamsa in Visayan
Mamsa in Waray-waray
Mangsah in Chavacano
Manitis in Tagalog
Mansa in Bikol
Matoro in Creole, English
Matoro in Creoles and Pidgins, English
Matoro in English
Mirapina in Tagalog
Momsa in Visayan
Momsa golden key in Davawenyo
Mudahandi in Mahl
Nagboboguel in Ilokano
Omilu in Hawaiian
Omilumilu in Hawaiian
Oruidel in Palauan
Oruidl in Palauan
Oyupara in Malayalam (മലയാളം)
Pa`aihere in Tahitian (Reo Mā`ohi)
Pa'aihere in Tahitian (Reo Mā`ohi)
Paaihere in Tahitian (Reo Mā`ohi)
Paaihere in Tuamotuan
Pagapa in Visayan
pampano in Tagalog
Paruku in Tuamotuan
Pikat in Tagalog
Popo in Other
Puka putih in Malay (bahasa Melayu)
Pulang buntot in Tagalog
Rupo in Tuamotuan
Salay-salay in Bikol
Samin-samin in Cebuano
Saqa dina in Fijian (vosa Vakaviti)
Saqanivatu in Fijian (vosa Vakaviti)
Saraming in Visayan
Shgiiraan-sisimoole in Somali (Soomaaliga)
Shitap in Marathi (मराठी)
Sibong bakug in Tagalog
Spotted trevally in English
starry trevally in English
Tagiptipon in Bikol
Talabkito in Tagalog
Talakitok in Agutaynen
Talakitok in Cebuano
Talakitok in Davawenyo
Talakitok in Kuyunon
Talakitok in Tagalog
Talakitok in Tagbanwa Calamian
Taliti-on in Surigaonon
Tamarong in Visayan
Tarakita in Marshall
Tarakita in Marshallese (Kajin M̧ajeļ)
Tarakite in Marshall
Tarakite in Marshallese (Kajin M̧ajeļ)
Tarakito in Chamorro (Chamoru)
Tarakitok in Cotabato Chavacano
Tarakitok in Visayan
Tarakiton atelong in Chamorro (Chamoru)
Tarakiton hanom in Austronesian (Other)
Tarakiton hanom in Carolinian
Tarakugan in Bikol
Taruk-ogan in Bikol
Tatahauta in Tuamotuan
Tatahuta in Tuamotuan
Tauta in Fijian (vosa Vakaviti)
Te aseu in Tuvaluan
Te bari in Gilbertese
Te bari in Kiribati
Te kuia in Gilbertese
Te kuia in Kiribati
Te rereba in Gilbertese
Te rereba in Kiribati
Te urua in Gilbertese
Te urua in Kiribati
Trakito in Cebuano
Trakito in Visayan
trevally in English
Trukitok in Other
Tuialata in Creole, English
Tuialata in Creoles and Pidgins, English
Tuialata in English
Tupatupa in Misima-Paneati
Ulua in Hawaiian
Vated in Other
Waare in Kumak
Xaréu barbatana azul in Portuguese (Português)
Yellow fin jack in English
शिताप in Marathi (मराठी)
కురూగూ పారా    in Telugu (తెలుగు)
ഒയുപാര  in Malayalam (മലയാളം)
ഒയ്പാര in Malayalam (മലയാളം)
കുലുവെല് in Malayalam (മലയാളം)
മടുതള   in Malayalam (മലയാളം)
വറ്റ in Malayalam (മലയാളം)
星点鲹 in Mandarin Chinese
星點鰺 in Mandarin Chinese
甘仔 in Mandarin Chinese
甘仔魚 in Mandarin Chinese
甘仔鱼 in Mandarin Chinese
蓝鳍鲹 in Mandarin Chinese
藍鰭鰺 in Mandarin Chinese
黑尻鰺 in Mandarin Chinese
黑尻鲹 in Mandarin Chinese

Custom Search