Shrimp scad
The shrimp scad is one of five species of fish in the scad genus Alepes, which itself is one of thirty genera in the jack family Carangidae.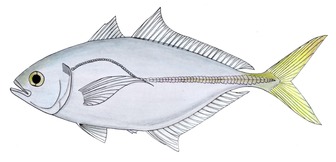 Picture of the Shrimp scad has been licensed under a
GFDL
Original source
: Hand drawn and coloured diagram of the shrimp scad, Alepes djedaba. Based on fishbase photograpsh by JE Randall.
Permission
: GNU Free Documentation License
The Shrimp scad lives in the reef-associated, amphidromous, marine environment.
The shrimp scad is widely distributed in the tropical and subtropical western Indian Ocean and areas of the eastern Pacific Ocean, ranging from South Africa in the west to Hawaii in the east, including Japan and Australia to the north and south. More
Common names
'Ha 'o˚t in Arabic (‫العربية)
'Ha 'oût in Arabic (‫العربية)
Alepa zlotopletwa in Polish (polski)
Alepa złotopłetwa in Polish (polski)
Alepes djedaba in Catalan (Català)
Bagha in Arabic (‫العربية)
Banded scad in English
Bayad in Arabic (‫العربية)
Bayad in English
Betong in Malay (bahasa Melayu)
Bui bui in Makassarese
Cá Dóc in Vietnamese (Tiếng Việt)
Cawato in Somali (Soomaaliga)
Djebbada crevalle in English
Djeddaba crevalle in English
Djeddaba scad in English
Duhao in Tagalog
Duhao in Visayan
Evenbellied crevalle in English
Gamloy in Arabic (‫العربية)
Gatsun in Japanese (日本語)
Gish-e-maygooii in Farsi
Gish-e-maygooii in Persian (‫فارسی)
Gondlu in Kannada (ಕನ್ನಡ)
Gontu in Javanese (basa Jawa)
Gymnokokali in Greek (Ελληνικά)
Gymnokokali in Greek, Modern (1453)
Ha tse in Cantonese
Ha tse in Chinese (中文)
horse mackerel in English
Inggatan in Hiligaynon
Inggatan in Tagalog
Inggatan in Visayan
Jinnes in Arabic (‫العربية)
Jurel subarí in Spanish (español)
Kakari bangada in Marathi (मराठी)
Khadwo bangada in Gujarati (ગુજરાતી)
Kilisai in Tamil (தமிழ்)
Komaraparai in Tamil (தமிழ்)
Krewel-skad in Afrikaans
Layan in Hiligaynon
Liaw-liaw in Bikol
Longoran in Makassarese
Magka-agum in Tagalog
Magka-agum in Visayan
Magkaagum in Waray-waray
Malarak in Ilokano
Malarak in Pangasinan
Mangaramang in Ilokano
Manjal parai in Telugu (తెలుగు)
Misragah in Arabic (‫العربية)
Para in Malayalam (മലയാളം)
Para in Tamil (தமிழ்)
Para in Telugu (తెలుగు)
Parai in Tamil (தமிழ்)
Pelata in Malay (bahasa Melayu)
Pikay in Waray-waray
Pulli parai in Tamil (தமிழ்)
Pulli parai in Telugu (తెలుగు)
Salay-salay in Bikol
Salay-salay in Kuyunon
Salay-salay in Maranao/Samal/Tao Sug
Salay-salay in Tagalog
Salay-salay aso in Tagalog
Salay-salay ginto in Pangasinan
Salay-salay habagat in Tagalog
Salay-salay lalaki in Tagalog
Salay-saly ginto in Ilokano
Salaysalay in Bikol
Saurou Asfar in Arabic (‫العربية)
Saurou Imperially in Arabic (‫العربية)
Sawrella imperjali catta in Maltese (Malti)
Selar batang in Malay (bahasa Melayu)
Selar bulat in Javanese (basa Jawa)
Selar iju in Javanese (basa Jawa)
Selar keledek in Malay (bahasa Melayu)
Selar kuning in Javanese (basa Jawa)
Selar kuning in Malay (bahasa Melayu)
Selar papan in Malay (bahasa Melayu)
Sélar subari in French (français)
Semaparai in Tamil (தமிழ்)
Shrimp caranx in English
Shrimp scad in English
slender yellowtail kingfish in English
Tabadlung in Chavacano
Talakitok in Cebuano
Talakitok in Davawenyo
Talakitok in Tagalog
Talang-talang in Hiligaynon
Tamarong in Cebuano
Tarakhon in Hebrew (‫עברית)
Thenga parai in Tamil (தமிழ்)
Trakito in Cebuano
Tsninit du-yamit in Hebrew (‫עברית)
Tsumari-mabuta-aji in Japanese (日本語)
Tulan-tulan in Hiligaynon
Vennai parai in Tamil (தமிழ்)
Xaréu camaroneiro in Portuguese (Português)
Xareu-rei in Portuguese (Português)
Γυμνοκοκάλι in Greek (Ελληνικά)
Γυμνοκοκάλι in Greek, Modern (1453)
گيش ميگوئي in Farsi
काकारी बांगदा in Marathi (मराठी)
ખદવો બંગડા   in Gujarati (ગુજરાતી)
கிளிசை in Tamil (தமிழ்)
கீளீசை  in Tamil (தமிழ்)
குமாரபரை in Tamil (தமிழ்)
கொமாரா பாறை  in Tamil (தமிழ்)
சீமபாரை in Tamil (தமிழ்)
செமபாறை   in Tamil (தமிழ்)
தேங்கா பாரை in Tamil (தமிழ்)
தேங்கா பாறை   in Tamil (தமிழ்)
பாரை in Tamil (தமிழ்)
பாற  in Tamil (தமிழ்)
பாறை  in Tamil (தமிழ்)
புலீ பாறை   in Tamil (தமிழ்)
புள்ளிப் பாரை in Tamil (தமிழ்)
வெண்ணை பாறை  in Tamil (தமிழ்)
வென்‍னை பாரை in Tamil (தமிழ்)
పారా  in Telugu (తెలుగు)
పుల్లి పారై   in Telugu (తెలుగు)
మంజల్ పారై    in Telugu (తెలుగు)
ಗೊಂಡ್ಲು in Kannada (ಕನ್ನಡ)
പാര in Malayalam (മലയാളം)
പാറ  in Malayalam (മലയാളം)
丽叶鲹 in Mandarin Chinese
及达副叶鲹 in Mandarin Chinese
及达叶鲹 in Mandarin Chinese
及達副葉鰺 in Mandarin Chinese
及達葉鰺 in Mandarin Chinese
吉打鰺 in Mandarin Chinese
吉打鲹 in Mandarin Chinese
甘仔魚 in Mandarin Chinese
甘仔鱼 in Mandarin Chinese
麗葉鰺 in Mandarin Chinese

Custom Search