Spirinchus lanceolatus
Shishamo or Spirinchus lanceolatus is a saltwater fish about 15 centimeters in length.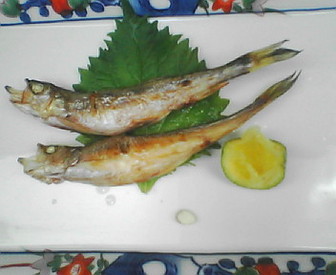 Picture of the Spirinchus lanceolatus has been licensed under a Creative Commons
Attribution-Share Alike
.
Original source
: Flickr Author ayustety from Tsukiji,
Author
: ayustety from Tsukiji, Tokyo Reviewer
The Spirinchus lanceolatus lives in the benthopelagic, anadromous, freshwater, brackish, marine environment.
Spirinchus lanceolatus ; Kaolin ; Hatching rate ; Adhesive egg ; High iron concentration ; Localisation / Location INIST-CNRS, Cote INIST : 15964, 35400012606571. More
Common names
Japansk smelt in Danish (dansk)
Shishamo in Japanese (日本語)
спиринх длинный in Russian (русский язык)
シシャモ in Japanese (日本語)
長體油胡瓜魚 in Mandarin Chinese
长体油胡瓜鱼 in Mandarin Chinese

Custom Search