Silver needlefish
The freshwater garfish, Xenentodon cancila is the sole member of its genus.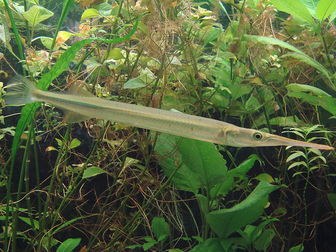 Picture of the Silver needlefish has been licensed under a
GFDL
Original source
: Français : œuvre personnelle. English: own work. Author
Author
: Guérin Nicolas (
Permission
: GNU Free Documentation License
The Silver needlefish lives in the pelagic-neritic, amphidromous, freshwater, brackish, marine, pH range: 7.0 - 7.5, dH range: 20, depth range 0 - 2 m environment.
Silver Needlefish - Xenentodon cancila Silver Pacu - Colossoma brachypomus Silver Prochilodus - Semaprochilodus taeniurus Silver Scat - Selenotoca multifasciata Silver Shark - Balantiocheilus melanopterus Silver Silk - Polynemus paradiseus ... More
Use silver needlefish before the sun comes up, and gold and bright colors during the day. One to two colors of lead-core line is good when the water is cool. Four to five colors is needed in warmer water. More
Freshwater Garfish / Silver Needlefish (Xenentodon cancila) - Wiki Freshwater Garfish / Silver Needlefish (Xenentodon cancila) - Wiki 1881x1263 (811kb) More
Freshwater Garfish / Silver Needlefish (Xenentodon cancila) - Wiki Freshwater Garfish / Silver Needlefish (Xenentodon cancila) - Wiki; Image ONLY Email : E-Card | Poster | Web Master Delete Edit Info Admin Description Freshwater Garfish / Silver Needlefish (Xenentodon cancila) More
Silver needlefish are a species that resemble healfbeaks, and are prone to leaping from the tank. More
Silver Needlefish See Xenentodon cancila Silver Orfe See Ctenopharyngodon idella Silver Orfe See Leuciscus idus Silver Perch See Bidyanus bidyanus Silver Prochilodus See Semaprochilodus taeniurus Silver Rainbowfish See Chilatherina crassispinosa More
Common names
Asian needlefish in English
Cá nhái in Vietnamese (Tiếng Việt)
Cá nhói in Vietnamese (Tiếng Việt)
Chowkli in Khasi
Chuche bam in Nepali (नेपाली)
freshwater garfish in English
Gar in English
Intiannokkakala in Finnish (suomen kieli)
Julung-julung in Malay (bahasa Melayu)
Kaikka in Bengali (বাংলা)
Kakila in Bengali (বাংলা)
Kankely in Bengali (বাংলা)
Kauwo in Nepali (नेपाली)
Kenyulung in Malay (bahasa Melayu)
Kokila in Assamese (অসমীয়া)
Kokkare in Kannada (ಕನ್ನಡ)
Kokkumeen in Tamil (தமிழ்)
Kolaan in Malayalam (മലയാളം)
Konti in Kannada (ಕನ್ನಡ)
Kutramasa in Marathi (मराठी)
Ngachek lawbi in Manipuri
Pa kathong in Lao (ພາສາລາວ)
Pa kathong in Laotian
Pa katong in English
Pa katong in Lao (ພາສາລາວ)
Pa katong in Laotian
Pa sa thong in Lao (ພາສາລາວ)
Pa sa thong in Laotian
Phtong in Khmer (ភាសាខ្មែរ)
Pla katung heo in Thai (ไทย)
Pla katung heo mueng in Thai (ไทย)
Pla katung heow in Thai (ไทย)
Pla katung heow mueng in Thai (ไทย)
silver needlefish in English
Stickfish in English
Sui in Nepali (नेपाली)
Süßwasser-Hornhecht in German (Deutsch)
Sydasiatisk halvgedde in Danish (dansk)
Tokali in Marathi (मराठी)
Trey phtaung in Khmer (ភាសាខ្មែរ)
Trey phtoung in Khmer (ភាសាខ្មែរ)
Vellai mooral in Tamil (தமிழ்)
Yonna in Sinhalese (සිංහල)
सुई in Nepali (नेपाली)
কাইক্কা in Bengali (বাংলা)
কাকিলা in Bengali (বাংলা)
கொக்கு மீன் in Tamil (தமிழ்)
வெள்‍ளை மூரல் in Tamil (தமிழ்)
കോലാന് in Malayalam (മലയാളം)
ปลากะทุงเหว in Thai (ไทย)
ปลากะทุงเหวเมือง in Thai (ไทย)
异齿颌针鱼 in Mandarin Chinese
異齒頜針魚 in Mandarin Chinese

Custom Search