Crimson-bellied Parakeet
The Crimson-bellied Parakeet , more commonly known as the Crimson-bellied Conure in aviculture, is a species of parrot in the Psittacidae family. It is found in forests in the south-central Amazon Basin in Brazil and Bolivia. It remains locally fairly common, and is consequently considered to be of least concern by BirdLife International and IUCN. Its taxonomic history is potentially confusing. It was formerly known as Pyrrhura rhodogaster, but following a review it was discovered that the type specimen for P. perlata, long believed to belong to the closely related Pearly Parakeet, actually was a juvenile Crimson-bellied Parakeet. Consequently, P. perlata was transferred to this species, while P. rhodogaster became a junior synonym.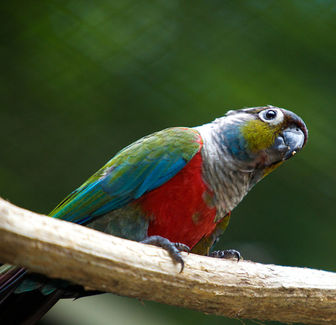 Picture of the Crimson-bellied Parakeet has been licensed under a Creative Commons
Attribution
.
Original source
: Pyrrhura_perlata_-captive-8a.jpg: Nori Almeida
Author
: Pyrrhura_perlata_-captive-8a.jpg: Nori Almeida
The Crimson-bellied Parakeet is classified as Least Concern. Does not qualify for a more at risk category. Widespread and abundant taxa are included in this category.

Crimson-bellied parakeet for sale Abundant weaned, flighted & well socialized Availability: one pair is on eggs Fully weaned baby is $800 each Health guarantee, ton of toys, DNA sexed, pellets, Sunburst seed mixed, Happy hut, bath cups are included in the price Shipping fees are between $160 to $190 with Delta or Continental More details, please select Customer Info * More