Crimson Rosella
Though described by Johann Friedrich Gmelin in Systema Naturae as Psittacus elegans in 1788, the Crimson Rosella had been described and named by John Latham in 1781 as the Beautiful Lory, and then Pennantian Parrot. However he didn't give it a Latin name until 1790, when he named it Psittacus pennanti. In 1854, it was placed in the genus Platycercus by Martin Lichtenstein in his Nomenclator Avium Musei Zoologici Berolinensis.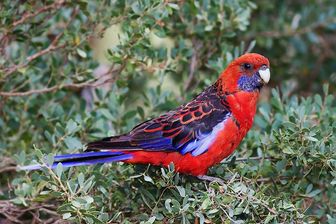 Picture of the Crimson Rosella has been licensed under a Creative Commons
Attribution-Share Alike
.
Original source
: Own work
Author
: JJ Harrison (http://www.noodlesnacks.com/)Camera location
The Crimson Rosella is classified as Least Concern. Does not qualify for a more at risk category. Widespread and abundant taxa are included in this category.

Crimson Rosellas are not only red, but can be yellow or orange. Yellow and red birds produce orange offspring. Identification There are several colour forms of the Crimson Rosella. The form it is named for has mostly crimson (red) plumage and bright blue cheeks. The feathers of the back and wing coverts are black broadly edged with red. The flight feathers of the wings have broad blue edges and the tail is blue above and pale blue below and on the outer feathers. More
Crimson Rosellas are not only red, but can be yellow or orange. Yellow and red birds produce orange offspring. More
Crimson Rosella range (in red; all-year resident) The Crimson Rosella (Platycercus elegans) is a parrot native to eastern and south eastern Australia which has been introduced to New Zealand and Norfolk Island. It is commonly found in, but not restricted to, mountain forests and gardens. The species as it now stands has subsumed two former separate species, The Yellow Rosella and the Adelaide Rosella. Molecular studies show one of the three red-coloured races, var. nigrescens is genetically more distinct. More
Yellow varietes replace the crimson rosella in different parts of south- eastern Australia. Call/Song: Four types of call: a call of shrill, quickly repeated short notes given in flight (an alarm call); a high pitched, two or three note bell-like whistle (a contact call); a lower- pitched, softer call of five to ten quickly repeated whistled notes (a feeding or roosting contact call); and a rich, musical chatter between birds in trees. More
Crimson Rosellas are can be found on the east coast and are widespread in southeastern Australia. We will see them in southeastern Queensland at Lamington National Park. Physical Characteristics Length: 32 to 37 cm The Crimson Rosella is a colorful broad-tailed parrot with distinctive blue cheek patches. Its body is a deep red with a back that is speckled black. More
No Kangaroo Island Crimson Rosella Parrots found Classifieds - No Kangaroo Island Crimson Rosella Parrots classifieds found Adoptable Kangaroo Island Crimson Rosella Parrots - No adoptable Kangaroo Island Crimson Rosella Parrots found Members - * See all No members found Testimonials - * Post New No one More
Crimson Rosella Rosella Distribution View From Below Image: 1024x768, 200,106 bytes Date & Time: 2 May 2003 10:24 Place: Grants Picnic Area, Sherbrooke Forest, Dandenong Ranges National Park Crimson Rosella face Close View Image: 1024x768, 169,968 bytes Date & Time: 6 February 2003 10:35 Place: Sherbrooke Picnic Ground, Dandenong Ranges National Park Juvenile Crimson Rosella Juvenile Crimson Rosella Image: 1024x560, 144,874 bytes Date & Time: 6 February 2003 10:33 More
Crimson Rosella, Platycercus elegans species complex of Australia. The Crimson rosella, Platycercus elegans, is easy to identify because of its almost surreal crimson and blue plumage. But closer examination shows that there are different color schemes across this bird's range throughout southern and eastern Australia. More
The Crimson Rosella is for instance known to live in pairs or small groups and feeding parties outside the breeding season and will therefore appreciate company in captivity as well. Juveniles form their own flocks, sometimes consisting of up to 20 individuals. During the breeding season, sexually mature birds pair up and go to live with their mate only; they don't even forage with other birds. This behavior is naturally important to understand if you plan to breed Crimson Rosellas. More
Crimson Rosella The Crimson Rosella, Platycercus elegans, is native to east and south east Australia (Southern Queensland to Victoria in Australia). It has also been introduced to New Zealand and Norfolk Island. Its preferred habitat includes mountain forests and gardens. They make strikingly beautiful and quiet aviary occupants, and are popular as pets as well. Description: The Crimson Rosella averages 26 - 36 cm (10.4 - 14 ins) in length (including tail). More
The Crimson Rosella can normally be seen in small flocks and are easily attracted to garden seed trays. Once familiar with humans, they will accept hand held food. Natural foods include seeds of eucalypts, grasses and shrubs, as well as insects and some tree blossoms. Habitat The Crimson Rosella is a parrot native to eastern and South eastern Australia. It has recently been introduced to New Zealand and Norfolk Island as well. More
As its name implies, the Crimson Rosella is a More
crimson rosella origin map PHYSICAL APPEARENCE: They are of 36 cm (14 in) in length. Crimson rosellas belong to a class of middle-sized parrots. Their basic color is red. The back and the middle part of the wing are black with wide red-edged feathers. The middle-wing coverts are black. The wings including their middle and upper parts are blue with greenish edgings. The middle-wing coverts are dark blue, dark base and with lighter edging. More
The best Crimson Rosella videos on the internet - parrot pictures, parrot videos, parrot sounds and parrot music Hello parrot lower. Here you can find some of Crimson Rosella videos. I do a bit research for you over the internet and I included some of the best Crimson Rosella videos. Those videos are incredible and I hope you will enjoy it. More
The Crimson Rosella is a very common bird in the Blue Mountains. The caged photo was taken when I was in WIRES (animal rescue). Crimson Rosella - Platycercus elegans Photo: Featherdale Wildlife Park, Sydney NSW. High Resolution (2000 x 2787) Crimson Rosella - Platycercus elegans Photo: Featherdale Wildlife Park, Sydney NSW. More
The Crimson Rosella (Platycercus elegans) is one of my favourite local species. They are quite a large parrot 35cm long. I was luck to catch this one feeding on some fruiting rainforest shrub in a moist gully. The Crimson Rosella is found through the montane forests of eastern Australia, preferring taller moist forests, but also migrating down to the foothills and coastal zone during winter. During this time they can be occasional visitors to urban gardens. More
The Crimson Rosella has a range of calls, the commonest being a two-syllabled "cussik-cussik". It also has a range of harsh screeches and metallic whistles. Young Crimson Rosellas have the characteristic blue cheeks, but the remainder of the body plumage is green-olive to yellowish olive (occasionally red in some areas). The young bird gradually attains the adult plumage over a period of 15 months. Distribution and Habitat There are several populations of the Crimson Rosella. More
Crimson Rosellas have the characteristic blue cheeks, but the remainder of the body plumage is green-olive to yellowish olive (occasionally red in some areas). The young bird gradually attains the adult plumage over a period of 15 months Distribution There are several populations of the Crimson Rosella. Red (crimson) birds occur in northern Queensland, in southern Queensland to south-eastern South Australia and on Kangaroo Island. More
The Crimson Rosella (Platycercus elegans) can be found in New South Wales, Victoria and South Australia in open forest areas. The Crimson Rosella has a melodic piping call. juvenile Crimson Rosella image p2240634 133KB Apparently parrots are left handed - as the image in the top left shows. The juvenile (left) has light green instead of crimson on its back. More
vues jnharker — 1 juin 2007 — Crimson Rosella at Borough huts, Grampians national park, Victoria, Australia. Taken 26 May 20007. jnharker — 1 juin 2007 — Crimson Rosella at Borough huts, Grampians national park, Victoria, Australia. Taken 26 May 20007. More
vues aaapandaaa — 5 novembre 2006 — Crimson Rosella having a feed on apple. aaapandaaa — 5 novembre 2006 — Crimson Rosella having a feed on apple. More