Black-headed Parrot
The Black-headed Parrot , also known as the Black-headed Caique, Black-capped Parrot or Pallid Parrot , is one of the two species in the genus Pionites of the Psittacidae family; the other species being the allopatric White-bellied Parrot.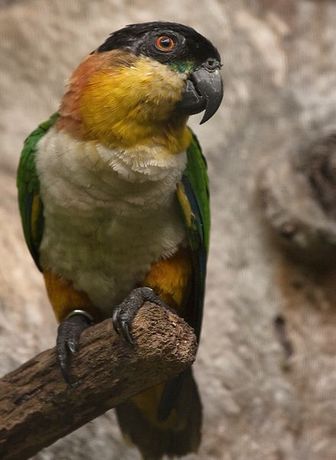 Picture of the Black-headed Parrot has been licensed under a Creative Commons
Attribution
.
Original source
: Black-headed CaiqueUploaded by Snowmanradio
Author
: Peter Tan
The Black-headed Parrot is classified as Least Concern. Does not qualify for a more at risk category. Widespread and abundant taxa are included in this category.

The Black-headed Parrot is a medium-small, short-tailed parrot with a black crown, yellow to orange head, whitish belly, yellow thighs and crissum, green back, wings and upper tail, blue primaries (blackish from below), and greyish-black bill and feet. Male and female birds have identical plumage. Black-headed Parrot (Pionites melanocephalus)3.jpg Black-headed Parrot (Pionites melanocephalus) -side.jpg Black-headed Parrot (Pionites melanocephalus) -back. More
The Black-headed Parrot is also known as the Black-headed Caique, Black-capped Parrot or Pallid Parrot. They are fairly common in their natural range, which is in the Amazon forest in South America. More
The Black-headed Parrot is closely related to the White-bellied Parrot in the genus Pionites and can be found in forests north of the Amazon River in South America, where it is fairly common. They eat mostly flowers, seeds and insects and live in pairs or small flocks of 10 to 30 birds. More
Black-headed Parrots are popular in aviculture. The only ways to determine gender of an individual Black-headed Parrot are surgical sexing and DNA sexing. DNA sexing is safer for the bird than surgical sexing. Source - BirdLife International 2004. Pionites melanocephalus. 2006 IUCN Red List of Threatened Species. Downloaded on 24 July 2007. Collar, N. (1997). Pionites melanocephala (Black-capped Parrot). Pp. 457 in: del Hoyo, J., Elliott, A., & Sargatal, J. eds (1997). More
Black-headed Parrot Products (Displaying 1 - 30 of 62) displayName displayName displayName Cute Birdorable Black-headed Parrot t-shirts Cute Birdorable Black-headed Parrot Cute Birdorable Black-headed Parrot postage Cute Birdorable Black-headed Parrot Cute Birdorable Black-headed Parrot pet clothing Cute Birdorable Black-headed Parrot Cute Birdorable Black-headed Parrot aprons Cute Birdorable Black-headed Parrot Cute Birdorable Black-headed Parrot postcards Cute Birdorable Black-headed Parrot Cute More
I Love Black-headed Parrots Key Chain by BirdorableParrotsDon't you just LOVE Black-headed Parrots? This parrot is too cute! Show your love for this adorable caique with this I Love Black-headed Parrots design. Loading High Resolution...Loading High Resolution...Loading High Resolution...Loading High Resolution...Loading High Resolution...Loading High Resolution...Loading High Resolution...Loading High Resolution...Loading High Resolution... More
Black-headed parrotBirds in Suriname = - Black-headed parrot, suriname Caique maipouri, Marianinha-de-cabe More