Blue-winged Parrot
It is sexually dimorphic - the females are duller and have more green on the wings.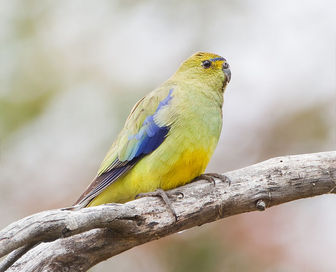 Picture of the Blue-winged Parrot has been licensed under a Creative Commons
Attribution-Share Alike
.
Original source
: Own work
Author
: Noodle snacks (http://www.noodlesnacks.com/)Camera location
The Blue-winged Parrot is classified as Least Concern. Does not qualify for a more at risk category. Widespread and abundant taxa are included in this category.

Orange-bellied Parrot and Blue-winged Parrot, photo Bob McPherson (OBP bright green above) The item described on this page is licensed under a Creative Commons Attribution-NonCommercial 2.5 licence. You are free to copy, distribute, and display the work, and to make derivative works under the following conditions: you must give the original author credit, and you may not use this work for commercial purposes. For any reuse or distribution, you must make clear to others the license terms of this work. More
The call of the Blue-winged Parrot is an extremely high, thin tinkling sound, in fast, followed by slow bursts. It sounds more like the highest squeaks of a thornbill or fairy-wren than a parrot. More
Blue-winged Parrot, at least in Tasmania's South-East. These parrots disperse to suitable grasslands post breeding, and it's then that numbers of them are first noticed. My first encounter this year was at Mortimer Bay, Sandford, in small parties of 3 to 5, most probably family groups, back in early January, an earlier date than usual. But I've had reports from as far South as Coningham, also from Kingston, Cambridge, Risdon Brook Park and the Coal River valley. More
The Blue-winged Parrot is a slender parrot with an olive-green head and upper body, grading to light green on the fore-neck. The upper tail is green-blue, with yellow sides. The underparts are yellow, and there may be orange in the centre of the belly. A yellow facial patch extends back to the eye. A narrow, dark blue band runs from eye to eye across the forehead. The Blue-winged Parrot gets its name from the large, dark blue patch on the wings. More
The Blue-winged Parrot (Neophema chrysostoma) inhabits the whole of Tasmania, the islands of Bass Strait, the whole of Victoria and the South-eastern portion of South Australia. The northern extreme of the range being roughly a line drawn from Gawler in South Australia through Broken Hill in New South Wales to the Victoria-New South Wales border on the east coast. Description The Blue-wing is approximately 200 to 225mm in length, which is about average for all the Neophema groups. More
likely to be seen - the blue-winged parrot is quite rare. Elsewhere in the State the orange-bellied parrot is far rarer than the blue-winged parrot. Tasmania Online Tasmania Online | Service Tasmania This page - http://www.dpiw.tas.gov.au/inter.nsf/WebPages/SJON-57X45F?open - was last published on 18 June 2009 by the Department of Primary Industries and Water. More
Results for: blue-winged parrotTranslations 1 - 30 of 609 English English Finnish Finnish blue-winged parrot siniruohokaija, Neophema chrysostoma red-winged parrot epolettikaija, Aprosmictus erythropterus bronze-winged parrot pronssiaratti, Pionus chalcopterus indigo-winged parrot risaldanaratti, Hapalopsittaca fuertesi black-winged parrot mustasiipiaratti, Hapalopsittaca melanotis orange-winged parrot kultaposkiamatsoni, Amazona amazonica blue-naped parrot More
Stock Photo - Blue-winged Parrot - couple on twig / Neophema chrysostoma = 99752 Juniors Bildarchiv Rights Managed Photograph - Email this image Add to Lightbox View Large Image Related Images Image Zoom Keywords animal, animals, aves, bird, birds, blue-banded, blue-banded grass-parakeet, blue-banded parakeet, blue-winged, blue-winged parrot, blue-winged parrots, bough, boughs, branch, branches, chrysostoma, couple, grass-parakeet, green, More
Blue-winged Parrot at nest, Arthur River, Tasmania, 3 Nov 2008. Photo: 306202-D 306202-D Return to Photo Library page Home | Biography | Equipment | Photo library | Contact Copyright More
The Blue-winged Parrot is similar to the Orange-bellied Parrot. It is generally the same size (210-230mm) and shape, but the green of the upper parts are more olive than bright green. The blue patch on the wing is very much larger and covers almost half the width of the wing. A yellow facial patch extends back to the eye and a narrow, dark blue band runs from eye to eye across the forehead. The female is slightly duller than the male. More
Did You Know?The plumage of the Blue-winged Parrot becomes much brighter when the birds are in breeding condition, advertising their availability to others. WPT Members Only Resources Please log-in now to find more parrot research, resources and tools. Join Now Find more research You will gain access to 400+ pages of additional research, access to parrot experts and other downloadable resources... More
Did You Know?The plumage of the Blue-winged Parrot becomes much brighter when the birds are in breeding condition, advertising their availability to others. Species Profile Genus: Neophema Species: chrysostoma Size: Adult Weight: 21cm (8.2 in) 33-60g (1.1-2. More
The Blue-winged parrot is one of the animals that migrate. The parrot mostly lives in the rainforest. The blue-winged parrot is different from other parrots because they migrate. They usually stay in Australia during the winter. Then they fly a long way from Australia to Tasmania. That is where they spend their hot summer. They have their babies and they bring up their young before going back to Australia. More