Budgerigar
The budgerigar is closely related to the lories and the fig parrots. Although budgerigars are often, especially in American English, called parakeets, this term refers to any of a number of small parrots with long flat tails.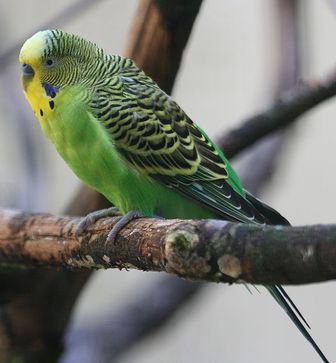 Picture of the Budgerigar has been licensed under a
GFDL
Original source
: Transferred from de.wikipedia(Original text : eigenes Foto)
Author
: Elektrofisch. Original uploader was Elektrofisch at de.wikipediaPermission(Reusing this file)Licensed under the GFDL by the author.
Permission
: GNU Free Documentation License
The Budgerigar is classified as Least Concern. Does not qualify for a more at risk category. Widespread and abundant taxa are included in this category.

The budgerigar's natural habitat is coloured in red The Budgerigar (pronounced /ˈbʌdʒərɨɡɑr/) or Common Pet Parakeet (Melopsittacus undulatus), often called a budgie or parakeet, is a small parrot and the only species in the Australian genus Melopsittacus. A small long-tailed predominantly green and yellow bird with black scalloped markings on the wings and shoulders in the wild, the Budgerigar has been bred extensively with a profusion of colour forms resulting. More
Male Budgerigar of normal coloration Male Budgerigar of normal coloration Conservation status Least Concern Scientific classification Kingdom: Animalia Phylum: Chordata Class: Aves Order: Psittaciformes Family: Psittacidae Subfamily: Psittacinae More
The Budgerigar is one of two parrot species to be genuinely domesticated, and is believed to be the most common species of pet parrot. It is a very small parrot, but a parrot just the same. In the United States, we call a budgerigar a parakeet. They are the same bird. The nickname for the Budgerigar is a budgie. More
Normal Green Budgerigar in its natural environmentBudgerigar aka "Budgie" = * Budgies as Pets ... Bird Care Requirements / Tips before Buying ... Description / Characteristics ... Talking Abilities of the Budgie * Breeding Budgies ... Budgie Mutations ... Exhibition Budgerigars * Budgie Health: Budgie Diseases ... More
Budgerigar Society Convention – June 2010 - Welcome to Budgerigar.co. More
Blue budgerigar mutation = From Wikipedia, the free encyclopedia Jump to:navigation, search The Blue budgerigar mutation is one of approximately 30 mutations affecting the colour of budgerigars. It is part of the genetic constitution of the following recognised varieties: Skyblue, Cobalt, Mauve and Violet. More
latter case, the budgerigar is sometimes isolated in a tribe of its own, the Melopsittacini, although it is probably quite closely related to Pezoporus and Neophema. Though budgerigars are often called parakeets, especially in American English, this term refers to any of a number of small parrots with long flat tails. The budgerigar is found throughout the drier parts of Australia and has survived in the inlands of that continent for over 5 million years. More
budgerigarabbr budgerigar a type of small (originally Australian) brightly-coloured bird, often kept as a pet. More
budgerigars are often called parakeets, especially in American English, this term refers to any of a number of small parrots with long flat tails. The budgerigar is found throughout the drier parts of Australia and has survived in the inlands of that continent for over 5 million years. More
Budgerigar info - Budgie information = Guide about keeping and breeding BUDGIE PARROT... - parrot pictures, parrot videos, parrot sounds and parrot music PARROT NAME: Eng. Budgerigar, Budgie, Parakeet Lat. More
Browse the Budgerigar member profiles to see what you can expect from your Budgerigar. The Parakeets is a less than a year old Budgerigar from Chuburna Puerto, Intl. He has had his very own web page on Bird eClub for 2 days. A.J is a year old Budgerigar from El Paso, TX. He has had his very own web page on Bird eClub for 3 days. Sophia is a year old Budgerigar from El Paso, TX. More
Budgerigar Association of America - Sky Blue BudgerigarFounded in 1999, The Budgerigar Association of America (BAA) is a national club dedicated to the keeping, care, breeding and exhibition of English Budgerigars (budgies or parakeets). The association has 22 local club affiliates across the USA and hosts an annual Grand National Exhibition that rotates between these affiliated clubs. More
Budgerigar Health Part 3 of 5 - Self Diagnosis Budgerigar Health Part 3 of 5 – Self Diagnosis - For breeders, an ability to detect the first signs of an illness is essential as many budgerigar diseases are rapidly fatal with the best quality show birds often being the first to die. Changes in the behaviour or physical appearance of an individual bird may indicate the beginning of an illness or an inherent weakness. More
Blue budgerigars was first seen in 1910 with a brilliant body and white face. They are bred in three shades of blue: Sky Blue is the palest, Cobalt is the brightest, middle shade, and Mauve is the darkest, which is a deep blue with a purple tone. Budgerigars need natural perches of varying diameter, half to one inch. Narrow wood and plastic perches of uniform diameter can cause foot problems. More
Budgerigars come in a wide range of colors. The Light Green is the natural, wild color. In captivity, where predators are not a concern, color has no bearing on health or disposition. It's a myth that the Albinos and Lutinos (all white and all yellow, both with red eyes) are blind or suffer from extremely diminished vision. More
Exhibition Budgerigar Shows Spangle Cock/Blue Budgie Aviary English Budgerigars Shows are held by the American Budgerigar Society throughout the United States. At shows, budgies are placed in show cages and are compared to the Standard of Perfection for the ideal budgerigar as defined by the organization. Classes are held in Junior, Novice, Intermediate, and Champion Divisions. Rare colored birds are also judged. More
A healthy budgerigar would have close knit feathers with bright and clear eyes. The birds would also be very active in nature. Do not buy the birds that have scaly appearance around the regions of eyes, cere, legs and feet. If the bird has discharges around the nose and under the feather, you should not buy the bird no matter how beautiful it looks. More
Budgerigars in their natural-habitats of Australia have a light green body color with pitch-black markings on their back and wing coverts. In captivity, they have been bred in many other colors like blue, grey, violet, white, and yellow. These very social birds live in large groups. They prefer to eat seeds of grasses and crop plants. These seeds are very rich in nutrients and are equivalent in caloric contents to animal tissue. Thus, budgerigars need no other kind of food. More
American Budgerigar Society - The Official Site of the ABS Budgie Fanciers of San Diego County Redwood City Budgie Hobbyists The Washington Budgerigar Society Foreign Budgerigar Societies Budgerigar and Foreign Bird Society - Canada The North East Budgerigar Society - Adelaide, South Australia Budgerigar Council of Victoria - Victoria, Australia Exhibition Budgie Sites Budgerigars More
Parakeets are commonly called budgerigars or budgies in most parts of the world. They are noted for their ability to talk, but because of their small voice level, it's often difficult to hear them. Parakeets love to be stroked and held and want to interact with their human companions as much as possible. They require at least 30 minutes or more of daily interaction. More
The Budgerigar Society - Official Web Site - Budgerigars for Beginners = Budgerigars for beginners - Powerpoint presentationThe Herring Bros have created a Powerpoint presentation aimed at providing virtually everything you need to know to get started in this wonderful hobby. More
All Exhibitors of Budgerigars are invited to exhibit their birds in this show To Be Held On Sunday, 27th June 2010 Thornlands Primary School Panorama Dve Thornlands Young Bird and Nestfeather Show for Open Intermediate and Novice Young birds must be rung with a 2009 closed ring Nestfeathers with a 2010 closed ring bearing the approved ANBC symbol, All entries to be bred and rung by the exhibitor. Staging Commencing At 7.30 am. More
Clearwing Budgerigar Breeders Association http://www.clearwing.co.uk Cleethorpes B&FBS http://charlie.2-minute-websit... Clwyd Budgerigar Society http://www.clwyd-bs.co.uk Crested Budgerigar Club http://www.crestedbc.co.uk Darlington and Spennymoor BC http://www.communigate.co.uk/n... Defra UK - Avian influenza (bird flu) Info http://www.defra.gov.uk/animal... Edinburgh BS http://www.edinburghbs.webs.co... EIG Bird Welfare Strategy Consultation Document http://birdwelfarestrategy.org... More