Purple-naped Lory
The Purple-naped Lory is 28 cm long. It is mostly red with an all red tail that fades to darker red towards the tip. The top of its head is black, which fades to purple on the back of its neck. It has green wings, blue thighs, and a variable approximately transverse yellow band across the chest. It has an orange beak, dark-grey eyerings, and orange-red irises. Juveniles have a brown beak, grey-white eyerings, brown irises, a wider yellow band across the chest, and a more more extensive purple patch on the back of neck.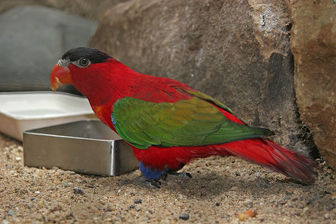 Picture of the Purple-naped Lory has been licensed under a Creative Commons
Attribution
.
Original source
: originally posted to Flickr as IMG_4196e
Author
: Arjan HaverkampPermission(Reusing this file)This image, which was originally posted to Flickr.com, was uploaded to Commons using Flickr upload bot on 23:58, 19 January 2010 (UTC) by Snowmanradio (talk). On that date it was licensed under the license below.This file is licensed under the Creative Commons Attribution 2.0 Generic license.You are free:to share – to copy, distribute and transmit the work
The Purple-naped Lory is classified as Vulnerable (VU), considered to be facing a high risk of extinction in the wild.

The Purple-naped Lory, Lorius domicella is a monotypic species of parrot in the Psittacidae family. It is forest-dwelling endemic to the islands of Seram, Ambon, and perhaps also Haruku and Saparua, South Maluku, Indonesia. It is considered vulnerable, the main threat being from trapping for the cage-bird trade. More
The Purple-naped Lory (Lorius domicella) is a monotypic species (= one single species within its genus). Status in the Wild / Distribution: It is endemic to the islands of Seram (formerly Ceram), Ambon (formerly Amboina), and perhaps also Haruku and Saparua, South Maluku, in Indonesia. They have also been introduced to Buru. Its preferred habitats are forests. Please refer to below distribution map. More
The Purple-naped Lory is endemic to some islands in the South Moluccas, Indonesia. These lories live in pairs in submontane forests. They like fruiting figs, and have been seen chewing the bark of dead trees. They sometimes forage with other parrots such as the Red Lory (Eos bornea) and the Rainbow Lorikeet (Trichoglossus haematodus). The above picture was taken in the Attica Zoological Park, Athens, Greece, in June 2007. More
The Purple-naped Lory, Lorius domicella is a forest-dwelling parrot endemic to the islands of Seram, Ambon, and perhaps also Haruku and Saparua, South Maluku, Indonesia. More