Blue-crowned Hanging Parrot
Its diet includes flowers, buds, fruits, nuts and seeds.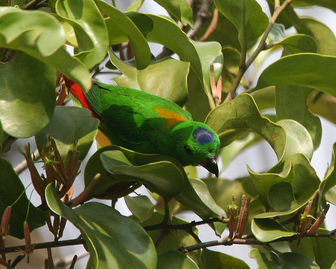 Picture of the Blue-crowned Hanging Parrot has been licensed under a Creative Commons
Attribution-Share Alike
.
Original source
: originally posted to Flickr as Blue crowned hanging parrot
Author
: Lip Kee YapPermission(Reusing this file)This image, which was originally posted to Flickr.com, was uploaded to Commons using Flickr upload bot on 18:51, 20 October 2008 (UTC) by Snowmanradio (talk). On that date it was licensed under the license below. This file is licensed under the Creative Commons Attribution-Share Alike 2.0 Generic license.You are free:to share – to copy, distribute and transmit the work
The Blue-crowned Hanging Parrot is classified as Least Concern. Does not qualify for a more at risk category. Widespread and abundant taxa are included in this category.

* Blue-crowned Hanging Parrot eating guava Lam Chun See had a rare visitor in August 2007... * Blue-crowned Hanging Parrot eating mango "I was doing my research and heard this loud... * Blue-crowned Hanging Parrot feeding on lichen/fungus? "Would like some opinion on this odd, but not... * Asian Glossy Starling: Juvenile sex In May 2008, Adrian Lim a.k.a. wmw998 documented a pair... More
Blue-crowned Hanging Parrot feeding on lichen/fungus? - Posted by BESG on 2 February 10, Tuesday Contributed by Dato' Dr Amar-Singh HSS "Would like some opinion on this odd, but not uncommon, 'feeding behaviour' of the Blue-crowned Hanging Parrot (Loriculus galgulus). Initially I thought it was an uncommon activity but having captured it on camera a number of times, I am inclined to believe that it may be a common activity. More
The Blue-crowned Hanging Parrot, Loriculus galgulus, is a small (length: 5 inches, 13 cm) mainly green parrot found in forested lowlands from Thailand to Borneo. Its diet includes flowers, buds, fruits, nuts and seeds. More
Parrot) • Blue-crowned Hanging Parrot • Great Hanging Parrot (or Sulawesi Hanging Parrot) • Sula Hanging Parrot • Moluccan Hanging Parrot • Sangihe Hanging Parrot • Orange-fronted Hanging Parrot (or Papuan Hanging Parrot) • Bismarck Hanging Parrot (or Green-fronted Hanging Parrot • Pygmy Hanging Parrot (or Red-billed Hanging Parrot) • Yellow-throated Hanging Parrot • Wallace's Hanging Parrot • Camiguin Hanging Parrot Agapornis Rosy-faced Lovebird (supporting page: Rosy-faced Lovebird colour genetics) • Yellow-collared Lovebird (or Masked Lovebird ) • More
The Blue-crowned Hanging Parrot, Loriculus galgulus, is common to very common in localities and is endemic to Thailand south of Kra, Malaysia, Singapore, Anamba and Riau Islands, Borneo and some off-shore islands, Sumatra as well as islands of Bangka, Belitung, Nias, Siberut, Sipora and Enggano, in Indonesia. They favor lowland forest and mangroves, and - in some instances - are also seen in wooded areas up to 4,300 ft (1,300 m). More
Blue-crowned Hanging ParrotBlue-fronted Amazon ParrotBlue and Gold MacawBlue-headed ParrotBlue winged parrakeetBourke's parrakeetBronze-winged ParrotBrown's or Northern RosellaBudgerigar ParakeetCanary-winged ParakeetCatherine ParrakeetCelestial or Pacific ParrotletChattering LoryCockatielPennant or Crimson RosellaDuivenbode's LoryDusky LoryRed eastern or golden mantled rosellaElectus ParrotElegant Grass ParrakeetFischer's lovebirdGang Gang CockatooGoffini's or Goffins CockatooGolden-crowned or Peach-fronted conureGolden-fronted or Mountain parrakeetGreat Palm CockatooGreen Cheeked Amazon Parrot or Mexican Red-headed ParrotGreen-winged or Marron MacawGreater Sulphur Crested CockatooHawk Headed ParrotHyacinth MacawIlliger's MacawJendaya, Jenday or Yellow-headed conureLeadbeater's, or Major Mitchell's CockatooLilac- Crowned Amazon ParrotLesser Sulphur Crested CockatooMadagascar lovebird or Gray-headed lovebirdRed-bellied or Maroon-bellied conureMasked, White eye-ring, or Yellow-collared lovebirdMaximilian's or Scaly-headed ParrotMeyers ParrotMilitary or Great Green MacawMoluccan CockatooBanded, Pink-breasted, or More
Blue-crowned hanging parrots are very little parrots, whose length is around 13 cm (5 in). They are found in forested lowlands of Southern Thailand, Western Malaysia, Singapore, Sumatra, and Borneo. This parrot uses its tongue to get nectar. It also eats fruits, buds, flowers, seeds, and occasionally small insects. The above picture was taken at the Chicago Brookfield Zoo, in August 2004. More
Blue-crowned hanging parrots are found in Southern Thailand, Western Malaysia, Singapore, Sumatra, and Borneo. They inhabit forests, forest edges, secondary growth, marshland, bamboo thickets, mangroves, coconut groves, gardens, and orchards. Care - Quiet birds with a gentle nature and melodic fluting call, Blue-crowned hanging parrots were once widely kept in aviculture. Unfortunately, because of their diet and habits, they have almost died out in captivity. More