Blue-winged Parrotlet
The Blue-winged Parrotlet is a small parrot found in much of South America. It includes the Turquoise-rumped Parrotlet , which sometimes is treated as a separate species. The Blue-winged Parrotlet is mainly found in lowlands, but locally up to 1200m in south-eastern Brazil. It occurs in woodland, scrub, savanna, and pastures. Flocks are usually around 20 birds but can grow to over 50 around fruiting trees or seeding grasses. It is generally common and widespread, though more localized in the Amazon Basin.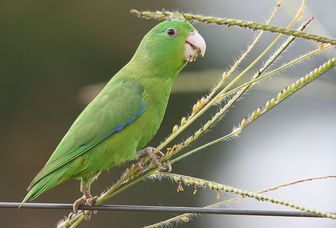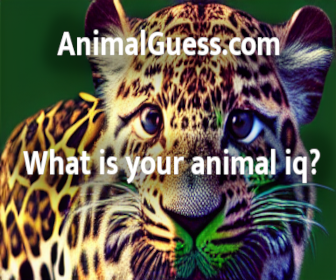 Picture of the Blue-winged Parrotlet has been licensed under a Creative Commons
Attribution
.
Original source
: originally posted to Flickr as Tuim macho / male Blue-winged Parrotlet ( Forpus xanthopterygius )
Author
: Wagner Machado Carlos LemesPermission(Reusing this file)This image, which was originally posted to Flickr.com, was uploaded to Commons using Flickr upload bot on 21:43, 8 February 2010 (UTC) by Snowmanradio (talk). On that date it was licensed under the license below.This file is licensed under the Creative Commons Attribution 2.0 Generic license.You are free:to share – to copy, distribute and transmit the work
The Blue-winged Parrotlet is classified as Least Concern. Does not qualify for a more at risk category. Widespread and abundant taxa are included in this category.

The Blue-winged Parrotlet (Forpus xanthopterygius) is a small parrot found in much of South America. It includes the Turquoise-rumped Parrotlet (Forpus xanthopterygius spengeli), which sometimes is treated as a separate species. The Blue-winged Parrotlet is mainly found in lowlands, but locally up to 1200m in south-eastern Brazil. It occurs in woodland, scrub, savanna, and pastures. Flocks are usually around 20 birds but can grow to over 50 around fruiting trees or seeding grasses. More
Blue-winged ParrotletThe male is mainly green, of a brighter shade around the eyes and ear coverts (feathers covering the ears). The lower back and rump, as well as the under wing-coverts and the wing-coverts themselves, are violet- blue. There may be some odd violet- blue feathers evident at the bend of the wing. Both primary and secondary coverts are violet-blue (please refer to Wing Anatomy), with the outer webs of the secondaries being similarly colored towards their bases. More
Wild Blue-winged parrotlet perched on branch Credit: © Giuliano Gerra and Silvio Sommazzi | http://www.justbirds.org/home.htm photos Photos videoVideo 1 eNewsletter SIGNUP FOR EMAIL UPDATES Did You Know?The Blue-winged Parrotlet nests in tree cavities but will also try arboreal termitaria (termite mounds in trees). More
Blue-Winged Parrotlets can weigh 35-40 grams. Not commonly kept as pets due to their reputation of being high-strung. Photos courtesy of Brian Nielsen Blue-winged chick F.v. flavissimus male F.v. flavissimus females Mexican Parrotlet - Forpus cyanopygius Also known as Turquoise-rumped Parrotlet Distribution: Northwestern Mexico. More
The Blue-winged Parrotlet (Forpus xanthopterygius) is a species of parrot found throughout most of South America. The Turquoise-rumped Parrotlet (Forpus xanthopterygius spengeli) is sometimes considered a separate species (rather than a subspecies). The Blue-winged Parrotlet's habitat is woodland, scrub, savanna, and pastures. Though it is widespread and fairly common, it is more commonly found in the Amazon Basin. Six subspecies are recognized. The adult is only 4.75 inches long. It is mainly green with a short tapered tail. More
Blue-winged parrotlets are a bit larger than Pacifics, weighing in at 35 or more grams. Males have blue-violet rumps and wings, while hens have a yellowish tint to their faces. Their beaks and legs are grey. Mexican parrotlets are also larger, weighing 36-40g. They are a brighter green than the Pacific, and the blue on the males' rumps and wings is a stunning electric turquoise that fairly glows under natural lighting. More
Also Known As: Blue-winged Parrotlet, Common Parrotlet, Guiana Parrotlet (F.p. passerinus) * Members Only * Wild Status * Care * Profile MAIN_Green-rumped_Parrotlet_1 Green-Rumped Parrotlet perched Credit: (c) Luiz Claudio Marigo | http://www.lcmarigo.com.br/ingles/index. More
The Blue-winged Parrotlet is a short (12 cm) stocky mainly green bird with a short tapered tail. Sexually dimorphic, the males have blue on the primary and underwing coverts, the remiges and the rump (blue in wings greatly reduced in F. x. spengeli). The face, ear coverts, thighs and vent area are a brighter emerald green. Females, which lack the identifying blue coloration, are easily confused with the Green-rumped Parrotlet, but there is little overlap in their distributions. More
The Blue-winged Parrotlet is the smallest Brazilian parrot weighing in at 26 g compared to the largest, the Hyacinth Macaw at 1500 g. Male of Blue-winged Parrotlet, Brasília-DF, Brazil, april 2007. It is found from eastern Ecuador to Brazil south of the river Amazon and into Paraguay and northern Argentina. There is also a disjunct population near Santa Marta, Colombia. It likes a variety of habitats ranging from gallery forest and riverine thickets to savannah and semi-arid scrub. More
The male Blue-winged Parrotlet shows blue along the edge of the wing and on the rump while the female is all green apart from a yellowish tinge on the head and flanks. They nest in holes in trees and fence posts as well as using Rufous Hornero nests. Food consists of fruit and seeds including grass seeds and they are particularly fond of Cecropia catkins. More
The Blue-winged Parrotlet is a small predominantly smooth (yellowy) green parrot with a stripe of blue visible on the edge of the closed wing - the female has green rather than blue. Its tail doesn't extend much beyond its rump. The Blue-winged Parrotlet lives on the east coast of Brazil, with a separate population in western Amazonia. If lumped with similar sub/species like the Turquoise-rumped Parrotlet its range extends beyond Brazil's borders.More photos... More