Blue-eared Lory
The Blue-eared Lory is the smallest Eos at 24 cm long. It has a red body with blue cheeks, chin, and ear-coverts, purple-blue abdomen and undertail coverts, and black streaked wings. The adult has an orange beak with juvenile's pink.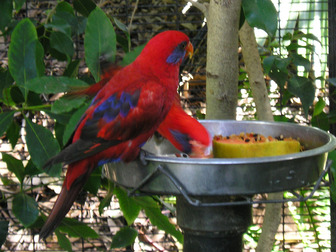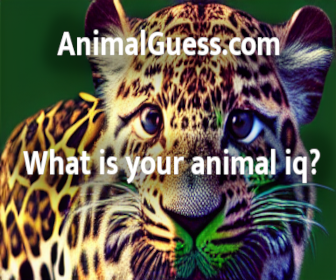 Picture of the Blue-eared Lory has been licensed under a Creative Commons
Attribution-Share Alike
.
Original source
: originally posted to Flickr as Rojo encendido
Author
: Leon MitchellPermission(Reusing this file)This image, which was originally posted to Flickr.com, was uploaded to Commons using Flickr upload bot on 12:06, 31 July 2008 (UTC) by Snowmanradio (talk). On that date it was licensed under the license below. This file is licensed under the Creative Commons Attribution-Share Alike 2.0 Generic license.You are free:to share – to copy, distribute and transmit the work
The Blue-eared Lory is classified as Least Concern. Does not qualify for a more at risk category. Widespread and abundant taxa are included in this category.

The Blue-eared Lory is the smallest Eos at 24 cm long. It has a red body with blue cheeks, chin, and ear-coverts, purple-blue abdomen and undertail coverts, and black streaked wings. The adult has an orange beak with juvenile's pink. The Blue-eared Lory is sometimes found in the altitude as low as 800m, but primarily from 1600-2400m. It feeds on flowering trees, including tree-heathers above the tree-line. The flocks are small. More
This Blue-eared Lory is evaluated as Least Concern on the IUCN Red List of Threatened Species. Description The Blue-eared Lory averages 24 cm or 9.4 inches in length. The plumage is mainly red, with blue cheeks, chin and ear-coverts (= feathers covering the ears), purple-blue abdomen and undertail coverts, and black streaked wings. Adult Ceram Lories have an orange beak, while the beak of juveniles is pinkish. More
The Blue-eared Lory is found only on the island of Seram in Maluku province, Indonesia. It feeds on flowering trees, including tree-heathers above the tree-line. The flocks are small. The above picture was taken in the San Diego Zoo, in March 2004. More
Results for: blue-eared loryTranslations 1 - 30 of 382 English English Finnish Finnish blue-eared lory seraminluri, Eos semilarvata red-and-blue lory orvokkiluri, Eos histrio blue-streaked lory tanimbarinluri, Eos reticulata blue-eared kingfisher sinikorvakalastaja, Alcedo meninting blue-eared barbet mustaotsaseppä, Megalaima australis blue eared pheasant sinikorvafasaani, Crossoptilon auritum greater blue-eared starling More
The Blue-eared Lory is sometimes found in the altitude as low as 800m, but primarily from 1600-2400m. It feeds on flowering trees, including tree-heathers above the tree-line. The flocks are small. See more at Wikipedia.org... More