Little Corella
The Little Corella grows to 36 to 39 cm in length and congregates in flocks of up to several thousand birds, which often include many Galahs. The bird generally roosts in trees overnight, and flies off to feed in the early morning with an almost deafening screeching. It mostly feeds on the ground, eating seeds including cereal crops such as wheat and barley. It is so common that it has become something of a pest throughout much of Australia, and can be destructive to the trees in which it perches, by chewing the bark off smaller twigs. Corellas can be commonly found in the Melbourne suburbs of Camberwell and Ashburton, and are especially numbersome in Carrum Downs. This species has also a small feral population in Queanbeyan and Narrabundah.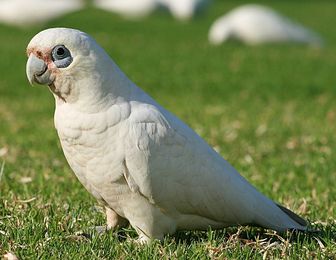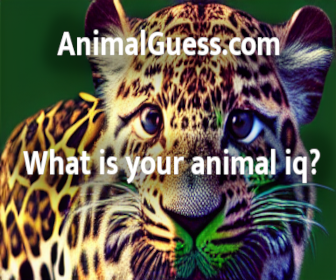 Picture of the Little Corella has been licensed under a
GFDL
Original source
: Own work
Author
: Toby HudsonOther versions
Permission
: GNU Free Documentation License
The Little Corella is classified as Least Concern. Does not qualify for a more at risk category. Widespread and abundant taxa are included in this category.

The scientific name for Little Corella, Cacatua sanguinea, means 'Blood-stained Cockatoo' and refers to the dark pink markings between the eye and the bill. Identification Little Corellas are mostly white, with a fleshy blue eye-ring and a pale rose-pink patch between the eye and bill. In flight, a bright sulphur-yellow wash can be seen on the underwing and under tail. The sexes are similar in plumage, and young birds look like the adults, but are slightly smaller. More
little corella photo* An Australian Parrot (Click on photo to enlarge) * Scientific Name: Cacatua sanguinea * Common Name/s: LITTLE CORELLA, SHORT BILLED CORELLA, BARE EYED COCKATOO. * Sub Species: 4 * Origin / Distribution: 3 large areas of Australia * Habitat In Wild: Numbers have increased in farmland and cultivated areas. More
Little Corella at nest hollow. Little Corella at nest hollow. Photo: M Seyfort © Australian Museum Little Corella at nest hollow. Little Corella at nest hollow. More
The Little Corella grows to 36 to 39 cm in length and congregates in flocks of up to several thousand birds, which often include many Galahs. The bird generally roosts in trees overnight, and flies off to feed in the early morning with an almost deafening screeching. It mostly feeds on the ground, eating seeds including cereal crops such as wheat and barley. More
A white little corella standing at edge of water Little corellas form flocks of thousands of birds and can be a serious pest to Australian farmers, if they decide to feed on their grain crops. What do they sound like? - 1. More
FRIENDS OF THE LITTLE CORELLA is a conservation and protection group concerned by the South Australian, City of Onkaparinga Council, decision to cull (shoot) one of our native parrots, the Little Corella (Cacatua sanguinea) in 2002-2003. This parrot is closely related to other Australian native parrots, including the Long-billed Cockatoo, Sulphur-crested Cockatoo, the Major Mitchell Cockatoo, the Gang-gang Cockatoo and the well known Galah. More
This is an image of a Little corella; in the report 'Managing Bird Damage to Fruit and Other Horticultural Crops'. Photo: P. Bird. Inset photo: G. Dabb. This is an image of areas of Australia where the Little corella is found. In the report 'Managing Bird Damage to Fruit and Other Horticultural Crops'. Birds Australia Atlas (1998–2002) Field identification Little corellas (36–39 centimetres, head to tail) are found only in Australia and New Guinea. More
These little corellas, Cacatua sanguinea, are members of the subgroup of parrots known as the cockatoos. They sat up in the trees sociably cackling amongst themselves, occasionally coming down to play and bathe under the lawn sprinklers. More
I love Little Corellas, have such an adorable and fun nature. Happy Love Feathery Friday Week. Posted 39 months ago. ( permalink ) view profile Why for Yvonne Pro User says: That is such an adorable picture, I love it Happy Feathery Friday Posted 39 months ago. More
Little Corellas, subspecies "gymnopis", are regularly found along the banks of the Namoi River, south of Narrabri. They are also found by us around reliable sources of food, such as e.g. olive groves. For that reason, Little Corellas are seen regularly at Eulah Creek, 20 km east of Narrabri, New South Wales, often in conjunction with Sulphur-crested Cockatoos. We have encountered Little Corellas during a visit to the radio observatory at Parkes, New South Wales, in 2003. More
The Little Corella is a white cockatoo native to Australia. It is sometimes called the Bare-eyed cockatoo. Physical Description The Little Corella grows to be 36- 39 cm in length and congregates in flocks of up to several thousand birds. Little Corellas are mostly white and have a fleshy blue eye-ring with a pale rose-pink patch between the eye and bill. In flight, their bright sulphur-yellow wash can be seen on the underwing and tail. More
Did You Know?The population of the Little Corella is thought to be increasing instead of decreasing like so many other parrots. Species Profile Genus: Cacatua Species: sanguinea Size: Adult Weight: 38cm (14.8 in) 350-530g (12.25-18.5 oz) Races including nominate: five: C.s. sanguinea, C.s. normantoni, C.s. transfreta, C.s.gymnopis, C.s. westralensis Colourization Adult: C.s. More
Did You Know?The population of the Little Corella is thought to be increasing instead of decreasing like so many other parrots. Status in the Wild World Population: Over 1,000,000 Range: C.s. sanguinea: N Australia, including larger offshore islands. C.s. normantoni: W Cape York Peninsula south to Gulf of Carpentaria, N Queensland. C.s. transfreta: S New Guinea between Kumbe and lower Fly Rivers. C.s. More
PHYSICAL DESCRIPTION: Little Corella is a white Australian cockatoo. Adult has white or greyish-white plumage on upperparts, depending of the light. Underparts are white too, but we can see bright sulphur-yellow on underwings and undertail when in flight. Sometimes, feathers may have pinkish-orange tinge to their bases. On the white head, we can see a conspicuous blue bare eye-ring, and eyes are dark brown. Lores are pinkish. Bill is pale blue-grey to whitish, with short, blunt upper mandible. More
Description: The Little Corella has a white body with a blue featherless area around eyes. They have pink and yellow around nostrils at the top of the beak and a grey to white beak. They have a white crest on top of their head that raises in a single curve. When they are flying, a bright sulphur-yellow colour can be seen under their wings and under the tail. More
The Little Corella generally has a good attitude and can be taught to talk and do tricks. These lovely birds welcome your attention and affection, but be careful; as with many parrots they are escape artists. Little Corellas love to chew and can often bite their way out of wire cages. In the wild, Little Corellas eat seeds, insects, bulbs and fruit. They like open grassland or open forest and are usually found near water. More
Little Corellas Loving couple of Little Corellas I wouldn't be sure the Little Corella is an extremely beautiful bird. But it is always amusing to observe a bunch of parrots or cockatoos - as long as they're not too excited. Little corellas 'marry' for life and after a while it's not too difficult to find out the couples. Little Corellas on the tap Parrots and cockatoos are well equipped with any tools to get what they want: sharp minds, beaks and claws. More
The Little Corella is the most widely distributed of the three corella species found in Australia. The Western Corella is confined the extreme south-west of Western Australia, and the Long-billed Corella is found in the south-east. They often form large flocks, especially along watercourses and where seeding grasses are found, and they also feed in large flocks. The birds feed mainly on the ground, and have to drink on a daily basis. The most common foods are grains and grass seeds. More
Flock of Little Corellas at Moomba Gas Fields, S.A. Aust Flock of Little Corellas at Moomba Gas Fields, S.A. Aust References - * BirdLife International (2004). Cacatua sanguinea. 2006 IUCN Red List of Threatened Species. IUCN 2006. Retrieved on 06 May 2006. Database entry includes justification for why this species is of least concern * Flegg, Jim. More
The Little Corella, Cacatua sanguinea, is a white cockatoo native to Australia; it is sometimes called the Bare-eyed cockatoo. More