Black-cheeked Lovebird
The Black-cheeked Lovebird is 14 cm in length, with mostly green plumage, reddish-brown forehead and forecrown, brownish-black cheeks and throat, orange bib below the throat which fades to yellowish-green, white eye-rings and grey feet. Adult have bright red beaks, while juveniles of the species are similar but with a more orange bill. Vocalizations are loud, piercing shrieks, which are very similar to those of other lovebirds.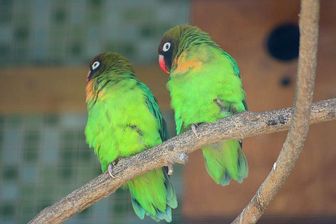 Picture of the Black-cheeked Lovebird has been licensed under a Creative Commons
Attribution-Share Alike
.
Original source
: Picasa Web Albums
Author
: GediminasThis image, which was originally posted to Picasa Web Albums, was reviewed on 21 February 2010 (UTC) by the administrator or reviewer Leoboudv, who confirmed that it was available on Picasa Web Albums under the above license on that date.
The Black-cheeked Lovebird is classified as Vulnerable (VU), considered to be facing a high risk of extinction in the wild.

The Black-cheeked Lovebird (Agapornis nigrigenis) is a small monotypic parrot species of the lovebird genus. It is mainly green and has a brown head, red beak, and white eyerings. It is endemic in a relatively small range in southwest Zambia, where it is vulnerable to habitat loss. More
The Black-cheeked Lovebird is endemic to South-western Zambia. This lovebird species is considered the most endangered of all the African parrot species. Having only been recently established in aviculture, they are not as hardy as the other more established, lovebird species. Description: * The Black-cheeked Lovebird is slightly smaller than the Fischers or Masked members of the "Eye ring" or "personata" group. More
Black-cheeked lovebird (Agapornis nigrigenis) = Species information - * Facts & Status * Description * Range & Habitat * Biology * Threats & Conservation * Find out more * Glossary & References * All * More
Black-cheeked Lovebird, and the Masked Lovebird have a prominent white ring around their eyes. The Abyssinian Lovebird, the Madagascar Lovebird, and the Red-faced Lovebird are sexually dimorphic. Many colour mutant varieties have been produced by selective breeding of the species that are popular in aviculture. Taxonomy - Phylogeny of the genus Agapornis based on molecular evidence. The species with the red line is currently unplaced in the phylogeny, but does belong to this genus. More
Wild Black-cheeked Lovebird, restrained for examination © Louise Warburton, University of Natal Flock of Black-cheeked Lovebirds, Zambia © Louise Warburton, University of Natal Black-cheeked Lovebird, Zambia © Louise Warburton, University of Natal Black-cheeked Lovebird, Zambia © Louise Warburton, University of Natal Page 1 of 1 pages Copyright © 2008 World Parrot Trust - All rights More
One of this Lovebird breed is the Black-cheeked Lovebird and it is mainly green and has a brown head, red beak and white eye rings. It is sometimes seen as a race of Lillian's Lovebird. This species of Lovebird is common in a relatively small range of Zambia, and is vulnerable to habitat loss. Adults of this type of Lovebird have bright red beaks, while juveniles of the species are similar but with a more orange colored bill. They are loud, which is very similar to those other Lovebirds. More
A young black-cheeked lovebird in flight Blue black-cheeked lovebirds home Photo credits: Black-cheeked lovebird in flight by Deb Sandidge; blue black-cheeked lovebirds by Gwen Powell More
Black-cheeked lovebirds are the forgotten gems of the lovebird species. They are a part of the group known as the "eye-ring" lovebirds (which includes the masked, fischer, black-cheeked, and nyasa species) because of the white flesh that encircles their eyes. They are, however, a separate and distinct species. Black-cheeks are smaller and lighter than their masked and fischer counterparts, weighing between 40 and 45 grams. More
BLACK-CHEEKED LOVEBIRD (Agapornis Nigrigenis) One of the most threatened lovebird species by R.J.McMillan More
The Black-cheeked Lovebird (Agapornis nigrigenis) is represented by the greatest number of species within the genus Agapornis - nine in all – but its area of distribution is the smallest within its genre. More
Get to Know Black-cheeked Lovebirds (Agapornis nigrigensis) Black-cheeked Lovebirds are native of Northern Zimbabwe. Both the sexes possess dark brown cheeks (view the pictures here). Yellow green color is noticed in the rear head and sides of throat. The throat is orange-brown in color. They are having red beak, white-eye ring and dark green upper parts. Usually the young Black-cheeked Lovebird would be dull in color. More
Black-cheeked Lovebird (Agapornis nigrigenis) = Also Known As: Black-faced Lovebird * Members Only * Wild Status * Care * Profile MAIN_black_cheeked_lovebird_1 Black-cheeked Lovebird, Zambia Credit: © Louise Warburton, University of Natal photos Photos videoVideo 1 eNewsletter SIGNUP FOR EMAIL UPDATES Did You Know?Because the More
Black-cheeked lovebirds, London Zoo. The Black-cheeked lovebird is a rare vagrant in southern Africa, as it has only been reliably recorded once, at Victoria Falls, Zimbabwe. Its distribution is highly localised, with its population restricted to south-western Zambia (because of its small, localized population, it is now considered Vulnerable). It mainly occupies Mopane woodland, but also Acacia woodland and agricultural areas - it is never far from water. More
* Black-cheeked Lovebird, Agapornis nigrigeni Family of four lovebirds Lovebirds in Aviculture - Unlike many of the larger parrots, which had already been kept as pets even by Alexander the Great, lovebirds were first brought to Europe during the 18th century. Pet lovebirds are now bred in captivity. More
Black-Cheeked Lovebird is usually an orange colour. Grooming Make sure that the Black-Cheeked lovebird is clean at all times, cages and water tubs can become untidy quite quickly. Faeces and other waste needs to be cleared quickly as it can cause bacterial problems and can cause the lovebird health problems. Diet The Black-Cheeked lovebird usually eats seeds and berries but also enjoys fruit, vegetables and other greens. More
Black-Cheeked Lovebirds are one of the nine species of Lovebirds. They are much smaller than the Peachfaced. But full of personality. Black-Cheeked lovebirds are one of two lovebirds that are listed on "The IUCN Red List of Threatened Species" Black-Cheeked have no common mutations like Peachfaced and other lovebirds. Mutations that you generally see in the market are hybrids of Black-Cheeked and Masked lovebirds. This should never be practiced. We at Flying Gems do not believe in Hybrids. More
* Black-cheeked Lovebird, Agapornis nigrigenis, W.L. More
Black-cheeked Lovebird Agapornis nigrigenis 2009 IUCN Red List Category (as evaluated by BirdLife International - the official Red List Authority for birds for IUCN): Vulnerable Justification This species is listed as Vulnerable because it has a small population which is undergoing a continuing decline, principally owing to the gradual dessication of water bodies within a highly localised range. More
The Black-cheeked Lovebird Agapornis nigrigenis of south-west Zambia is an endangered species which appears to have been declining since heavy trapping for the bird trade in the 1920s. More