Fernandina's Flicker
Fernandina's Flicker is a species of bird in the woodpecker family. Endemic to Cuba, its small population of 600–800 birds makes it one of the most endangered species of woodpecker in the world; only the possibly-extinct Ivory-billed Woodpecker is known to have a smaller population. The Fernandina's Flicker is threatened by habitat loss.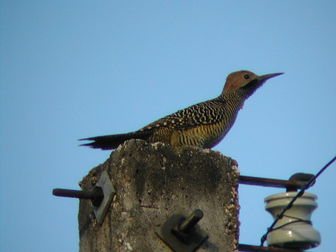 Picture of the Fernandina's Flicker has been licensed under a Creative Commons
Attribution
.
Original source
: Fernandina's FlickerUploaded by Richard001
Author
: Stylurus from Dearborn, Michigan, USACamera location
The Fernandina's Flicker is classified as Vulnerable (VU), considered to be facing a high risk of extinction in the wild.

Fernandina's Flicker (Colaptes fernandinae) is a species of bird in the woodpecker family. Endemic to Cuba, its small population of 600–800 birds makes it one of the most endangered species of woodpecker in the world; only the possibly-extinct Ivory-billed Woodpecker is known to have a smaller population. The Fernandina's Flicker is threatened by habitat loss. More
A fact from Fernandina's Flicker appeared on Wikipedia's Main Page in the Did you know? column on 11 December 2007, and was viewed approximately 1820 times (disclaimer) (check views). The text of the entry was as follows: "Did you know * ... More
Fernandina's Flicker is a species that is endemic to Cuba. It's population has been hovering around 600 to 800, making it one of the rarest woodpeckers in the world. Like their North American counterparts, Colaptes fernandinae, like to forage on the ground. As far as appearance, they share some similar traits with the Northern and Gilded, but are quite distinct. More
Videos and images Female Fernandina's flicker at nest hole This medium-sized, long-billed woodpecker is a rare Cuban endemic. Overall body colouration is a yellowish-brown with heavy black barring, while the head is cinnamon-coloured finely streaked with black. Upperparts and the wings show stronger, denser ... More
Female Fernandina's flicker at nest hole Female Fernandina's flicker at nest holePrint factsheet Facts - Also known as: Cuban flicker Kingdom Animalia Phylum Chordata Class Aves Order Piciformes Family Picidae Genus Colaptes (1) More
The Fernandina's Flicker is endemic to Cuba. Though it was apparently never common, it was formerly found across the island. Now, however, it is restricted to isolated locations in nine of the country's 15 provinces: Camagüey, Cienfuegos, Granma, Holguín, Las Tunas, Matanzas, Pinar del Río, Santiago de Cuba, and Villa Clara. The largest population is found in Zapata Swamp, where some 120 pairs are estimated to live, though this number may have dropped following recent hurricanes. More
For the purposes of our bird news services, Fernandina's Flicker is classed as ungraded: species which are unlikely to appear as wild birds in Britain or Ireland (Note that rarity levels are currently applied nationally and may not reflect local variations in abundance. More
Fernandina's Flicker (Colaptes fernandina) is one of the most endangered woodpeckers in the world. According to estimates, only 600 to 800 remain, living exclusively in isolated patches on Cuba. Although the population living in the Zapata Swamp region of Cuba numbers 250 individuals, the overall population is still declining. More
The Fernandina's Flicker is a species of the woodpecker family. Its small population of 600 to 800 birds makes it one of the most endangered species of woodpecker in the world after the possibly-extinct Ivory-billed Woodpecker. The Fernandina's Flicker ranges in length from 14 to 15 inches. It is mostly yellowish-tan, covered with varying amounts of black barring; its underwings are yellow. The male has a black moustachial stripe, which the female lacks. More