Fawn-breasted Bowerbird
The Fawn-breasted Bowerbird is distributed in New Guinea and northern Australia, where it inhabits the tropical forests, mangroves, savanna woodlands and forest edges. Its diet consists mainly of figs, fruits and insects. The nest is a loose cup made of small sticks up in a tree. The bower itself is that of avenue-type with two sides of wall of sticks and usually decorated with green-colored berries.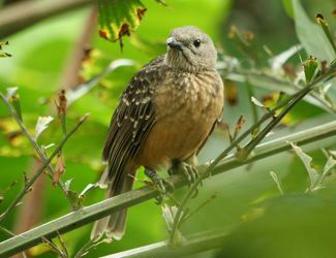 Picture of the Fawn-breasted Bowerbird has been licensed under a Creative Commons
Attribution
.
Original source
: Own work
Author
: Stavenn
The Fawn-breasted Bowerbird is classified as Least Concern. Does not qualify for a more at risk category. Widespread and abundant taxa are included in this category.

The Fawn-breasted Bowerbird, Chlamydera cerviniventris is a medium-sized, up to 32cm long, bowerbird with a greyish brown spotted white plumage, a black bill, dark brown iris, yellow mouth and an orange buff below. Both sexes are similar. The female is slightly smaller than the male. The Fawn-breasted Bowerbird is distributed in New Guinea and northern Australia, where it inhabits the tropical forests, mangroves, savanna woodlands and forest edges. Its diet consists mainly of figs, fruits and insects. More
* Fawn-breasted Bowerbird, Chlamydera cerviniventris Note that the Gray Catbird (Dumetella carolinensis) and Black Catbird (Melanoptila glabrirostris) from the Americas and the Abyssinian Catbird (Parophasma galinieri) from Africa are unrelated birds that belong to different families. References - 1. ^ a b Frith, Clifford B. (1991). Forshaw, Joseph. ed. Encyclopedia of Animals: Birds. London: Merehurst Press. pp. 228–331. ISBN 1-85391-186-0. More
Fawn-breasted Bowerbird Chlamydera cerviniventris 2009 IUCN Red List Category (as evaluated by BirdLife International - the official Red List Authority for birds for IUCN): Least Concern Justification This species has a very large range, and hence does not approach the thresholds for Vulnerable under the range size criterion (Extent of Occurrence 30% decline over ten years or three generations). More
The Fawn-breasted Bowerbird is distributed in New Guinea and northern Australia, where it inhabits the tropical forests, mangroves, savanna woodlands and forest edges. The Great Bowerbird,is a common and conspicuous resident of northern Australia The Western Bowerbird is a Bowerbird common in arid Central Australia and the Pilbara region of Western Australia The Spotted Bowerbird is widely distributed across inland Queensland and New South Wales. More