Collared Redstart
The Collared Redstart is common at heights between 1500 m and the timberline in mossy mountain forests, ravines, second growth, and adjacent pastures.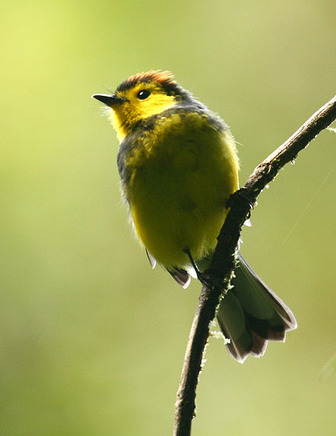 Picture of the Collared Redstart has been licensed under a Creative Commons
Attribution-Share Alike
.
Original source
: originally posted to Flickr as Collared Redstart
Author
: Michael WoodruffPermission(Reusing this file)This image, which was originally posted to Flickr.com, was uploaded to Commons using Flickr upload bot on 23:55, 26 November 2008 (UTC) by Snowmanradio (talk). On that date it was licensed under the license below. This file is licensed under the Creative Commons Attribution-Share Alike 2.0 Generic license.You are free:to share – to copy, distribute and transmit the work
The Collared Redstart is classified as Least Concern. Does not qualify for a more at risk category. Widespread and abundant taxa are included in this category.

The Collared Redstart (Myioborus torquatus) is a tropical New World warbler endemic to the mountains of Costa Rica and western Panama. Like other members of Myioborus, it is often called a "whitestart" rather than a "redstart". The Collared Redstart is common at heights between 1500 m and the timberline in mossy mountain forests, ravines, second growth, and adjacent pastures. More
The Collared Redstart is 12.5 cm in length and weighs 11 g. It has a chestnut crown bordered with black, and a black forehead. The rest of the upperparts are slaty black, and the tail is black with white edges. The face and underparts are bright yellow, with a black band across the breast. More
RE: Collared Redstart (Myioborus torquatus) Bein encuadrada, luz correcta y buena ni... Falta mas texto pero esta oculto para visitantes, clic aquí para registrarse. Encuentra todos los mensajes de este usuario Cita este mensaje en tu respuesta Gracias dada por Pablo Siles 14-Apr-2010, 01:03 AM Mensaje: #4 johenandez Sin Conexión Foto Naturalista ***** Jorge Hernández V. More
The colouful Collared Redstart is endemic to Costa Rica and Western Panama. This bird was photographed in the Monte Verde cloud forest. It was associated with a flock of small birds. More
The Collared Redstart (Myioborus torquatus) is a warbler with a fairly small distribution, occurring from Costa Rica to western Panama. It is a bird of montane forest and second growth. Like it's relative, the Slate-throated Redstart, this species often fans its tail while foraging, displaying the conspicuous white outer tail feathers. This individual was photographed in October, 1995 at Chacons, 15 km SSE of Tres de Junio, Provincia de San Jose, Costa Rica with a Canon T-90 and FD 400mm F4. More
Close-up of a Collared Redstart perching on a stem (Myioborus torquatus) (837-2712 / CRed1373 More