Northern Black-Flycatcher
This is an insectivorous species which is a resident breeder in tropical Africa from Senegal to Ethiopia and south to Zaire and Tanzania.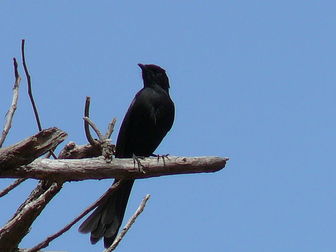 Picture of the Northern Black-Flycatcher has been licensed under a Creative Commons
Attribution-Share Alike
.
Original source
: Atamari
Author
: Atamari
The Northern Black-Flycatcher is classified as Least Concern. Does not qualify for a more at risk category. Widespread and abundant taxa are included in this category.

Northern Black-Flycatcher (Melaenornis edolioides) More
Northern Black-flycatcher (Melaenornis edolioides) = French: Gobemouche drongo German: Senegaldrongoschnäpper Spanish: Papamoscas Drongo Other common names: (African) Black Flycatcher Taxonomy: Melasoma edolioides Swainson, 1837, Senegal. Forms a superspecies with M. pammelaina. Three subspecies recognized. More
Northern Black-Flycatcher - Melaenornis edolioides Gobemouche drongo = Gobemouche drongo Le guide ornitho : Les 848 espèces d'Europe en 4000 dessins Gallery : © Frédéric Leviez Site web : Bienvenue chez Fred Order : Passériformes Family : Muscicapidae Species : Northern Black-Flycatcher Age : Adult Reference: frle43216 Other pictures Date taken : 2007 Oct Geographic data More
Northern Black-Flycatcher Melaenornis edolioides = Described by: Swainson (1837) Alternate common name(s): Northern Black-flycatcher, Black Flycatcher, African Black-flycatcher Old scientific name(s): None known by website authors Photographs Location unknown - Date unknown More
* 11 1 10 8 11 Northern Black-flycatcher (Melaenornis edolioides) * 1 1 8 12 Southern Black-flycatcher (Melaenornis pammelaina) * 4 1 3 8 10 Yellow-eyed Black-flycatcher (Melaenornis ardesiacus) * 1 1 4 9 Nimba Flycatcher (Melaenornis annamarulae) * 1 1 8 15 Fraser's Forest-flycatcher (Fraseria ocreata) * 1 1 8 16 White-browed Forest-flycatcher (Fraseria cinerascens) * 4 1 2 1 8 13 Fiscal Flycatcher (Sigelus silens) More