Water Rail
Its breeding habitat is marshes and reedbeds across Europe and Asia. It nests in a dry location in marsh vegetation, laying up to a dozen eggs. Northernmost and eastern populations are migratory, but Water Rails are permanent residents in western and southern Europe, with numbers augmented by migrants in winter.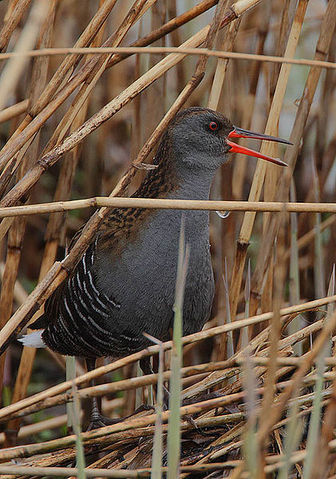 Picture of the Water Rail has been licensed under a Creative Commons
Attribution-Share Alike
.
Original source
: Water Rail(Rallus aquaticus)
Author
: Steve Garvie from Dunfermline, Fife, Scotland
The Water Rail is classified as Least Concern. Does not qualify for a more at risk category. Widespread and abundant taxa are included in this category.

The Water Rail or European Water Rail (Rallus aquaticus) is a small wetland bird of the rail family. Its breeding habitat is marshes and reedbeds across Europe and Asia. It nests in a dry location in marsh vegetation, laying up to a dozen eggs. Northernmost and eastern populations are migratory, but Water Rails are permanent residents in western and southern Europe, with numbers augmented by migrants in winter. More
Water Rails are very secretive in the breeding season, and are then mostly heard rather than seen. They are noisy birds, with a rich variety of sounds including a distinctive pig-like squeal, known as "sharming". They are easier to see in winter, especially if freezing conditions push them to the edge of the reedbeds. The South Asian race indicus differs slightly in morphology and strongly in vocalisations; Rasmussen and Anderton (2005) propose that this taxon be treated as a separate species, Eastern Water Rail. More
Aspects of the topic water rail are discussed in the following additional content sources. * Magazines * London Games to be 'greenest' yet. Construction News (00106860), March 22, 2007 * Bow siding a target to help ODA's green plans. Construction News (00106860), October 18, 2007 * Rail and water logistics 'on track' for the games. More
Water Rail is a secretive bird, more often heard than seen. More
recoveries confirm many water rails move into this country for the winter from the Netherlands, Belgium and southern Scandinavia. Others summer in northern and central Europe even cross such mountain systems as the Alps. Old-time collectors/naturalists described water rails as often abundant in autumn in the Yare Valley especially in the vicinity of Rockland Broad. Here the unfortunate birds 'afforded ample sport' with as many as 22 being obtained by a single gunner within a few hours. More
Smaller and distinctly slimmer than the moorhen, the water rail is a fairly common but highly secretive inhabitant of freshwater wetlands. It has chestnut-brown and black upperparts, grey face and underparts and black-and-white barred flanks, and a long red bill. Difficult to see in the breeding season, it is relatively easier to find in winter, when it is also more numerous and widespread. Although usually secretive they can become confiding but are still far more often heard than seen. More
The Water Rail can be found in the marshes and reedbeds across Europe and Asia. Northernmost and eastern populations are migratory, but Water Rails are permanent residents in western and southern Europe, with numbers augmented by migrants in winter. It builds its nests in a dry location in marsh vegetation. The females lay up to a dozen eggs. More
vues paulcking — 14 novembre 2009 — A normally skulking Water Rail is seen out in open feeding around the shrub at the edge of a lake at the Stockbr... paulcking — 14 novembre 2009 — A normally skulking Water Rail is seen out in open feeding around the shrub at the edge of a lake at the Stockbridge Nature Reserve, Keighley.Catégorie : Animaux Tags :Water Rail wildlife nature reserve Yorkshire. More
Visitors to RSPB Conwy had great views of a water rail bathing for almost two hours - it is one of the best places to see these secretive birds.bird notes by Daily Post (Liverpool, England)Once synonymous with the sound of rural summers, the corncrake a member of the rail family, related to the water rail,No wonder corncrakes are so very rare... we ate them ; On the brink ... More
Water Rail Gasket If you need a new water rail gasket, you can find it for the lowest price right here. At AutoAnything, you save more money than anywhere else. That's because we back these water rail gaskets with our 1-year lower price guarantee. What's more, you never pay an extra dime in shipping since we ship your order for free. Get your vehicle's water pump system back in working order by ordering up a replacement water rail gasket from this selection of factory, factory-equivalent and generic gaskets. More
The Raceline cast alloy water rail is designed to simplify the cooling system and plumbing of the Ford Zetec engine when installed in-line in a Caterham Seven or other similar specialist sports car. Because of its innate simplicity, it can enhance reliability as much as it enhances the underbonnet appearance of any such vehicle. More
The Duratec water rail is complex casting manufactured for us from LM25 aluminium by a leading motorsport foundry. Item Part Number Price Water rail More
Water Rails are very shy and secretive most of the time. They are very vocal though and sound like a squealing piglet when they call. I doubt very much your friend saw a 'baby' one! Its february! Water Rails wont have young until end of April at the very earliest. Heres one in the hand: - Regards Paul http://www.cornwall-birding.co. More
The water rail is about the same size. The king rail is Rallus elegans; black rail, Laterallus jamaicensis; clapper rail, Rallus longirostris; Virginia rail, R. limicola; yellow rail, Coturnicops noveboracensis; sora, Porzana Carolina; water rail, Rallus aquaticus; corncrake, Crex crex. The rail family is Rallidae. Related TopicsBustard Bustard, a family of game birds. There are 22 species. More
Water Rails emit a wide range of unlikely squeals, grunts and groans, ranging from 'squealing piglets' to the 'purring of contented squirrels' line Population and Distribution Population Trend: No population trend available Distribution: Atlas Maps (Help with the New Atlas) British Population Size: Summer: 450 to 900 pairs in 1988-91 Note: Best estimate First Record: 15th Century More
For the purposes of our bird news services, Water Rail is classed as Common: common species, including species that are certain or probable escapees from captivity when occurring in the British Isles. (Note that rarity levels are currently applied nationally and may not reflect local variations in abundance. More
weather - winter route' you should leave the Water Rail Way at Southrey and head for Bardney along Ferry Road. Pass Bardney Post Office and bear left down Station Road. Rejoin the tarmac track just befor the bridge traffic lights. Local history and wildlife boards, sculptures, benches and mile markers have now been installed along the route. Signs to inform you of the location of nearby shops, caf More
Water Rail records in the Western Isles Rare resident or migrant breeder (1-9 breeding records), Scarce passage and winter visitor (Very small numbers each year) Source: Outer Hebrides Bird Report (2001) On the chart below the darker the shade of blue the more abundant the Water Rail is during a month or the more likely you are to see it. More