Little Crake
Their breeding habitat is reed beds in Europe, mainly in the east, and just into western Asia. They nest in a dry location in reed vegetation, laying 4-7 eggs. This species is migratory, wintering in Africa.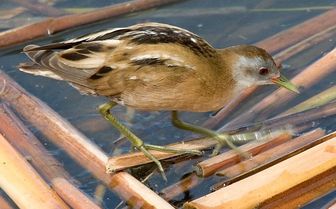 Picture of the Little Crake has been licensed under a Creative Commons
Attribution
.
Original source
: Porzana_parva_Vlaskop.jpg
Author
: Porzana_parva_Vlaskop.jpg: Martien Brand from Mariënberg, The Netherlands
The Little Crake is classified as Least Concern. Does not qualify for a more at risk category. Widespread and abundant taxa are included in this category.

The Little Crake (Porzana parva) is a very small waterbird of the family Rallidae. Their breeding habitat is reed beds in Europe, mainly in the east, and just into western Asia. They nest in a dry location in reed vegetation, laying 4-7 eggs. This species is migratory, wintering in Africa. At 17-19 cm length, they are slightly smaller than Spotted Crakes, from which they are readily distinguished by the lack of dark barring and white spots on the flanks. More
Aspects of the topic little crake are discussed in the following places at Britannica. Assorted References * description (in crake (bird)) ...Europe, Asia, Africa, Australia, and New Zealand; the spotless crake (P. tabuensis), ranging from Australia to the Philippines; and the little crake (P. parva), a relatively common Eurasian form. More
The Little Crake has a short straight bill, yellow with a red base. Adult males have mainly brown upperparts and blue-grey face and underparts. They have green legs with long toes, and a short tail which is barred black and white underneath. Females have buff underparts, and are grey only on the face. Immature Little Crakes are similar to the female but have a white face and breast. The downy chicks are black, as with all rails. More
Little Crake - Definition = Little Crake Little Crake Scientific classification Kingdom: Animalia Phylum: Chordata Class: Aves Order: Gruiformes Family: Rallidae Genus: Porzana Species: parva Binomial name More
Little CrakesThe Little Crake (Porzana parva) is a very small waterbird of the family Rallidae, which includes the rails, crakes, coots, and gallinules. The Little Crake is one of the species to which the Agreement on the Conservation of African-Eurasian Migratory Waterbirds (AEWA) applies. Distribution / Habitat: Their breeding habitat is reed beds in Europe, mainly in the east, and just into western Asia. This species is migratory, wintering in Africa. More
For the purposes of our bird news services, Little Crake is classed as Mega: species which have not yet occurred in the British Isles or are exceedingly rare, or are otherwise highly desirable. More
Little Crake determination Similar species Rallidae Allens Gallinule | American Coot | Baillons Crake | Black Crake | Coot | Corn Crake | Crested Coot | Little Crake | Moorhen | Purple Gallinule | Purple Swamphen | Sora | Spotted Crake | Striped Crake | Water Rail | source: youtube More
The Little Crake (Porzana parva) is a very small waterbird of the family Rallidae. pets No little crake pets yet! pictures No little crake pictures yet! videos No little crake videos yet! owners No little crake owners yet! blogs No little crake blogs yet! This article is licensed under the GNU Free Documentation License. More
Little Crake have occurred in spring and late autumn/winter, with very few in the period August - October (Dymond et al 1989, Evans 1994). Another interesting comparison is that in the same period, 1961 - 1977, Spotted Crake P. porzana was recorded on seven occasions in Ireland as a whole, but only two of these were at comparatively well-watched Cape Clear Island (and one of the Cape birds was only heard, not seen) (Irish Bird Reports 9-25). More
The Little Crake (Porzana parva) is a rare visitor to Britain, and normally migrates between Africa and eastern Europe. The picture is taken from A History of British Birds by William Yarrell, volume III, 1860 (back to index). Book CoverRSPB Complete Birds of Britain and Europe, Rob Hume. More
Little Crake, Shetland, Burrafirth 29th May 2007 © Mike Pennington Nature in Shetland Little Crake - Little Crake, Shetland, Unst 1/06/07 © Dougie Preston Stunning wee bird for Scotland Send this as a postcard Little Crake - Little Crake, Shetland, Unst 4/06/07 © Dougie Preston Beautiful bird and what a performer! Send this as a postcard Little Crake More
Little Crake More
Little Crake in Spain Photo of Little Crake Population and distribution of Little Crake in Spain News and information on Little Crake in Spain English-Spanish-Catalan translation of Little Crake * Little Crake : polluela bastarda : rasclet More
Female Little Crake at the Asprokremnos pools, Cyprus, April 1998. Little Crake Spotted Crake at Farlington Marshes, Hampshire, July 1999. Spotted Crake Spotted Crake at Farlington Marshes, Hampshire, July 1999. Spotted Crake Baillon's Crake at Grove Ferry, Kent, in June 1999. Baillon's Crake Corncrake, St Mary's, Isles of Scilly, October 1998. More