White-throated Rail
Its natural habitats are subtropical or tropical moist lowland forests and subtropical or tropical mangrove forests.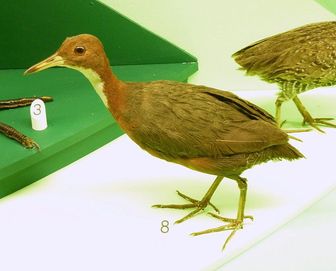 Picture of the White-throated Rail has been licensed under a
GFDL
Original source
: Totodu74
Author
: Totodu74
Permission
: GNU Free Documentation License
The White-throated Rail is classified as Least Concern. Does not qualify for a more at risk category. Widespread and abundant taxa are included in this category.

The White-throated Rail (Dryolimnas cuvieri) or Cuvier's Rail is a species of bird in the Rallidae family. It is found in Comoros, Madagascar, Mayotte, and Seychelles. A flightless subspecies, Dryolimnas cuvieri aldabranus (Aldabra Rail), inhabits Aldabra, while another, D. c. abbotti (Assumption Rail), from Assumption went extinct in the early 20th century due to introduced predators. It is now the last living member or the genus Dryolimnas. Its natural habitats are subtropical or tropical moist lowland forests and subtropical or tropical mangrove forests. More
White-throated Rail of Aldabra is the last surviving flightless bird in the western Indian Ocean. They are mostly found on Malabar Island, but can also be found on Polymnieli Island and other islands. An undescribed extinct taxon, sometimes mentioned as Sauzier's Wood-rail, is known from Mauritius. Though much larger the skeletons of these rails show similarities to the rails of the genus Lewinia. Therefor the two genera were lumped at times. More