White-breasted Waterhen
The White-breasted Waterhen is a waterbird of the rail and crake family Rallidae that is widely distributed across South and Southeast Asia. They are dark slaty birds with a clean white face, breast and belly. They are somewhat bolder than most other rails and are often seen stepping slowly with their tail cocked upright in open marshes or even drains near busy roads. They are largely crepuscular in activity and during the breeding season after the first rains make loud and persistent croaky calls.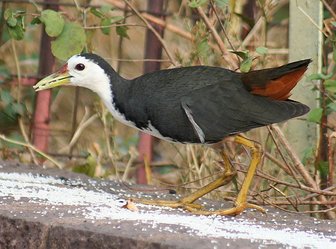 Picture of the White-breasted Waterhen has been licensed under a
GFDL
Original source
: Own work
Author
: J.M.Garg
Permission
: GNU Free Documentation License
The White-breasted Waterhen is classified as Least Concern. Does not qualify for a more at risk category. Widespread and abundant taxa are included in this category.

The White-breasted Waterhen (Amaurornis phoenicurus) is a waterbird of the rail and crake family Rallidae that is widely distributed across South and Southeast Asia. They are dark slaty birds with a clean white face, breast and belly. They are somewhat bolder than most other rails and are often seen stepping slowly with their tail cocked upright in open marshes or even drains near busy roads. More
White-breasted Waterhens are the most common of the Rail family in Singapore, often heard before they are seen. Their loud quarrelsome calls sound like their Malay name, Ruak Ruak. They are more vocal at dawn and dusk. white breasted water hen from the rearWhite-breasted Waterhens eat mainly seeds, insects and small fish. They also nibble on worms and small snails; and snack on shoots and roots of marsh plants. More
The White-breasted Waterhen is a large (33 cm) rail with dark slaty-gray upperparts, white face, breast and belly, and rufous rear flanks, vent and undertail coverts. The bill is greenish yellow with a red frontal shield, the legs are dark yellow and the iris is red. White-breasted Waterhens are found in a wide variety of freshwater habitats such as marshes, lakes, ponds, ditches, rice fields, river shores, and grassy areas with reeds and shrubs. More
White-breasted Waterhen (Philippine Wild Birds) By Romy Ocon View in HD Download 720p HD Version Visit Romy Ocon's ExposureRoom Videos Page Posted by Romy Ocon at 3:07 PM 0 comments: Post a Comment Newer Post Older Post Home Subscribe to: Post Comments (Atom) Wild Birds of the Philippines HD Videos All photographed in-habitat Visit the net's premier forums on Philippine wild bird photography Images of Philippine wild birds captured in More
Three eggs of the White-breasted Waterhen (Amaurornis phoenicurus) were rescued after being found abandoned. The eggs were about to hatch and cracks were apparent on the shells. They were artificially incubated and soon hatched into little black chicks with "large feet". The chicks were hand-fed until they could eat on their own. When they were about 3 months old, they were banded and then released into the wild. More
White-breasted Waterhen (Amaurornis phoenicurus) by Matthias Feuersenger. More
White-breasted Waterhen (Amaurornis phoenicurus) = French: Râle à poitrine blanche German: Weißbrust-Kielralle Spanish: Gallineta Pechiblanca Taxonomy: Gallinula phoenicurus Pennant, 1769, Sri Lanka. Possible races chinensis and javanicus included within nominate due to overlapping measurements, but may well be valid. Four subspecies recognized. More
White-breasted Waterhen Amauronis phoenicurus - White-breasted Waterhen Amauronis phoenicurus copyright Nikhil Devasar; 17th july 2005; KG Wetlands, Palwal, Haryana COPYRIGHT: delhibird - The Northern India Bird Network. All rights reserved. More
* White-breasted Waterhen, a waterbird in the rail and crake family Rallidae * White-breasted Whistler, a species of bird in the Pachycephalidae family * White-breasted White-eye, a small passerine bird belonging to the genus Zosterops * White-breasted Wood-Wren, a small songbird of the wren family * White-breasted Woodswallow, a small passerine bird which breeds More
White-breasted Waterhen Amaurornis phoenicurus = Described by: Pennant (1769) Alternate common name(s): White-breasted Water Hen Old scientific name(s): None known by website authors Photographs Sungei Buloh Nature Park, Singapore - Date unknown More
WHITE-BREASTED WATERHEN * Amaurornis phoenicurus * 32 cms previous Click here to comment on this image next Site Map Oriental Bird Club Copyright of all images is retained by Vijay Cavale and respective copyright owners. More
White-breasted Waterhen Amaurornis phoenicurus javanica - Subadult White-breasted Waterhen Photographer : More
Stamps showing White-breasted Waterhen Amaurornis phoenicurus White-breasted Waterhen Amaurornis phoenicurus White-breasted Waterhen Amaurornis phoenicurus White-breasted Waterhen Amaurornis phoenicurus White-breasted Waterhen Amaurornis phoenicurus White-breasted Waterhen Amaurornis phoenicurus 46.027 White-breasted Waterhen IOC v2.4: 1348 Links will open countrypage in new window - Bangladesh 15.07.2000 Water birds - Bangladesh 29.07. More
The White-breasted Waterhen has decided to move to our home (rather than be a daily visitor). Here it is on our gate. - Amar Taxonomic Notes : Select an image: More
White-breasted Waterhen (Amaurornis phoenicurus) Cheeky Waterhen Our birdlife photography is sold as high quality canvas prints, beautifully mounted onto deep gallery box wooden frames. Create your print: 1a.) Canvas Print Size: 2.) Caption Text if required: (max 32 char.) 2a.) - Caption font: VIEW FONTS 2b.) - Text colour: - VIEW COLOURS 2c. More
when this pair of White-breasted Waterhen (Amaurornis phoenicurus) emerged to forage at a patch of grass-field. After about 10 minutes of hunting, one bird caught a small cockroach. But instead of eating the meal, it offered the meal to its partner! The lovely couple went on to pass the prey to-and-fro for a good three to four rounds before it was eventually eaten by the first bird. This is the first time I witnessed this interesting behavior. More