Pale-winged Trumpeter
The Pale-winged Trumpeter's habitat is tropical moist lowland forests .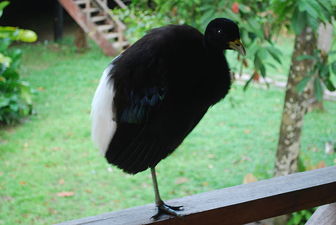 Picture of the Pale-winged Trumpeter has been licensed under a Creative Commons
Attribution
.
Original source
: originally posted to Flickr as White-winged Trumpeter
Author
: ajvhanPermission(Reusing this file)This image, which was originally posted to Flickr.com, was uploaded to Commons using Flickr upload bot on 11:10, 17 January 2009 (UTC) by Snowmanradio (talk). On that date it was licensed under the license below.This file is licensed under the Creative Commons Attribution 2.0 Generic license.You are free:to share – to copy, distribute and transmit the work
The Pale-winged Trumpeter is classified as Least Concern. Does not qualify for a more at risk category. Widespread and abundant taxa are included in this category.

The Pale-winged Trumpeter's habitat is tropical moist lowland forests (BirdLife International 2004). Its reproductive behavior is the best known of the trumpeters'. Groups of adults defend a territory together. Several males mate with the dominant female, the dominant male doing so most often. She lays an average of three eggs in a hole in a tree, where both males and females incubate. The young hatch covered with thick, dark, cryptically patterned down. More
pale-winged trumpeter can be found south of the Amazon and west of the Madeira; while the dark-winged trumpeter is distributed south of the Amazon and east of the Madeira. Habitat Trumpeters live on the ground in tropical rainforests. They prefer forests with a relatively open forest floor so they can more easily forage and run away from predators when necessary. Typical trumpeter habitat can range from dense, forested areas to swamps. More
The Pale-winged Trumpeter (Psophia leucoptera) is a species of bird in the Psophiidae family. It is found in the southwestern Amazon Basin of Brazil in a contiguous range between three river systems, including the Amazon, and into the upper reaches of the basin into parts of central Bolivia, and in eastern Peru, the eastern drainage of the Andes mountains. Like the Dark-winged Trumpeter, it is restricted to the southern Amazon Basin. More
Pale-winged Trumpeter - Photo copyright John DiGrazia of Birding in PeruPale-winged Trumpeter Photo copyright John DiGrazia of Birding in Peru Dark-winged Trumpeter Seriemas - COMPLETE - 2 OUT OF 2 SPECIES REPRESENTED ... ... More
Pale-winged trumpeters live in the rainforest, always in groups of 3 to 15 individuals. They are often found where there are army ants. This species is uncommon. They can occasionally be seen walking on the trails near some lodges. Video © E_publishing, Edym, Es., 2008, licensed by Pro-Manu for Edym Multimedia, Spain. More
Pale-winged Trumpeter, PERU, Manu July 2004 © Colin Bushell - TOUCAN BIRDING TOURS Pale-winged Trumpeter - Pale-winged Trumpeter, Peru, Madre de Rios River September 2006 © Karl Erich Mayer Send this as a postcard Pale-winged Trumpeter - Showing Records 1 through 2 of 2 Total Records More