Black-bellied Bustard
The Black-bellied Bustard is 23 to 25 inches long. The bill and legs are dull yellow. The male's upperparts have black and brown marks on a tawny buff background; the underparts are black. The head is boldly patterned with black, white, and buff. The neck, long and thin for a bustard, is buffy brown with a thin black line down the front that joins the black breast. The tail is brown and buff with four or five narrow dark brown bands. The upper surface of the wings is white with a brown triangle at the base; the flight feathers have black tips except for the outer secondaries. The white of the wings is visible when the bird stands, contrasting with the black underparts .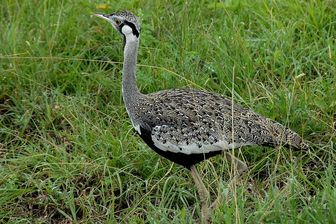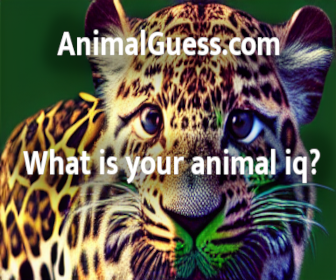 Picture of the Black-bellied Bustard has been licensed under a Creative Commons
Attribution
.
Original source
: Picasa Web Albums
Author
: BobThis image, which was originally posted to Picasa Web Albums, was reviewed on 00:53, 18 December 2010 (UTC) by the administrator or reviewer Picasa Review Bot, who confirmed that it was available on Picasa Web Albums under the above license on that date.
The Black-bellied Bustard is classified as Least Concern. Does not qualify for a more at risk category. Widespread and abundant taxa are included in this category.

The Black-bellied Bustard (Lissotis melanogaster) is an African ground-dwelling bird in the bustard family. Some authorities (such as BirdLife International 2004) place it in the genus Eupodotis. More
Black-bellied bustard (Eupodotis melanogaster) = Species information - * Facts & Status * Description * Range & Habitat * Biology * Threats & Conservation * Find out more * Glossary & References * All * More
Black-bellied Bustard | Lissotis melanogaster = The Black-bellied Bustard is a Southern African bird that belongs to the Otididae bird family group which includes birds such as Bustards. The description for the Black-bellied Bustard (Latin name Lissotis melanogaster) can be found in the 7th Edition of the Roberts Birds of Southern Africa. The Lissotis melanogaster can be quickly identified by its unique Roberts identification number of 238 and the detailed description of this bird is on page 306. More
Black-bellied Bustard, Lissotis melanogaster Otididae (BUSTARDS) Black-bellied Bustard, Lissotis melanogaster This photo was taken in: Tanzania The photo was taken by: Steve Bird , Birdseekers Birdseekers Birdseeker tour company Birdseekers Tour reports Birdwatching Holidays around the world Birdseekers Tour reports Birdwatching Holidays around the world Birdseekers photo's taken by Tony Crittenden Identification Notes: More
Distribution of Black-bellied bustard in southern Africa, based on statistical smoothing of the records from first SA Bird Atlas Project (© Animal Demography unit, University of Cape Town; smoothing by Birgit Erni and Francesca Little). Colours range from dark blue (most common) through to yellow (least common). See here for the latest distribution from the SABAP2. More
The Black-bellied Bustard is widely distributed in the savannas of Africa, from Senegal and Gambia to Ethiopia, south to Botswana and the east coast of South Africa. This bird is one of several species used by Arab falconers to train their hawks. The Black-bellied Bastard is bred for this purpose. Brown plumage displays varied shades and patterns providing camouflage in its semidesert habitat. More
Black-bellied bustard (Eupodotis melanogaster) - Family : Otididae PICT1878 PICT1878 DSC_6892 Black-bellied bustard (Eupodotis melanogaster) DSC_6892 Black-bellied bustard (Eupodotis melanogaster) IMG00439 Black-bellied bustard (Eupodotis melanogaster) IMG00439 Black-bellied bustard (Eupodotis melanogaster) IMG00443 Black-bellied bustard (Eupodotis melanogaster) IMG00443 Black-bellied bustard (Eupodotis melanogaster) IMG00441 Black-bellied bustard (Eupodotis melanogaster) IMG00441 Black-bellied bustard (Eupodotis melanogaster) IMG00438 Black-bellied bustard (Eupodotis melanogaster) More
Stamps showing Black-bellied Bustard Lissotis melanogaster Black-bellied Bustard Lissotis melanogaster Black-bellied Bustard Lissotis melanogaster 39.015 Black-bellied Bustard IOC v2.4: 1247 Links will open countrypage in new window - Guinea-Bissau 2008 Boars and birds MS - UN NY 06.04. More
Black-bellied Bustard (Lissotis melanogaster) = French: Outarde à ventre noir German: Schwarzbauchtrappe Spanish: Sisón Ventrinegro Común Other common names: Black-bellied Korhaan Taxonomy: Otis melanogaster Rüppell, 1835, Lake Tsana, Ethiopia. Genus frequently merged with Eupodotis. Present species forms superspecies with L. hartlaubii. Two subspecies recognized. More
Original File Name: Male Black-bellied Bustard, Lissotis melanogaster or Eupodotis melanogaster. More
Results for: black-bellied bustardTranslations 1 - 30 of 938 English English Finnish Finnish black-bellied bustard kapustatrappi, Lissotis melanogaster white-bellied bustard valkovatsatrappi, Eupodotis senegalensis black bustard mustakaulatrappi, Afrotis afra black-bellied sandgrouse hietakyyhky, Pterocles orientalis black-bellied malkoha mustavatsamalkoha, Rhopodytes diardi black-bellied hummingbird surukolibri, Eupherusa nigriventris black-bellied antwren More
* Black-bellied Bustard, Lissotis melanogaster * Hartlaub's Bustard, Lissotis hartlaubii * Genus: Houbaropsis * Bengal Florican, Houbaropsis bengalensis * Genus: Sypheotides * Lesser Florican, Sypheotides indica * Genus: Tetrax * Little Bustard, Tetrax tetrax Notes - More
Black-bellied Bustard - Photo copyright Ron EggertBlack-bellied BustardPhoto copyright Ron Eggert Hartlaub's Bustard - Photo copyright Naota NodaHartlaub's BustardPhoto copyright Naota Noda ... Bengal Florican ... Lesser Florican ... ... More