Black-necked crane
The Black-necked Crane is distributed in Pakistan, China, Himalayan regions of the Republic of India, Bhutan and Vietnam. It breeds on the Tibetan Plateau, with a small population in adjacent Ladakh, and Kashmir valleys. It has therefore been designated as the State bird of Jammu and Kashmir. It has six wintering areas, mostly at lower altitudes in China, notably at Caohai Lake, but it also winters in Bhutan. In Jammu and Kashmir, the crane breeds near the high altitude lakes of Ladakh such as Tso Kar Lake. The Black-necked Crane is one of the spiritual creatures for the people of the area and is pictured alongside many of their deities in the monasteries of the region.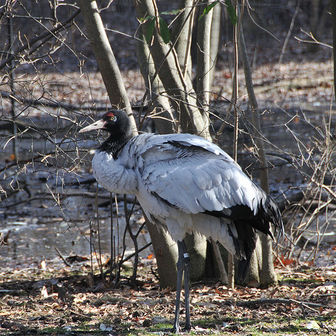 Picture of the Black-necked crane has been licensed under a Creative Commons
Attribution-Share Alike
.
Original source
: originally posted to Flickr as Bird and uploaded to commons at Grus_nigricollis_-Bronx_Zoo-8.jpg
Author
: derivative work: Snowmanradio (talk)
The Black-necked crane is classified as Vulnerable (VU), considered to be facing a high risk of extinction in the wild.

The Black-necked Crane or Tibetan Crane (Grus nigricollis) is a medium-sized crane native to Asia. It is 139 cm (55 in) long with a 235 cm (7.8 ft) wingspan, and it weighs 5.5 kg (12 lbs). It is whitish-gray, with a black head, red crown patch, black upper neck and legs, and white patch to the rear of the eye. It has black primaries and secondaries. Both sexes are similar. More
Black-necked Cranes breeding range includes much of the Qinghai-Tibetan Plateau in China, with a small breeding population occurring in adjacent Ladakh in India. Wintering grounds include lower elevations of the Qinghai-Tibet and Yunnan-Guizhou Plateaus in China, with some birds occurring in Bhutan and Arunachal Pradesh. Map Range, Migration and Nesting Map Habitat & Ecology: During the breeding season Black-necked Cranes use high altitude wetlands. Foraging occurs in shallow marshes, streams, and pastures. More
The black-necked crane is the only alpine crane in the world (5). As the English name suggests, the upper part of the neck and the head are black, except for a small white patch to the rear of the eye and a red bald patch between the bill and the eye. The rest of the body is grey, but the legs, lower parts of the wings and the tail are black. The inner flight feathers are elongated and curve downwards (6). More
Black-necked Crane Festival and met with colleagues studying the rare White-bellied Heron. Rhett and Greg captured the beauty of Bhutan on video. We hope their film can be premiered at our Annual Meeting September 27, 2008. The court yards of Gangtey Monastery, a 16th century temple cresting a hill that protrudes into the Phobjikha Valley from the north, was the venue for the 11th Black-necked Crane Festival. More
The world More
Also known as the Tibetan Crane, the Black-necked crane is quite tolerant of people and regularly feeds near human settlements, possibly because local religious beliefs protect them across much of their range. Physical Description The Black-necked crane is a large bird that measures up to 139 cm long with a wingspan of 235 cm. It weighs about 12 lbs full grown. More
Black-necked Crane (Grus nigricollis) summer breeder in Ladakh and winter visitor to Sikkim and Bhutan. The Black-necked Crane was discovered relatively recently in 1876, by a Russian naturalist. Our knowledge of these birds is rather scanty and judging from recent reports their population levels in Tibet and China are higher than previously believed. It is now also learnt that a study-cum-breeding center has been established in the Shanghai province in China. More
The black-necked crane is the only alpine crane in the world. As the English name suggests, the upper part of the neck and the head are black, except for a small white patch to the rear of the eye and a red bald patch between the bill and the eye ... More
Pholbjikha Valley's Black-necked Cranes (photo courtesy of Mark Wilson) Day 5 Phobjikha Valley Spend the day witnessing the Black-necked Crane Festival, held by the Royal Society for Protection of Nature. You will enjoy masked dances performed by children, women, and monks – all celebrating the safe return of the Black-necked Cranes. This is also a good time to purchase handicrafts at the stalls, or perhaps try your hand at a Bhutanese game. More
black-necked cranes with satellite remote sensing technology in a bid to better protect the rare bird ... Species: Black-necked crane - Apr 20, 2009 wickedlocal.comSpecies description: Black-necked cranes are distinguished by a combination of black, white and ashy gray coloring with a red crown. ... As the glaciers recede... More
The Black-necked Crane is distributed in China, India, Bhutan and Vietnam. It breeds on the Tibetan Plateau, with a small population in adjacent Ladakh, India. It has six wintering areas, mostly at lower altitudes in China, notably at Caohai Lake, but it also winters in Bhutan. In India, the crane breeds near the high altitude lakes of Ladakh such as Tso Kar Lake. More
Black-necked CraneThe Black-necked Crane (Grus nigricollis) is a large, whitish-gray crane. It is also known as Tibetan Crane. Description It has a black head and upper neck apart from a whitish postocular patch (bare skin patch behind the eye) and red crown patch. It has black primaries (longest wing feathers) and secondaries. Distribution / Range The Black-necked Crane breeds on the Tibetan Plateau, with a small population in adjacent Ladakh, India. More
Black-necked Crane arrival in Phobjikha. - RSPN (Royal Society for Protection of Nature ) reported on 29 october 2009 , the arrival of first group of black-necked crane, comprising two adults and a juvenile in Phobjikha valley at around 3:10 PM. It was on the same date in 2008) that RSPN recorded the first arrival of cranes in 2008. Of the 457 cranes, 322 cranes were recorded in Phobjikha valley in the winter of 2008-2009. More
Black-necked Crane Grus nigricollis - Otto Pfister (August 2005) LOCAL NAME: Cha Thung-Thung, Cha Thung-Thung Karma SIZE: L 125-135 cm, WS 210-240 cm Black-necked Crane Grus nigricollis copyright Otto Pfister DESCRIPTION: A tall and overall greyish-white bird, with black tail, neck to head and red crown. In flight, the neck is stretched wide forward, the dark-grey legs folded horizontally backwards. More
The Black-necked Crane Festival convenes each November 12 in the courtyard of a 16th century temple, the Gangtey Monastery. Children dressed in crane costumes perform beautifully choreographed crane dances will thousands of people enjoy the show. High in the skies over the mountains, cranes are circling to lose altitude as they return to a valley where their ancestors have likely has been visiting for thousands of years. More
Because of the large flock of black-necked cranes that winter here (from late October to late March), it is one of the most important wildlife preserves in the country Phobjikha Valley is circled by beautiful pine covered mountains. Along the way, look for nocturnal red pandas that sleep in the trees during the day. At the valley's center, rising dramatically from a small ridge, stands Gantey Gompa, one of the oldest Nyingma Buddhist monasteries in Bhutan. More