Black Crowned-Crane
It occurs in dry savannah in Africa south of the Sahara, although in nests in somewhat wetter habitats. There are two subspecies: B. p. pavonina in the west and the more numerous B. p. ceciliae in east Africa.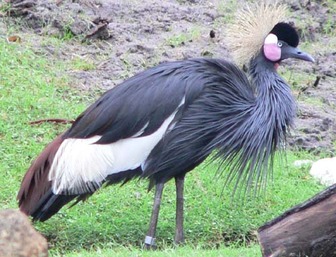 Picture of the Black Crowned-Crane has been licensed under a
GFDL
Permission
: GNU Free Documentation License
The Black Crowned-Crane is classified as Near Threatened (NT), is close to qualifying for or is likely to qualify for a threatened category in the near future.

The black crowned-crane has bare cheek patches that are white and reddish (4). There are two black crowned-crane subspecies; in the West African crowned crane (Balearica pavonina pavonina) the lower half of the cheek patch is red, whereas in the Sudan crowned crane(Balearica pavonina ceciliae) the red extends to the upper half of the cheek patch (2) (5). Male black crowned-cranes are larger than females, and juveniles differ by having grey to brown plumage with a brown crown and nape (2). More
The black crowned-crane appears to eat anything it comes across; its feeds on insects such as grasshoppers and flies, millipedes, crabs, amphibians and reptiles (2) (4). It also consumes grass seeds and sometimes grain, and may do some crop damage through its feeding habits (4). Food is normally pecked off the surface, but the black crowned-crane also stamps its feet in an attempt to disturb potential prey hidden in the ground (2). More
Black Crowned-Crane Stamps (By Chris Gibbins) West African Crowned Crane (Columbus Zoo) Southern Crowned Crane (Hilo Zoo, Hawaii) The Gruidae or Cranes (Earth-Life Web) Balearica pavonina (Zoological Museum, Amsterdam) Black Crowned Crane (Wild Animals Online) Black Crown Crane (Colorado State University) - | Top of Page | Postage Stamps | Currency Notes | Crane Photos | Crowned Crane Stories | | The Dove | Magpie Myth | Enlightenment | Books to Read | More