Red-legged Seriema
Species-level: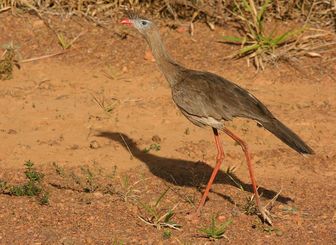 Picture of the Red-legged Seriema has been licensed under a Creative Commons
Attribution
.
Original source
: Seriema / Red-legged Seriema ( Cariama cristata )Uploaded by Snowmanradio
Author
: Wagner Machado Carlos Lemes from Goiânia, BrazilCamera location
The Red-legged Seriema is classified as Least Concern. Does not qualify for a more at risk category. Widespread and abundant taxa are included in this category.

The Red-legged Seriema is a characteristic bird of savanna areas of eastern South America, and can be common and approachable where they are not hunted. It's far-carrying song (click for short sample) is very distinctive. There are only two species of seriema in the world today. The other, the Black-legged Seriema (Chunga burmeisteri), lives in the chaco region farther south, and is a much shier bird, rarely seen in the open like these birds. More
Indeed, the Red-legged Seriema is one of the most frequently seen large birds in central Brazil where KHR spent 2 yrs. It is even more frequently heard than seen because its loud distinctive songs carry for several kilometers. This paper reports incidental field observations made on Red-legged Seriemas and presents an analysis of the vocalizations of several captive and wild Red-legged Seriemas. More
The Red-legged Seriema or Crested Cariama (Cariama cristata) is a mostly predatory terrestrial bird in the seriema family (Cariamidae), included in the "Gruiformes" in the old paraphyletic circumscription, but increasingly placed in a distinct order Cariamae (along with three extinct families). The Red-legged Seriema inhabits grasslands from Brazil south of the Amazon to Uruguay and northern Argentina. The area over which it occurs is estimated at 5.9 million km², though the bird is not found everywhere in this region of course. More
the Red-legged Seriema is slightly bigger than the Black-legged. They forage on foot and run from danger rather than fly (though they can fly for short distances, and they roost in trees). They have long legs, necks, and tails, but only short wings, reflecting their way of life. They are brownish birds with short bills and erectile crests, found on fairly dry open country, the Red-legged Seriema preferring grasslands and the Black-legged Seriema preferring scrub and open woodland. More
The Red-legged Seriema is found in South America in central and eastern Brazil through eastern Bolivia and Paraguay, to Uruguay and central Argentina. It can be found in lightly wooded areas, and also open savanna type areas. The main concentration of Red-legged Seriemas is in the grassy savanna-like habitat of central Brazil. Further south, seriemas are found in more wooded areas, as well as grasslands. They can be found at elevations of 2000 m. More
Red-legged Seriema at the Smithsonian National Zoological Park External links - * Seriema videos on the Internet Bird Collection Search Wikimedia Commons Wikimedia Commons has media related to: Cariama cristata This entry is from Wikipedia, the leading user-contributed encyclopedia. More
Aspects of the topic red-legged seriema are discussed in the following places at Britannica. Assorted References * description (in seriema (bird)) ...(order Gruiformes). There are two species, both restricted to southern-central South America. The red-legged, or crested, seriema (Cariama cristata), with long legs and neck, stands about 60 cm (2 feet) tall. More
the Red-legged Seriema is slightly bigger than the Black-legged. They forage on foot and run from danger rather than fly (though they can fly for short distances, and they roost in trees). They have long legs, necks, and tails ... More From Wikipedia » Community Videos - Community Videos from YouTube * * Red Legged Seriema Catching A Snake! ... More
Red-legged Seriemas are one of two species of seriemas, the other being the Black-legged Seriema. They spend most of their time on the ground except for roosting in low trees or bushes. They rarely fly but are very fast on the ground and can outrun predators. They have been clocked running upwards of 70 km/hr. The anatomical arrangement of their toes prevents them from catching prey with their feet. They are considered diurnal. More
The Red-legged Seriema or Crested Cariama (Cariama cristata) is a species of bird found from Brazil south of the Amazon to Uruguay and northern Argentina. The area over which this species occurs is estimated at 3.6 million square miles. The bird is not found everywhere throughout this region, and is totally absent from the Mata Atlântica and planalto uplands along the coast of Brazil. Its habitat is grasslands, and occasionally lush meadows near rivers, though it will not readily move into wetlands or crop fields. More
The Red-legged Seriema inhabits grasslands from Brazil south of the Amazon to Uruguay and northern Argentina. This range is estimated at 5.9 million km More
Red-legged Seriemas (Cariama cristata)dueling in Rio da Prata Ranch, Jardim City, Mato Grosso do Sul State, Brazil. More