Cape Francolin
The sexes are similar in plumage, but the male has two leg spurs whereas the female has at best one short spur The juvenile is similar to the adults, but has duller legs and clearer vermiculations. This large dark francolin is unlikely to be confused with any other species in its range.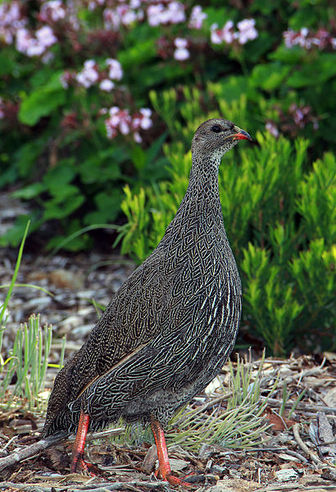 Picture of the Cape Francolin has been licensed under a Creative Commons
Attribution
.
Original source
: Not-so-FamousUploaded by Snowmanradio
Author
: Wayne de Villiers from Cape Town, South AfricaCamera location
The Cape Francolin is classified as Least Concern. Does not qualify for a more at risk category. Widespread and abundant taxa are included in this category.

Cape Francolin feeding in grass Cape Francolin Cape Francolin 1 More
The Cape Francolin, Francolinus capensis is a gamebird in the pheasant family Phasianidae. This francolin is endemic to the southwestern Cape of South Africa. It is 40–42cm in length, with the male averaging larger than the female. This large francolin appears all dark from a distance, apart from the red legs, but when seen closer the plumage is finely vermiculated in grey and white, with a plainer crown and nape. More
* Cape Francolin, Francolinus capensis * Natal Francolin, Francolinus natalensis * Hildebrandt's Francolin, Francolinus hildebrandti * Yellow-necked Francolin, Francolinus leucoscepus * Grey-breasted Francolin, Francolinus rufopictus * Red-necked Francolin, Francolinus afer * Swainson's Francolin, Francolinus swainsonii * Jackson's Francolin, Francolinus jacksoni * Handsome Francolin, Francolinus nobilis * Mount Cameroon Francolin, Francolinus camerunensis More
Cape Francolin's official exhibition space, currently housing a series of black and white photographs by Tracey Derrick entitled 'Waters of Life'. The hotel's inaugural exhibition was another show by Derrick entitled 'Earthworks', previously shown at the Hayward Gallery in London. The hotel's permanent collection comprises an impressive range of fine art including work by two Turner prize-winners: a photograph by Wolfgang Tillmans and two multiples by Damien Hirst, as well as a print by Jean Cocteau. More
The Cape Francolin is restricted to the Western and Northern Cape. It is common in fynbos, edges of cultivated land and in thickets of alien trees. It is usually seen in pairs or in coveys of up to 20 birds. It may become tame at picnic spots, camping grounds and around farmyards. It runs strongly and is generally reluctant to fly. It roosts in trees and, like other francolins is noisy. It eats seeds, shoots, leaves, bulbs, berries and insects. More
The Cape Francolin Art Hotel is a site specific, mixed-media, conceptual art installation. Simultaneously it is a comfortable guesthouse offering crispy Irish linen sheets, fragranced olive oil soap and freshly baked walnut and fig bread with tasty breakfasts. It is also a gallery, a shop, a performance and workshop space, periodically a restaurant, and … whatever else our imaginations require it to be. More
The Cape Francolin Art Hotel is the second driveway on the right, and the guesthouse has a blue roof, being directly opposite the Olive Boutique. If you reach the barn, you've gone too far. If you are approaching from Stellenbosch, take the R44 via Paarl and Wellington, turn left onto the R46 at the Hermon turn off and continue till you again reach the R311, which in this case will involve turning right. The Cape Francolin Art Hotel is again second on the right. More
Cape Francolin - Table Mountain National Park Ostrich Ostrich - Table Mountain National Park Cape of Good Hope Cape of Good Hope lighthouse African Penguins African Penguins - Boulders (near Cape Town) African Penguins African Penguins - Boulders (near Cape Town) Penguin sign check under your car for penguins - Boulders Gannets Gannets and Penguins - Lamberts More
Cape Francolin Francolinus capensis Kirstenbosch, Capetown, South Africa 5th.... Anyone can see this photo AttributionShare Alike Some rights reserved Uploaded on Oct 31, 2009 | Map 2 comments Cape Francolin (Francolinus capensis) by Lip Kee Cape Francolin Francolinus capensis Kirstenbosch, Capetown, South Africa 5th.... More
* Cape Francolin - African Bird Image Database by African Bird Club/Birding Africa. * Cape Francolin - Mangoverde World Bird Guide Species Page; Images & Sounds. * Francolinus capensis Images - Images of this species located at the Phasianidae group on flickr. * Wikipedia - Cape Francolin - Wikipedia's species page. More
Cape Francolin Francolinus capensis = Described by: Gmelin (1789) Alternate common name(s): None known by website authors Old scientific name(s): Pternistis capensis, Notocolinus capensis Photographs South Africa - Date unknown More
Cape Francolin - Pternistis capensis Francolin criard = Francolin criard Le guide ornitho : Les 848 espèces d'Europe en 4000 dessins Gallery : © Frédéric Leviez Site web : Bienvenue chez Fred Order : Galliformes Family : Phasianidae Species : Cape Francolin Age : Adult Reference: frle75644 Other pictures Date taken : 2009 Sep Geographic data More
Cape Francolin Francolinus capensis WT02728 WT02729 WT 02611 Rooiels, South Africa; Aug 2005 (2) Melkbosstrand, South Africa; Aug 2005 home family list next species back to francolin list More
Cape Francolin, Francolinus capensis Phasianidae (PHEASANTS & PARTRIDGES) Cape Francolin, Francolinus capensis This photo was taken in: South Africa This photo was taken with: Canon EOS 10D Notes on this photo: West Coast NP, SA, 11-29-04 The photo was taken by: Bob Hawkins , South Africa reports Reports from birdtours.co. More
The Cape Francolin is a bird of scrubby open areas, preferably close to running water. Its nest is a grass-lined scrape under a bush, and 6 to 8 eggs are laid (but sometimes two females will lay in one nest). This species can become very tame if disturbance is limited, and will feed in gardens, by roadsides, or with farmyard chickens. It will run rather than fly if disturbed. The Cape Francolin, Francolinus capensis is a gamebird in the pheasant family Phasianidae. More