Bar-tailed Trogon
The Bar-tailed Trogon averages about 28 cm long. The bill and feet are yellow, and the tail, long and broad as usual for trogons, has the underside narrowly barred with black and white. The male's head is blue-black with bronze iridescence. Below the eye are two yellow or orange patches of bare skin; above the eye is a yellow or grey patch. The upper breast is iridescent from violet to blue-green; the rest of the underparts are red. The back is green and the upper surface of the tail is blue-black or purple-black. The female's head is brown with less ornamental bare skin and its throat and breast are light cinnamon; otherwise it resembles the male. The immature is similar to the female, but has a white belly and pale spots on the wings formed by the tips of the wing coverts and inner secondaries.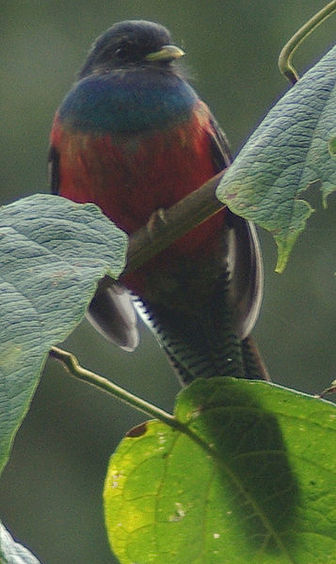 Picture of the Bar-tailed Trogon has been licensed under a
GFDL
Original source
: JerryFriedman
Author
: JerryFriedman
Permission
: GNU Free Documentation License
The Bar-tailed Trogon is classified as Least Concern. Does not qualify for a more at risk category. Widespread and abundant taxa are included in this category.

The Bar-tailed Trogon (Apaloderma vittatum) is a species of bird in the Trogonidae family. It is found in Angola, Burundi, Cameroon, Democratic Republic of the Congo, Equatorial Guinea, Kenya, Malawi, Mozambique, Nigeria, Rwanda, Tanzania, Uganda, and Zambia. It lives in forests; its preferred altitude, above about 1600 metres (1 mile), is typically higher than that of the Narina Trogon, but the two occur together in some places. The Bar-tailed Trogon averages about 28 cm (11 inches) long. More
The Bar-tailed Trogon (Apaloderma vittatum) is a species of bird in the Trogonidae family. It is found in Angola, Burundi, Cameroon, Democratic Republic of the Congo, Equatorial Guinea, Kenya, Malawi, Mozambique, Nigeria, Rwanda, Tanzania, Uganda, and Zambia. More
The Bar-tailed Trogon (Apaloderma vittatum) is a rarely seen medium-sized forest bird with a long, broad, barred tail and a vivid red belly. It is motionless when settled. It inhabits damp mountain forests in East Africa. It is not common. We found this one in Arusha State Park in Tanzania. Back Button Forward Button All photos contained herein are copyrighted and are not to be reproduced for commercial use without John H. Fields' expressed permission. More
Bar-tailed Trogon Bar-tailed Trogon Bar-tailed Trogon (Apaloderma vittatum) Locations for recordings with GPS coordinates page 1 Bar-tailed Trogon Song Apaloderma vittatum (0:14) Allen T. Chartier XC18182 16-07-2000, Kenya Bar-tailed Trogon Song Apaloderma vittatum (0:21) Allen T. More
Bar-tailed Trogon (Apaloderma vittatum) by Louis A. Hansen, Henrik Kisbye, Louise Pedersen, Marcel Rahner, the late Jens Otto Svendsen. Kimhandu Hill, at Kipalu camp, Uluguru South F.R, Morogoro Region, Tanzania, 1993-10-22 XC48080 Bar-tailed Trogon (Apaloderma vittatum) by Louis A. More
Bar-tailed Trogon ( Heterotrogon vittatus) Clements 3rd edition: Bar-tailed Trogon ( Heterotrogon vittatus) Clements 4th edition: Bar-tailed Trogon ( Apaloderma vittatum) Clements 5th edition (as published): Bar-tailed Trogon ( Apaloderma vittatum) Clements 5th edition (incl. 2000 revisions): Bar-tailed Trogon ( Apaloderma vittatum) Clements 5th edition (incl. 2001 revisions): Bar-tailed Trogon ( Apaloderma vittatum) Clements 5th edition (incl. More
Bar-tailed Trogon photographed in Bwindi NP, SW Uganda Jan 2006 Will check again tomorrow TomAttached ThumbnailsClick image for larger version Name: bar_tail_trog.jpg Views: 236 Size: 128.0 KB ID: 43899 __________________ kobble.aviceda.org www.aviceda. More