Lesser Rhea
Rhea darwinii Rhea macrorhyncha Pterocnemia pennata Pterocnemia darwinii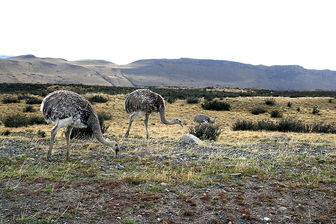 Picture of the Lesser Rhea has been licensed under a Creative Commons
Attribution
.
Original source
: originally posted to Flickr as Nandus
Author
: Jeremy VandelPermission(Reusing this file)This image, which was originally posted to Flickr.com, was uploaded to Commons using Flickr upload bot on 09:33, 6 June 2009 (UTC) by Snowmanradio (talk). On that date it was licensed under the license below.This file is licensed under the Creative Commons Attribution 2.0 Generic license.You are free:to share – to copy, distribute and transmit the work
The Lesser Rhea is classified as Near Threatened (NT), is close to qualifying for or is likely to qualify for a threatened category in the near future.

Darwin's Rhea, Rhea pennata, also known as the Lesser Rhea, is a large flightless bird, but the smaller of the two extant species of rheas. It is found in the Altiplano and Patagonia in South America. More
The lesser rhea is a large bird belonging to a group of flightless birds known as ratites, which lack the keel of the breastbone to which the flight muscles attach in flying birds. However, rheas are not thought to be closely related to the other members of this group, the ostrich, emu, cassowaries and kiwis (6) (7) (8). More
lesser rhea have undergone marked declines, and R. p. tarapacensis and R. p. garleppi are thought to be in serious danger of extinction, with combined populations of only several hundred birds (1) (2). The main threats to the lesser rhea are hunting, for meat, skins and feathers, and egg collection, as well as the taking of young birds for domestication (1) (2). More
Lesser rheas (Darwin More
in the wild (30 %), whereas Lesser Rheas show the opposite trend (captivity = 51 %, wild = 60 %). Finally, the estimated number of surviving chicks in autumn produced per female rheas are lower than that of other ratites: Ostrich = 14 chicks; Emu = 11 chicks; Cassowaries = 9 chicks; Greater Rheas = 8 chicks; and Lesser Rheas = 4 chicks. Reproductive parameters of all ratites reported in most scientific works show to be more moderate than those commonly claimed in general or commercial literature. More
Physical characteristics: The lesser rhea is 36 to 39 inches (92 to 100 centimeters) in height and weighs 33 to 55 pounds (15 to 25 kilograms). Geographic range: Lesser rheas are found in Argentina, Bolivia, Chile, and Peru. Habitat: Lesser rheas live in the grassy, open high plains of South America. The male lesser rhea sits on the eggs until they hatch, and then cares for the chicks for a few days. (© N.H. More
The lesser rhea, Pterocnemia pennata, is a flightless bird naturally distributed in Argentina and Chile. This species has only been raised on farms in recent years; therefore information about parasitic diseases of farmed lesser rhea is scant. Several parasites, such as the nematodes Deletrocephalus dimidiatus, Syngamus trachea, Libyostrongylus dentatus, and the protozoans Crystosporidium sp, and Eimeria sp have been reported in other ratites species (Jensen, 1993; Penrith and Burger, 1993; Penrith et al., 1993; Gajadhar, 1994; Stewart, 1994; Hoberg et al. More
the lesser rhea is 3 feet (91 cm) in height and weighs 22 ... Continue reading Meet Rhea It will be interesting to see what happens with age and to see if it is possibly genetic. That's still four years away tho.... Just curious how you would label this for now? Lesser Anery Motley? Paradox Anery Motley? ... Continue reading Why Birds That Can't Fly Have Wings — And How Darwin Accidentally ... More
the lesser rhea is 3 feet (91 cm) in height and weighs 22 pounds (10 kg). The rheaThe rhea is a large flightless bird native to South America. Rheas gather in flocks of up to 30 birds. They feed on roots, leaves, and small animals. During the breeding season the males emit a loud, bellowing call and fight each other for the females. Each male mates with two or more females. More
proportions, the Lesser Rhea is sometimes called the South American Ostrich. Usually, they are between 35 inches (92 and 100 centimeters) long at maturity, and weigh about 22 pounds (between 10 and 25 kilograms). They are usually meatier than Common Rheas when body weight is compared to size. Lesser Rheas have large nails on each of their three toes. Their brown or golden brown plumage is soft and appears fluffy, though each feather is smooth. More
reference to parasitism in lesser rhea is a report of infection by Deletrocephalus dimidiatus in an adult lesser rhea (Ewing et al., 1995). The aim of this study was to determine the prevalence of parasitic diseases in lesser rhea farms. More
Lesser Rhea is found in the following countries: 1. Argentina 2. Bolivia 3. Chile 4. Peru Site Developed & Maintained by Shah Jahan & Sajna A Iqbal Design By FSquares COPYRIGHT (C) TheBirdsISaw.COM. ALL RIGHTS RESERVED. 2007. More
* Video preview image A Lesser Rhea walking on the Salar. More