Little Spotted Kiwi
The Little Spotted Kiwi or Little Gray Kiwi, Apteryx owenii, is a small species of kiwi originally from New Zealand's South Island that, around 1890 and 1910 was captured and later released on Kapiti Island. Little Spotted Kiwis are the smallest species of kiwi, at about .9–1.9 kg , about the size of a bantam.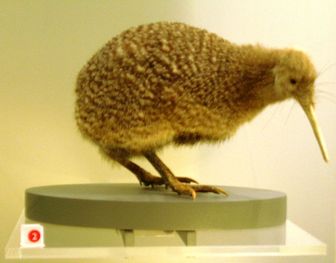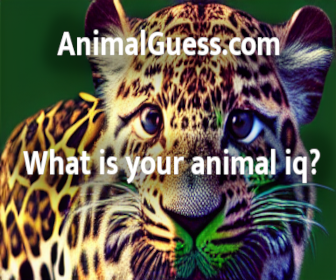 Picture of the Little Spotted Kiwi has been licensed under a Creative Commons
Attribution-Share Alike
.
Original source
: originally posted to Flickr as Auckland War Memorial Museum
Author
: J BrewPermission(Reusing this file)This image, which was originally posted to Flickr.com, was uploaded to Commons using Flickr upload bot on 12:12, 14 May 2009 (UTC) by Teofilo (talk). On that date it was licensed under the license below. This file is licensed under the Creative Commons Attribution-Share Alike 2.0 Generic license.You are free:to share – to copy, distribute and transmit the work
The Little Spotted Kiwi is classified as Near Threatened (NT), is close to qualifying for or is likely to qualify for a threatened category in the near future.

Smallest of the three, the Little Spotted Kiwi has a round body covered with grayish brown feathers. Dark brown lines on the body make it look "spotted" as its name suggests. Kiwi cannot fly because of degenerated wings and tail feathers. Instead, its strong pair of legs enables it to run quickly. It is believed that Kiwi has evolved to its wing-less body because there weren't any predators in its native land of New Zealand. More
* The very small Little Spotted Kiwi, Apteryx owenii is unable to withstand predation by introduced pigs, stoats and cats, which have led to its extinction on the mainland. About 1350 remain on Kapiti Island and it has been introduced to other predator-free islands and appears to be becoming established with about 50 'Little Spots' on each island. More
The Little Spotted Kiwi or Little Gray Kiwi, Apteryx owenii, is a small species of kiwi originally from New Zealand's South Island (what is known is they used to live near Marlborough and where Tokoeka currently live) that, around 1890 and 1910 was captured (for conservation purposes) and later released on Kapiti Island. Little Spotted Kiwis are the smallest species of kiwi, at about .9–1.9 kg (2.0–4.2 lb), about the size of a bantam. More
The little spotted kiwi is the smallest of the kiwi species. These wingless night birds are pale grey in colour, with darker horizontal mottling. They can weigh up to 2.4 kg. They have strong, heavy legs and claws, and usually move with a slow lumbering gait. But they can run very fast when they want to. More
chick of the little spotted kiwi may stay in the nest for two to three weeks before emerging. CONSERVATION STATUS Endangered with a total population of about 1,000 individuals. Even on its island sanctuaries it suffers predation on its eggs from native rails (wekas) and rats. SIGNIFICANCE TO HUMANS None known. More
Information on the little spotted kiwi is currently being researched and written and will appear here shortly. Authentication - This information is awaiting authentication by a species expert, and will be updated as soon as possible. If you are able to help please contact: arkive@wildscreen.org.uk References - 1. IUCN Red List (December, 2008) http://www.iucnredlist. More
Little Spotted Kiwi: One of the Most Well-known yet Rarest Kiwi Birds = Adjust font-size: + – Rachael Yang Published July 21, 2008 by:Rachael YangView Profile | Follow | Add to Favorites More: Sense of Smell Kiwi Small Birds The Little Spotted Kiwi is perhaps one of the most well-known of the Kiwi species because of their small size. However, sadly, it is one of the rarest of the Kiwi species. More
Aspects of the topic little spotted kiwi are discussed in the following places at Britannica. Assorted References * description (in kiwi (bird)) ...which includes the Haast tokoeka, Stewart Island tokoeka, Southern Fiordland tokoeka, and the Northern Fiordland tokoeka; the little spotted kiwi (A. oweni); the great spotted kiwi (A. haasti); the Okarito brown kiwi (A. rowi), also... More
Little Spotted Kiwi /Pukupuku were transferred from Kapiti Island to an Island in Fiordland the Deep South of the South Island on the 2nd of August 2008,over 100 years since these birds have been seen in their homeland. More
Little Spotted KiwiThe kiwi More
The Little Spotted Kiwi population has been badly affected by possums, stoats, cats and larger predators. It was once common in the South Island, but it is now extinct on the mainland and is found only on Kapiti Island, near Wellington, where 1000 birds live. Kiwi's are being transfered to other islands to try and establish new colonies (including Tiritiri Matangi, Hen Island, Red Mercury and Long Island). More
The distribution of little spotted kiwiA distinct form of little spotted kiwi used to live throughout the North Island, but became extinct in the late 1800s. In the South Island, little spotted kiwi were widespread in the west in the early 1900s, but died out around 1980. That year, the population had dropped to just 1000 birds, devastated on the mainland by stoats, cats and larger predators. Without the sanctuary of offshore islands, little spotted kiwi may have gone extinct. More
Little Spotted Kiwi (Apteryx Owenii) on the Forest Floor, New Zealand Little Spotted Kiwi (Apteryx Owenii) on the Forest Floor, New Zealand Framed Art Print Make a Donation to Help Save the Kiwi Every penny of your donation will go directly to helping Bank of New Zealand Save the Kiwi initiatives to help stop the decline of kiwi. Kiwis at U.S. More
hectares in the case of little spotted kiwi on Kapiti Island, to 100 hectares for rowi in south Westland. They cover long distances throughout their territory which is not limited by topography. With large claws that are used as crampons, kiwi are very adept at climbing steep faces. They have astonished observers who have seen them swim rivers as large as the Wanganui River in both directions. More
Little Spotted Kiwi - photographer: Simon FordhamDay visitors to Tiritiri Matangi are likely to see all but one of the translocated species of bird present on the island. The one they almost certainly won More
Little Spotted Kiwi and the Great Spotted Kiwi. As an indicator species, the fate of the Kiwi is the fate of the entire ecology. Their disappearance is a warning to us all. What You Can Do - Image Source: Tourism New Zealand. Kiwi bird. Photographer: Tourism New Zealand (www.newzealand.com) You can support the organizations and groups that are protecting the Kiwi. You can volunteer your time or you can send a donation. More
Little spotted kiwi have been reintroduced to New Zealand's Fiordland for the first time for 100 years. Real Journeys, a South Island tourism company have sponsored the reintroduction of kiwi-pukapuka/Little Spotted Kiwi to Chalky Island. The reintroduction of the birds is part of a wider plan, as part of the BNZ Save the Kiwi programme, to increase the number of safe places that kiwi can live. More
The Little Spotted Kiwi is the smallest specie of kiwi, a flightless bird with developed legs, and it is classified as "Vulnerable (VU)" in the Red List. Download and enjoy the paper craft of the Little Spotted Kiwi, with a short, round body and a long beak. More