Brown Wood Owl
The Brown Wood Owl is medium large , with upperparts uniformly dark brown, with faint white spotting on the shoulders. The underparts are buff with brown streaking. The facial disc is brown or rufous, edged with white and without concentric barring, and the eyes are dark brown. There is a white neckband. The sexes are similar.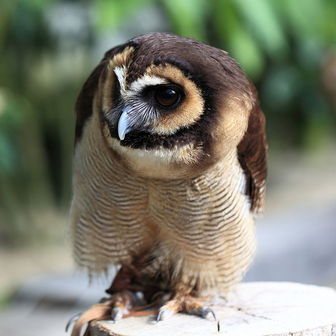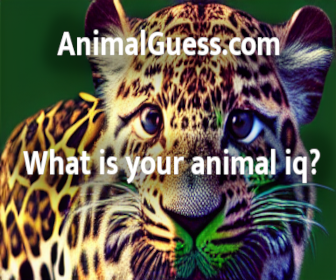 Picture of the Brown Wood Owl has been licensed under a Creative Commons
Attribution
.
Original source
: originally posted to Flickr as Brown Wood Owl / Strix leptogrammica / 大梟(オオフクロウ)
Author
: TANAKA Juuyoh (田中十洋)Permission(Reusing this file)This image, which was originally posted to Flickr.com, was uploaded to Commons using Flickr upload bot on 11:14, 23 March 2010 (UTC) by Snowmanradio (talk). On that date it was licensed under the license below.This file is licensed under the Creative Commons Attribution 2.0 Generic license.You are free:to share – to copy, distribute and transmit the work
The Brown Wood Owl is classified as Least Concern. Does not qualify for a more at risk category. Widespread and abundant taxa are included in this category.

this juvenile Brown Wood Owl (Strix leptogrammica), feasting on a grasshopper. Now one would have thought that owls would eat only eat… rats, birds, and other vertebrates. So this eating of insects was a surprise for me. "Owls seemed to be doing very well up in Peninsula Malaysia. They can be found commonly hanging around rice fields from Perak down to Melacca, all looking out for rats and others. I was also informed that some rice farmers provide the owls with nesting boxes. More
The Brown Wood Owl is medium large (45–57 cm), with upperparts uniformly dark brown, with faint white spotting on the shoulders. The underparts are buff with brown streaking. The facial disc is brown or rufous, edged with white and without concentric barring, and the eyes are dark brown. There is a white neckband. The sexes are similar. The call is a (hoo) hoo hoo HOO or a deep goke-goke-ga-LOOO or a loud scream. The alarm call is a bark, wow-wow. More
This Brown Wood Owl came and say hello while we waited for the Large Frogmouth, perhaps the Owl was taking pity on us for waiting 4 solid hrs. Labels: Owls, Sg Relau National Park at Friday, September 04, 2009 Reactions: 6 comments: Kelly said... Beautiful!!!! Lucky you. More
Brown Wood OwlThe Brown Wood Owl, Strix leptogrammica, is an owl which is a resident breeder in south Asia from India and Sri Lanka east to western Indonesia and south China. This species is a part of the larger grouping of owls known as typical owls, Strigidae, which contains most species of owl. The other grouping is the barn owls, Tytonidae. Brown Wood Owl is a scarce resident bird of dense forests. More
The IUCN classify the Brown Wood Owl as being of "Least Concern" over its entire territory, but in localised regions deforestation is seriously affecting the population, as it is many species of plant and animal. More
The Asian Brown Wood Owl has a fairly dark brown head with dark brown eyes. The chest feathers start at a light brown colour just below the head to a light chestnut colour near the owl's claws, and the owl also has feathered claws. The Asian Brown Wood Owl grows to around 49cm tall at the maximum, and can normally be found in dense, undisturbed tropical forests and rainforests. The diet of this owl consists of small mammals, birds, reptiles and insects. More
The Brown Wood Owl has light chestnut-brown upper-parts barred with dark brown and some white. It's crown is dark brown and the facial disk whitish or light rufous with dark rings around the eyes. The chest is brown becoming paler towards belly with fine dark barring. This species prefers to nest in tree cavities, caves, and sometimes on cliff ledges. More
The Malaysian Wood owl, also called the Brown Wood Owl, is a fairly large nocturnal owl measuring about 15 inches in length with a wingspan of about 30 inches. This owl is dark brown to black in color with light brown undersides. It's head is rounded with dark eyes surrounded by lighter colored facial disks. The diet of the Malaysian Wood Owl consists of small mammals, birds, reptiles, insects and fish. More
The IUCN classify the Brown Wood Owl as being of "Least Concern" over its entire territory, but in localised regions deforestation is seriously affecting the population. The Brown Owl is a nocturnal hunter, feeding mainly on small mammals, birds up to the size of pheasants, fruit bats, reptiles & some insects The Brown Owl's breeding season is from January through to April. They build their own nests in tree cavities, caves or on cliff ledges and are line them with a few feathers. More
The Brown Wood Owl (Strix leptogrammica) is an owl which is a resident breeder in south Asia from India and Sri Lanka east to western Indonesia and south China. It is a scarce resident of dense forests. It is a member of the typical owl family, Strigidae. The Brown Wood Owl is a medium large owl at 17.5 to 22.5 inches high. The upper parts are uniformly dark brown with faint white spotting on the shoulders. The under parts are beige with brown streaking. More
Here are details of the Malaysian Brown Wood Owls we have at the sanctuary: Malaysian brown wood owls Name Sex Hatched Status Rolo Male 1998 Breeding owl Honey Female 2006 Breeding owl Screech Owl Sanctuary There's always something new and interesting going on at the sanctuary More
The baby Asian Brown Wood Owl is one of the latest additions to Turbary Woods. More