Jamaican Owl
The Jamaican Owl is a medium-sized tawny colored owl that is endemic to the island of Jamaica. It is considered by some the only member of its genus Pseudoscops, while other authorities include in it the Striped Owl. It has dark brown barring, flecking and streaks and its amber facial disk is rimmed in black-flecked white. It has hazel eyes, long ear tufts and a grayish-yellow bill. It mainly uses open habitats with scattered clumps of trees, generally in lowlands. It is nocturnal and eats mainly large insects, spiders, amphibians, lizards, birds and rodents. It lays its eggs in tree cavities. This species is common and widespread throughout its limited range, but some populations are at risk from habitat loss.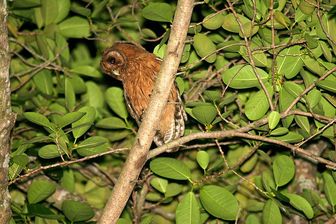 Picture of the Jamaican Owl has been licensed under a Creative Commons
Attribution-Share Alike
.
Original source
: originally posted to Flickr as Jamaican Owl
Author
: dominic sheronyPermission(Reusing this file)This image, which was originally posted to Flickr.com, was uploaded to Commons using Flickr upload bot on 12:39, 29 May 2008 (UTC) by Dysmorodrepanis (talk). On that date it was licensed under the license below. This file is licensed under the Creative Commons Attribution-Share Alike 2.0 Generic license.You are free:to share – to copy, distribute and transmit the work
The Jamaican Owl is classified as Least Concern. Does not qualify for a more at risk category. Widespread and abundant taxa are included in this category.

The Jamaican Owl (Pseudoscops grammicus) is a medium-sized tawny colored owl that is endemic to the island of Jamaica. It is considered by some the only member of its genus Pseudoscops, while other authorities include in it the Striped Owl. It has dark brown barring, flecking and streaks and its amber facial disk is rimmed in black-flecked white. It has hazel eyes, long ear tufts and a grayish-yellow bill. It mainly uses open habitats with scattered clumps of trees, generally in lowlands. More
College Grallistrix Jamaican Owl Pulsatrix Ciccaba Ptilopsis Fearful Owl Aegolius Ornimegalonyx Strigogyps sapea Long-whiskered Owlet Bay owl Owl of Minerva Stereotypes of animals Palau Owl Screech-owl Scops-owl Athene (owl) Bare-legged Owl External Searches: * Wikipedia * YouTube Video * Flickr Image * Google Web * Yahoo! Web * Yahoo! News * More
Jamaican owls eat insects, spiders, rodents, and lizards. It's the truth. You could look it up at www.google.com/ Improve Answer Discuss the question "What do Jamaican owls eat?" Click here to register and get updates when this answer is edited. Share on Facebook Share on Twitter First answer by Retrowoman. Last edit by Retrowoman. Contributor trust: 2 . Question popularity: 1 . More
Photo Wanted The Jamaican Owl, Pseudoscops grammicus is a medium-sized tawny colored owl. It has dark brown barring, flecking and streaks and its amber facial disk is rimmed in black-flecked white. It has hazel eyes, long ear tufts and a grayish-yellow bill. It mainly uses open habitats with scattered clumps of trees, generally in lowlands. It is nocturnal and eats mainly large insects, spiders, amphibians, lizards, birds and rodents. It lays its eggs in tree cavities. More
see the Jamaican Owl, and guide us to some of Jamaica's lesser known, but very birdy spots. The pace will be leisurely and not physically demanding, and the climate will be a welcome change from the North American winter. More
Jamaican Owl, Pseudoscops grammicus, adult at night, Rocklands, Montego Bay, Jamaica, Caribbean Actions More
Jamaican Lizard-Cuckoo, Jamaican Owl, Jamaican Mango, Red-billed Streamertail, Black-billed Streamertail, Jamaican Tody, Jamaican Woodpecker, Jamaican Becard, Jamaican Elaenia, Jamaican Pewee, Sad Flycatcher, Rufous-tailed Flycatcher, Jamaican Vireo, Blue Mountain Vireo, Jamaican Crow, White-chinned Thrush, White-eyed Thrush, Arrowhead Warbler, Jamaican Blackbird, Yellow-shouldered Grassquit, Orangequit, Jamaican Spindalis and Jamaican Euphonia. The Caribbean form of Northern Potoo and the Jamaican form of Olive-throated Parakeet may someday attain species status. More