Pacific Screech-Owl
The Pacific Screech-owl is a species of owl in the Strigidae family. It is found in Costa Rica, El Salvador, Guatemala, Honduras, Mexico, and Nicaragua. Its natural habitats are subtropical or tropical dry forests, subtropical or tropical moist lowland forests, subtropical or tropical mangrove forests, and heavily degraded former forest.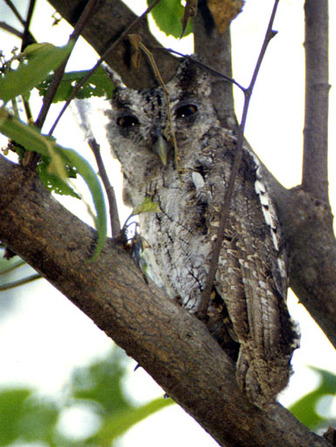 Picture of the Pacific Screech-Owl has been licensed under a Creative Commons
Attribution-Share Alike
.
Original source
: Own work
Author
: Patrick Coin (Patrick Coin)Permission(Reusing this file) This file is licensed under the Creative Commons Attribution-Share Alike 2.5 Generic license.You are free:to share – to copy, distribute and transmit the work
The Pacific Screech-Owl is classified as Least Concern. Does not qualify for a more at risk category. Widespread and abundant taxa are included in this category.

The Pacific Screech-owl (Megascops cooperi) is a species of owl in the Strigidae family. It is found in Costa Rica, El Salvador, Guatemala, Honduras, Mexico, and Nicaragua. Its natural habitats are subtropical or tropical dry forests, subtropical or tropical moist lowland forests, subtropical or tropical mangrove forests, and heavily degraded former forest. It is strictly nocturnal, preying mostly on large insects (such as moths, beetles, scorpions) along with the occasional small rodent. More
The Pacific Screech-Owl (Otus cooperi) is a resident along the immediate Pacific coast from southern Mexico to northern Costa Rica. The top shot here was taken in Tapachula, Chiapas, Mexico, in March, 1991, with a hand-held Canon T-90 and FD 400mm F/4.5 lens and flash on Kodachrome 200. The next two shots were taken at the same location in March, 1992, with the same equipment. More
This beautiful Pacific Screech-Owl was found along the coast near Puerto Arista, Mexico. These owls were somewhat shy but did come out into view and they were quite vocal. Click here to return to the Pacific Screech-Owl page. More
The Pacific Screech-Owl can only be found right along the pacific coast from Oaxaca to Costa Rica. It is similar to the Vermiculated and Western Screech-Owls but ,of course, has a distinct call and slightly different markings. Here you can find photos, recordings and information to help identify and enjoy this beautiful owl. The Field Notes section includes a Central American range map and information on nesting, habitat, description and identification. More
The Pacific Screech-owl (Megascops cooperi) is a species of owl in the Strigidae family. It is found in Costa Rica, El Salvador, Guatemala, Honduras, Mexico, and Nicaragua. More