Barred Eagle-Owl
The Barred Eagle-owl , also called the Malay Eagle Owl, is a species of owl in the Strigidae family. It is found in Brunei, Cocos Islands, Indonesia, Malaysia, Myanmar, Singapore, and Thailand. Its natural habitat is subtropical or tropical moist lowland forests.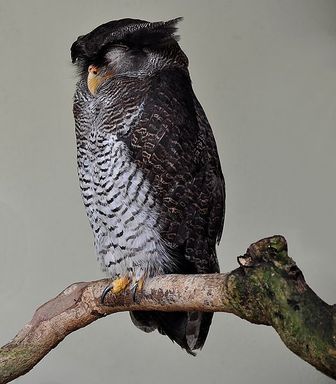 Picture of the Barred Eagle-Owl has been licensed under a Creative Commons
Attribution
.
Original source
: originally posted to flickr and uploaded to commons at Two_owls_at_Kuala_Lumpur_Bird_Park-8a.jpg
Author
: Two_owls_at_Kuala_Lumpur_Bird_Park-8a.jpg: Brandon Lim
The Barred Eagle-Owl is classified as Least Concern. Does not qualify for a more at risk category. Widespread and abundant taxa are included in this category.

Barred Eagle-owl takes a monkey - Posted by BESG on 26 June 09, Friday Contributed by Rane Wong Rane Wong a.k.a. reno was at Johor's Panti forest one morning in June 2009 when he encountered a Barred Eagle-owl (Bubo sumatranus) perched on a slender branch of a tree with a monkey tightly clutched in its talons. More
* Barred Eagle-owl takes a monkey Rane Wong a.k.a. reno was at Johor's Panti forest... * Juvenile White-bellied Sea Eagle Mike Tan a.k.a. woof came across a pair of... * Why is the juvenile bee-eater not fed bees? Samson Tan was observing the behaviour of a pair... More
BIRDCHAT archives - May 2002, week 2 (#87): A Barred Eagle-Owl lives near the park headquarters. The entrance road can be quite http://listserv.arizona.edu/cgi-bin/wa?A2=ind0005a&L=birdchat&F=&S=&P=4373 BIRDCHAT archives - May 2000, week 1 (#42): H >Barred Eagle-Owl Bubo sumatranus >STRIGIDAE:Typical Owls >H 20/4 Poring 1 H. http://www.fas.harvard.edu/~gporang/GPflorafauna.html Gunung Palung Orangutan Project: Flora & Fauna: Otus lempiji); Barred eagle owl (Bubo sumatranus); Brown wood owl (Strix http://biology.boisestate.edu/raptor/JRR%20cover%20art. More
The barred eagle-owl does its best gremlin impression. December 2009 - The 16th of December was a red-letter day for birdwatching at Rimbun Dahan - we got our first good photographs of a barred eagle-owl. Our first sighting of this impressive predator had occurred at dusk several days before, when the alarm screeches of drongos alerted us to its presence in a tree in the Taman Sari. More
Barred Eagle-Owl (x1) predating on a young Long tailed Macaque at Panti Forest by Reno Wong on 26 June 2009. Singapore Chinese Flycatcher (x1) at Lower Pierce Reservoir by Lim Kim Chuah 24 February 2009), by Alfred Chia on 26 February 2009. and photographed by Lee Tiah Khee on 18 March 2009. - Slaty-legged Crake (x1) at Lower Pierce Reservoir by Chong Boon Leong on 21 February 2009. More
Barred Eagle-owl on Wikipedia Written by Craig · Filed Under Animals, Humour, Our World Russian Office Camoflage = September 2, 2009 Video: Stupidvideos.com This is quite funny, I laughed a lot when I first saw it. Not sure what they are advertising, maybe if you are Russian and reading our website you can let us know via the comments. More
Barred Eagle-owl on Wikipedia Written by Craig · Filed Under Animals, Humour, Our World Comments One Response to "Barred Eagle-owl, Strange but cute" 1. More